Tata Motors' Stock in Focus as Company Meets Global Investors
Jun 8, 2021
Investors will be keeping a close watch on Tata Motors share price this week as the company's management began its five-day-long meeting with investors across the world.
In an exchange filing, Tata Motors said it would be holding meetings with investors such as Rakesh Jhunjhunwala's Rare Enterprises, Blackrock Investment, Abu Dhabi Investment Authority, Franklin Templeton Investments, JP Morgan Asset Management, and others.
Stock of the company rose 5% yesterday post the announcement. Today, Tata Motors ended the day up by 3%.
Poor earnings
The meeting with marquee investors comes after the company posted poor earnings for the March quarter.
Last month, the auto major reported a surprise consolidated net loss of Rs 76.1 bn for the quarter ended March 2021, mainly on account of asset write downs in subsidiary Jaguar Land Rover (JLR).
Tata Motors, which owns JLR, has incurred cash write downs on assets worth Rs 96.1 bn. This is apart from the restructuring costs of Rs 53.9 bn. In total, the exceptional loss related to JLR stood at nearly Rs 150 bn.
Post its earnings, Tata Motors had said that it expects near-term challenges in both the businesses due to semi-conductor shortages and the ongoing second wave.
--- Advertisement ---
This is a Powerful Mega Trend Playing Out in India

We have uncovered a powerful mega trend that is playing out in India right now.

It could potentially generate immense wealth for early movers.

Our co-head of research Tanushree Banerjee has also zeroed in on one specific stock riding this mega trend.

It's her #1 stock pick right now.

And she believes, this could be one of the top stocks to get to potential Rs 7 crore wealth over the long term.

Tanushree will reveal all the details about this mega trend and her #1 stock at her special online event on July 29.

At the event Tanushree will also show you, how to potentially accumulate Rs 7 crore in wealth over the long term.

What you learn at the event could possibly change your financial fortunes forever.

Click here to reserve your FREE seat.
------------------------------
US$425 m worth overseas bonds
Last week on Thursday, Tata Motors raised about US$425 m in an overseas bond to pare debt and meet expenses.
Investors showed huge confidence as the sale saw bids for nearly five times the debt on offer.
Reportedly, Templeton, Blackrock, and HSBC are among the bidders that sought to own those papers offering 4.35%.
N Chandrasekaran, chairman of Tata Sons had said at Tata Motors' annual general meeting (AGM) last year that the automaker will turn net debt free in three years, improve profits, and invest in new technologies and products.
JLR's new strategy
Earlier this year in February, JLR had announced its new global strategy, 'Reimagine'.
As part of this strategy, the firm will reposition and redesign Jaguar as an all-electric luxury car brand by 2025.
JLR will also evolve as a maker of luxury electric sport-utility vehicles globally.
Electric vehicles (EVs) will form 60% of JLR's annual sales by 2030 and the firm expects to stop sales of combustion engine vehicles by 2036 as part of its overall aim to become a net zero carbon business by 2039.
In 2019, 0.2% of the company's business was EVs. At present, it is around 2%.
Given the huge interest in EV space following Tesla's India entry, investors will be closely tracking Tata Motors' efforts, especially, as some analysts have raised concerns that the company may already be behind the curve on the e-vehicle segment.
Free Signup: The Smallcap Revival Summit
Speaking of electric vehicles, here's what Aditya Vora wrote about EVs in a recent Profit Hunter editorial.
Smart phones are what charging infrastructure is in an quote of Rs 357 touched on 3 March EV ecosystem.

Electric vehicles are the OLA/Ubers of today.

Low cost 3G/4G is the declining battery costs in an electric vehicle.

For EVs to be successful all these factors have to converge together at the same time.

You cannot build electric charging infrastructure when the costs of EVs are expected to be 2-3x of gasoline cars.

At the same time electric vehicles cannot run without a charging infrastructure.
You can read the entire editorial here: Can the Best EV Stocks Be Agnostic to EVs?
How the stock is performing today
Tata Motors share price opened the day at Rs 347, up 0.1%. It fell 1% intraday but reversed losses to end up by 3%.
The share has a 52-week high quote of Rs 357 touched on 3 March 2021.
Over the past one year, shares of Tata Motors have delivered 199% returns.
The stock was trading at Rs 115.5 on 8 June 2020. It has zoomed to Rs 356.50 today.
Since the beginning of this year, the Tata group stock has gained 85%.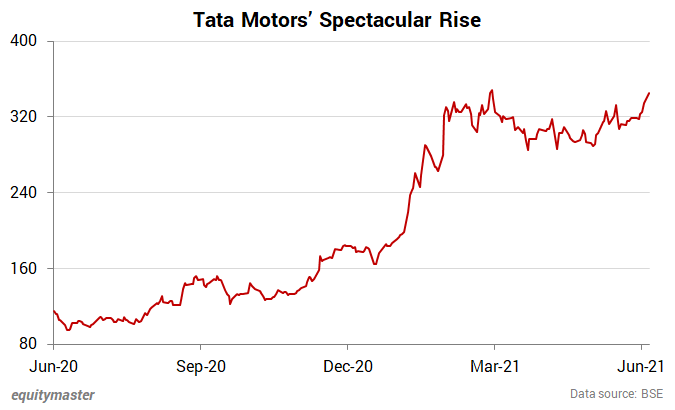 Investor Rakesh Jhunjhunwala bought 40 m shares of Tata Motors during the quarter ended September 2020.
This was his first direct investment into an auto firm after Autoline Industries where he and his wife Rekha held 6.2% stake.
Recently, Jhunjhunwala reduced his stake in twelve portfolio stocks but he remains invested in Tata Motors with same 1.29% stake.
At its current price, the company commands a marketcap of Rs 1,139.7 bn.
About Tata Motors
Tata Motors is a leading global automobile manufacturer of cars utility vehicles buses trucks and defence vehicles.
As India's largest automobile company and part of the US$113 bn Tata group, Tata Motors has operations in the UK, South Korea, Thailand, South Africa, and Indonesia through a strong global network of 76 subsidiary and associate companies including Jaguar Land Rover in the UK, and Tata Daewoo in South Korea.
In India, Tata Motors is a market leader in commercial vehicles and among the top passenger vehicles manufacturers with 9 m vehicles on Indian roads.
With design and research & development (R&D) centers located in India, UK, Italy, and Korea, Tata Motors strives to pioneer new products that fire the imagination of Gen-Next customers.
For more details about the company, you can have a look at Tata Motors factsheet and quarterly results You can also compareon our website.
You can also compare Tata Motors with its peers.
To know what's moving the Indian stock markets today, check out the most recent share market updates here.