Points to Keep in Mind Before Subscribing to Krishna Institute of Medical Sciences' IPO
Jun 15, 2021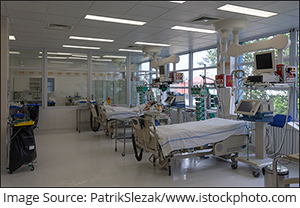 Krishna Institute of Medical Sciences (KIMS) is a Hyderabad-based company that operates multi-specialty hospitals in Telangana and Andhra Pradesh.
The company's Rs 21.4 bn initial public offering (IPO) will hit the street on 16 June, alongside Dodla Dairy.
The price band of the offer has been fixed between Rs 815 and Rs 825 per equity share.
Axis Capital, Kotak Mahindra Capital, Credit Suisse Securities, and IIFL Securities have been appointed as merchant bankers to advise the company on the IPO.
Link Intime India will be the registrar to Krishna Institute of Medical Sciences issue.
Krishna Institute of Medical Sciences IPO Details
| | |
| --- | --- |
| Issue Type | Book Built Issue IPO |
| Face Value | Rs 10 per equity share |
| IPO Price | Rs 815 to Rs 825 per equity share |
| Market Lot | 1 lot - 18 shares |
| Issue Size | Rs 21.4 bn |
| Fresh Issue | Rs 2 bn |
| Offer for Sale | Rs 19.4 bn |
| Basis of Allotment Date | Wednesday, June 23, 2021 |
| IPO Listing Date | Monday, June 28, 2021 |
Data Source: Company's Red Herring Prospectus
Currently, the promoters hold 46.8% stake in the company, post issue the shareholding will come down to 38.8%.
The company's existing investors, US equity giant General Atlantic and the promoters, will offer 21.3 m shares totaling to Rs 19.4 bn.
Dr. Bhaskara Rao Bollineni, Rajyasri Bollineni, Dr. Abhinay Bollineni, Adwik Bollineni, and Bollineni Ramanaiah Memorial Hospitals Private Limited are the company promoters.
--- Advertisement ---
Watch this Before Investing Your Money in EV Stocks

On Monday, we revealed this massive 15x opportunity in electric vehicles.

And also shared the details of 3 EV stocks to ride this mega opportunity.

Now, these are not typical EV stocks. Instead, these are what we call the backdoor EV stocks.

As per our research, the best way to ride the 15x EV wave is through these 3 stocks only.

You can get full details by watching this video...
------------------------------
Shares on offer
Up to 75% (Rs 15.9 bn) portion of the net offer has been reserved for qualified institutional buyers (QIBs), 15% (Rs 3.2 bn) for non-institutional buyers (NIBs) and 10% (Rs 2.1 bn) for retail investors.
While equity shares worth Rs 200 m have been kept reserved for employees.
A discount of Rs 40 per share will be given to the eligible employees bidding in the employee reservation portion.
Using the bullish equity market to pare its debt
The IPO proceeds worth Rs 2 bn raised via fresh issue will go to the company.
Of this, it intends to repay Rs 1.5 bn worth borrowing.
The remaining Rs 500 m will go towards general corporate purposes, which can include capital expenditure, partnerships, among other things.
About Krishna Institute of Medical Sciences
Incorporated in 1973, Krishna Institute of Medical Sciences is one of the largest healthcare groups in Andhra Pradesh and Telangana.
KIMS provides multi-disciplinary healthcare services with a key focus on primary, secondary, and tertiary care in tier 2-3 cities.
The company offers a comprehensive range of healthcare services including oncology, cardiac sciences, neurosciences, gastric sciences, orthopedics, renal sciences, organ transplantation, and mother & child care.
As of 31 March 2021, it operates through 9 multi-specialty hospitals under the brand name of 'KIMS Hospitals' with an aggregate bed capacity of 3,064 including over 2,500 operational beds.
--- Advertisement ---
[Alert] Sell These 3 Stocks Immediately

These 3 stocks are ticking time bombs in your portfolio.

It is very likely that you could be owning these 3 overvalued...

fundamentally weak... ready to crash stocks... in your portfolio today.

Because many stock brokers have painted rosy pictures of these stocks. But the reality is starkly different.

If the market crashes, then these stocks could wipe out your wealth.

You should get rid of these stocks as soon as possible.

Click her for full details of these 3 landmines
------------------------------
Company's competitive strengths
One of the largest corporate healthcare service provider in south India.
Highly qualified and trained doctors and medical support staff.
Strong operational and financial performance.
Experienced managerial team.
Expansion plans get a shot in the arm
KIMS wants to ride the bull run in India's equity markets to expand its operations to adjacent areas like Karnataka, Odisha, Tamil Nadu, and even central India.
Among these, Bengaluru and Chennai could be the next big markets for KIMS.
Apart from this, the liquidity boost could help KIMS expand its bed capacity and healthcare equipment to augment its operations.
The financials
The company has posted growth in its top and bottom lines for the last three fiscals.
For the last three financial years, the company has (on a consolidated basis) posted an average earnings per share (EPS) of Rs 17.4.
The issue is priced at a P/BV (price to book value) of 7.2 based on its net asset value (NAV) of Rs 115.4 as of 31 March 2021.
Key Financial Indicators
| (Rs m) | FY18 | FY19 | FY20 | Dec-20 |
| --- | --- | --- | --- | --- |
| Revenues | 6,636.7 | 9,180.1 | 11,226.5 | 9,714.0 |
| Revenue Growth (%) | | 38.3% | 22.3% | |
| Expenses | 7,213.9 | 9,389.1 | 9,882.0 | 7,793.8 |
| Profit Before Tax (PBT) | -204.5 | -150.4 | 1,405.3 | 1,980.0 |
| Net Profit | -461.9 | -485.9 | 1,150.7 | 1,468.6 |
Data Source: Company's Red Herring Prospectus
As per offer documents, KIMS has not paid any dividend in the last three fiscals but will follow a prudent dividend policy based on its financial performance, future prospects and the procedure framed for the same.
For more details, check out Krishna Institute of Medical Sciences Red Herring Prospectus.
Instant Updates: Join Our Telegram Channel and Get Instant Updates
Revenue concentration remains a key area of concern for KIMS
The hospital's two branches, namely KIMS Kondapur and KIMS Secunderabad - both located in Hyderabad, contribute nearly two-thirds to the total revenue of the company.
A high concentration of revenue could hamper the company's prospects if it cannot expand and diversify in a meaningful manner.
Covid-19 had a noticeable adverse impact on company's operations
Despite a surge in revenue and profit, KIMS says that the Covid-19 pandemic had an adverse impact on its operations.
The company says that in March 2020 and more so in April 2020, it witnessed a substantial decline in in-patient and out-patient volumes.
When compared to February 2020, its inpatient volumes fell by more than half in April 2020.
It also notes that some patients were reluctant to visit hospitals due to a perceived notion of increased risk of infection.
Heightened risk of its doctors, nurses and other healthcare workers, and a resulting increase in costs to ensure their safety also remains another area of concern for the company.
Comparison with listed peers
The peer group companies listed in India are Apollo Hospitals Enterprise, Fortis Healthcare, Narayana Hrudayalaya, and Max Healthcare Institute.
Comparative Analysis
| Company | Revenues | Net Profit | Return on Net Worth (%) |
| --- | --- | --- | --- |
| Apollo Hospitals | 112.5 | 4.3 | 13.6% |
| Fortis Healthcare | 46.3 | 0.8 | 0.9% |
| Narayana Hrudayalaya | 31.3 | 1.2 | 10.5% |
| Max Healthcare | 18.8 | 1.0 | 1.9% |
| Krishna Institute | 11.2 | 1.2 | 16.8% |
Data Source: RHP, Equitymaster
Figures in Rs bn and as on 31 March 2020
Grey market premium
The grey market, where investors seek the first cue on public issues, is sufficiently enthused too.
The unofficial market for trading in unlisted shares is signaling good response for most of the current IPO issues.
As of 15 June 2021, KIMS Hospital is commanding a grey market premium of Rs 150-160, signaling a 18-20% upside over the issue price.
According to analysts, the company's business model is attractive, but high pricing is a concern.
There is not much buzz about the issue. However, they expect it to be a positive surprise for investors.
What's the ideal IPO strategy to follow?
The excitement surrounding the slew of IPOs in the coming months is huge.
As many as four companies are coming out with their IPOs this week.
These include Shyam Metalics, Sona Comstar, Dodla Dairy, and Krishna Institute of Medical Sciences.
Investors are already euphoric on loss making companies such as Zomato and Paytm.
Smallcap analyst at Equitymaster, Richa Agarwal, recently shares her views on the much-hyped Paytm IPO.
Here's what she wrote...
Investing in a company is like owning a piece of business.

A loss-making business with no clear road to profits isn't one I would recommend.

And certainly not at the time of its IPO.
You can read the entire editorial here: Paytm IPO: Will it Deliver Profits?
If you are investing in an IPO, weigh in all the positive and negative factors affecting the company.
Take a close look at the company's financials and valuations. It would give you a clear picture of what's brewing.
Happy Investing!
Disclaimer: This article is for information purposes only. It is not a stock recommendation and should not be treated as such. Learn more about our recommendation services here...