Nifty Bears are in Control of the Short-Term Trend
Jun 22, 2022
The NSE Nifty index has corrected over 8% (low of 15,183) in June 2022 so far, the biggest fall since March 2020. It's trending at the long-term support area of 14,900-15,200.
I did a video on the Dow Jones index and the BSE Sensex long-term technical levels.
You can watch it here if you haven't already: Is the Market Correction Over?
Short-Term Technical Setup
Nifty Chart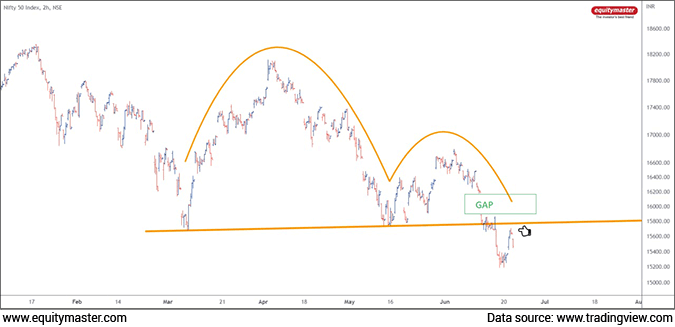 On short-term chart, the index has broken down from a bearish cup and handle pattern at 15,700 and hit a low of 15,183.
The gain of 1.9% yesterday re-tested the breakdown. The Nifty opened on a negative note in today's session indicating the bears are in control of the short-term trend.
The gap area (green box) is the icing on the cake for bears and a hurdle for bulls.
Traders should look for shorting opportunities on any rise until the 15,800-15,900 band is not crossed.
Additionally, the gap of 15,380-15,420 may act as a support zone intraday. The bulls need to cross the 15,800-15,900 as a confirmation of the reversal.
As I write this, the SGX Nifty live index is down 150 points to 15,490 levels.
Meanwhile, the Nifty is trading at around 15,500, down 140 points. Hero MotoCorp and BPCL are the top gainers today.
If you're interested in being part of my charting journey as I share how to create wealth from the profitable trade setups, join my telegram channel - Fast Profits Daily. You'll get access to the best trading ideas in the stock market.
To know more about how the Nifty and Bank Nifty index are performing, please see the NSE Nifty Live Chart and NSE Bank Nifty long term chart.
Disclaimer: This article is for information purposes only. It is not a stock recommendation and should not be treated as such.
Brijesh Bhatia Research Analyst and expert chartist, is the editor of Alpha Wave Profits. Fully committed to his craft, Brijesh has mastered the art of making money by trading using technical analysis. Brijesh has an MBA from ICFAI and 16 years of experience in India's financial markets. He began his career on Dalal Street as commodities dealer and it wasn't long before he developed his own unique trading system. Brijesh worked on his trading system until it could be expected to deliver 5 units of return for every unit of risk.