GIC Share Price Gains After Company Swings Back to Profit
Jun 30, 2021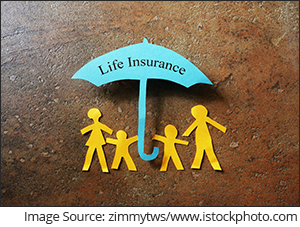 General Insurance Corporation of India (GIC) on Tuesday reported a consolidated net profit of Rs 19.9 bn for the financial year 2020-21.
The state-owned reinsurer had posted a loss of Rs 1.9 bn in the last year.
On a standalone basis, it posted a profit after tax (PAT) of Rs 19.2 bn for the year 2021 against a loss of Rs 3.6 bn a year ago, according to a company statement.
Despite the handsome performance, the pandemic has created significant uncertainties on the growth front.
The incurred claims also reduced to Rs 368.5 bn in the reporting fiscal, down from Rs 430.4 bn in the previous fiscal.
Incurred claims ratio improved to 92.4% as of 31 March 2021, from 97.5% 12 months ago, while the underwriting loss also improved to Rs 54.9 bn from Rs 63.7 bn.
The solvency ratio improved to 1.7 as on 31 March this year, from 1.5 in the year-ago period.
Its total assets also saw a sharp rise to Rs 1.3 tn, compared to Rs 1.2 tn as of 31 March 2020.
Consolidated financials of GIC
GIC Re's group includes subsidiary companies namely, GIC Re South Africa, GIC Re Corporate Member, London, and GIC Perestrakhovanie LLC, Moscow.
The group also includes three associate companies namely GIC Re Bhutan, India International Insurance, Singapore and Agriculture Insurance Company of India.
The gross premium collected in 2021 went down to Rs 475.5 bn, from Rs 515.2 bn in the previous financial year, while the net premium was also down.
Investment income zoomed to Rs 88.2 bn for the year ended March 2021 compared to the previous financial year's Rs 71.3 bn.
The company's net worth for the year stood at Rs 247.3 bn compared to Rs 228.4 bn for the year ended 31 March 2020.
The general insurer has not recommended any dividend for the financial year 2020-21.
Covid impact on company's business
Despite the healthy growth in business metrics in the Covid-19 year, the company said the pandemic has created significant uncertainties in regard to the growth trajectory.
It flagged concerns with regard to the pandemic's impact on business and economic growth and its resultant impact on premium volume, particularly from small and medium industries.
There could be some shrinkage of purchase of insurance with a potential for cascading effect on reinsurance.
'The specialty classes of business such as event cancellation, travel, credit, surety, mortgage, agriculture, directors and officers, and business interruption are expected to get adversely affected', the company said.
From an operational perspective, business could continue essentially through work from home across the globe by the insurers, intermediaries and reinsurers, the statement said.
The global economic growth is a key driver for insurance markets which feed into reinsurance sector.
From an Indian perspective, the company said as the insurers get listed and market consolidates in the backdrop of declining interest rates, the pricing discipline in the market can be expected to strengthen in the medium to long term.
Market size of insurance sector in India
The life insurance industry is expected to increase at a compound annual growth rate (CAGR) of 5.3% between 2019 and 2023.
India's insurance penetration was pegged at 3.8% in 2020, with life insurance penetration at 2.8% and non-life insurance penetration at 0.9%. In terms of insurance density, India's overall density stood at US$78 in the last year.
The market share of private sector companies in the general and health insurance market increased from 47.9% in the year 2019 to 48.03% in 2020.
In the life insurance segment, private players held a market share of 33.8% in premium underwritten services in 2020.
In FY21 (until March 2021), premium from new business of life insurance companies in India stood at US$31.9 bn.
In the same period, health insurance companies in the non-life insurance sector increased by 41%, driven by rising demand for health insurance products amid Covid-19 surge.
Speaking of the insurance sector, have a look at the chart below which shows the investment assets of non-life insurers and life insurers over the past 10 years.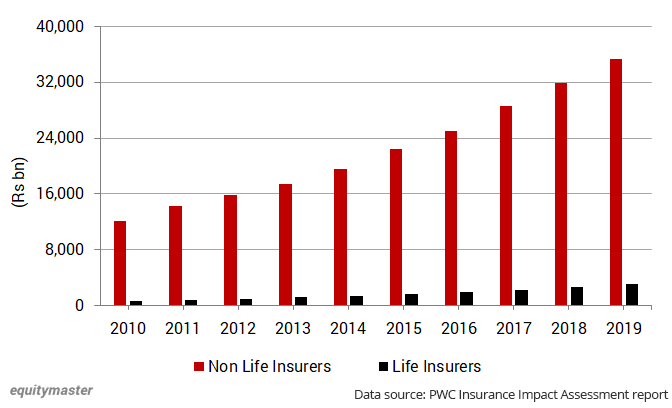 As per Tanushree Banerjee, Co-Head of Research at Equitymaster, the above chart is enough proof of how big an earning opportunity is the zero-cost float to the non-life insurers.
Their investment assets under management is nearly 11 times that of life insurers.
Tanushree recently recommended a high-quality stock from this space. Subscribers can read the report here (requires subscription).
And if you are not a StockSelect subscriber, here's where you can sign up.
How the stock markets reacted to GIC's March quarter numbers today
Shares of GIC opened the day at Rs 205.2 on the BSE and Rs 207.8 on the NSE.
Its share price closed at Rs 208.4 (up 2%) on the BSE and Rs 208.5 (up 2.1%) on the NSE.
At its current price, it is trading at a P/E of 19.5.
The share touched its 52-week high of Rs 243.7 and 52-week low of Rs 116 on 17 March 2021 and 29 October 2020, respectively.
Over the last 30 days, the GIC share price is up 7.8%. Over the last one year, the company's share price is up 39.4%.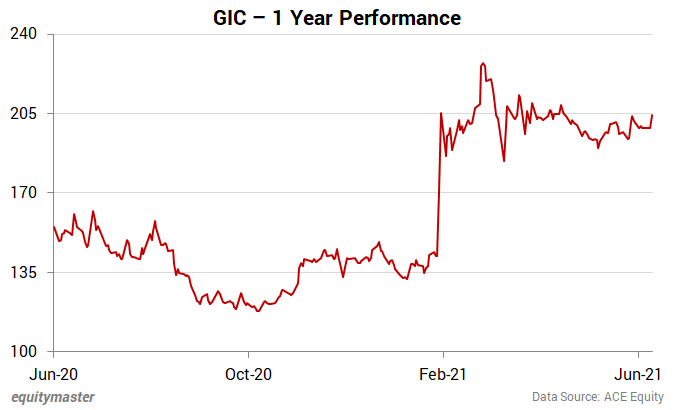 About GIC
General Insurance Corporation of India abbreviated as GIC Re is an Indian government owned reinsurance company.
It's under the ownership of Ministry of Finance, Government of India.
It was incorporated on 22 November 1972 under companies act, 1956. GIC Re has its registered office and headquarters in Mumbai.
It was the sole reinsurance company in the Indian insurance market until the insurance market was open to foreign reinsurance players by late 2016 including companies from Germany, Switzerland, and France.
The company leads many of the domestic companies' treaty programs and facultative placements.
Internationally, GIC Re is an effective reinsurance partner for the Afro-Asian region. It leads the reinsurance programs of several insurance companies in the middle east and north Africa and south Asian association for regional cooperation (SAARC) countries.
It has offices in London Dubai Kuala Lumpur and a representative office in Moscow.
For more details about the company, you can have a look at GIC factsheet and quarterly results on our website.
You can also compare GIC with its peers.
GIC vs The New India Assurance
To know what's moving the Indian stock markets today, check out the most recent share market updates here.
Disclaimer: This article is for information purposes only. It is not a stock recommendation and should not be treated as such. Learn more about our recommendation services here...