Here's Why Affle India Hit 5% Upper Circuit Today
Jul 2, 2021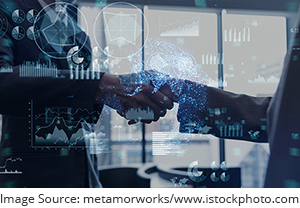 Shares of Affle India hit its upper circuit limit on the BSE today after the company announced it has completed the acquisition of Jampp.
The scrip surged 5%, its daily circuit limit, to Rs 4,419 per equity share on the BSE intraday.
The scrip hit a new lifetime high of Rs 6,287 in March 2021, delivering a 750% return to investors. The counter is still trading at 500% above its issue price.
On 8 August 2019, the share price of the advertising and media firm Affle India was listed at the upper end of the price band fixed at Rs 745 apiece, on both the bourses.
Affle concludes Jampp acquisition
Affle India through its subsidiaries, has announced the completion of acquisition to acquire full control, tech IP assets and 100% ownership of Jampp, a leading global programmatic mobile marketing company.
It had approved and announced the acquisition on 9 June 2021. This marks the successful completion of its biggest acquisition till date.
Affle MEA FZ-LLC, a subsidiary of Affle International, had also entered into an intellectual property purchase agreement to acquire 100% tech IP assets of Jampp.
In a regulatory filing on 9 June, the company had stated that the total consideration of the transaction is US$41.3 m (about Rs 3.1 bn).
This includes contingent incremental consideration of US$15 m to be paid over a period of three years.
Commenting on this development, Anuj Khanna Sohum, the Chairman, MD and CEO at Affle said,
The completion of Jampp acquisition marks a significant milestone in our growth journey and adds to our proven 100% track record of timely completion of announced acquisitions.

This transaction significantly enhances our market reach, scale, talent and strengthens the CPCU business.

The integration process will be carried out gradually and the combined synergies will enable a lot more strategic accomplishments, enhancing value for our shareholders, customers, employees and all other stakeholders.
The integration process will be carried out gradually and the combined synergies will enable a lot more strategic accomplishments, enhancing value for shareholders, customers, employees and all other stakeholders, he added.
This acquisition carries a great strategic merit as it strengthens Affle's CPCU (cost per converted user) business model and enables it to expand into fast-growing markets like US and LATAM (Latin America), while further consolidating its position in APAC (Asia Pacific).
Things to know about Jampp company
Jampp is a global platform that started in 2013 in Latin America and its largest teams continue to be based there.
Jampp's programmatic mobile advertising platform is used by leading app marketers to acquire new users and also to drive repeat usage & transactions with existing users.
Its focus on leveraging unique contextual and behavioural signals to deliver in-app engagements has helped it to drive incremental growth for marketers in North America, LATAM, APAC, and other global markets.
Its consolidated revenue stood at US$29.5 m in 2020.
Company reports substantial rise in profit for the March quarter
Mobile advertising firm Affle posted nearly three-fold jump in consolidated profit at Rs 587 m for the quarter ended 31 March 2021.
The company had posted a net profit of Rs 200 m in the same quarter a year ago.
The company reported 76.9% year on year (YoY) increase in consolidated revenues for the March 2021 quarter at Rs 1.4 bn.
On a sequential basis, the total sales revenues were down by 5.9% compared to total revenues in the December quarter at Rs 1.5 bn.
For the quarter, the India revenues were up 62% at Rs 7.2 bn while global revenues were up 95% at Rs 7.5 bn.
Affle delivered broad-based growth from both existing and new customers across the top 10 resilient industry verticals, it said in a statement.
This was contributed by consistent growth in advertiser spends across India and other emerging markets.
In terms of product verticals, the India revenues were largely dominated by the consumer platform with the enterprise platform playing a much smaller role in the total revenues.
Company's valuation and outlook
Increased spend in mobile advertising, tapping connected devices, improved penetration in top 10 verticals, newer geographies, tier-2 and tier-3 cities of India will drive topline in the long run.
Further, in a post Covid world, it's expected the shift among consumers to adopt digital technology, will increase tremendously.
This will drive long term revenues for the ad-tech company.
In addition, Affle's unique business model, healthy profit after tax (PAT) will put the company in much better spot in the industry going ahead.
Outcome-based business model
Affle primarily earns revenues from 'consumer platform' on a CPCU basis. This entails user conversions based on 'consumer acquisition' and 'transaction' models.
This model focuses on acquiring new customers for businesses, usually in the form of a targeted user downloading and opening an app or engaging with an app after seeing an ad delivered by the company.
Thus, Affle earns revenue only if it's able to successfully convert its audience into customers.
How the stock markets reacted to Affle India
Shares of Affle India opened the day at Rs 4,295 on the BSE and Rs 4,260 on the NSE.
Its share price closed at Rs 4,419 (up 5%) on the BSE and Rs 4,418.6 (up 5%) on the NSE.
At its current price, it is trading at a P/E of 87.2.
The share touched its 52-week high of Rs 6,287 and 52-week low of Rs 1,425 on 5 March 2021 and 2 July 2020, respectively.
Over the last 30 days, the Affle India share price is down 16.7%. Over the last one year, the company's share price is up 202%.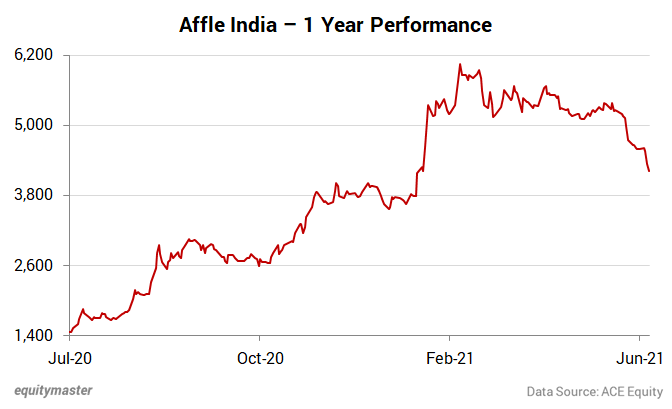 About Affle India
Affle India was incorporated as a private limited company with the name Tejus Securities Private Limited on 18 August 1994.
As on January 2006 the company was owned and managed by Mukesh Tulsyan, Raj Pal Singh Rana, and certain other shareholders.
Subsequently in January 2006 the entire equity share capital of Tejus Securities was acquired by Anuj Khanna Sohum individual promoter along with Anuj Kumar and Madhusudan Ramakrishna.
Affle is a global technology company with a proprietary consumer intelligence platform that delivers consumer engagement, acquisitions, and transactions through relevant mobile advertising.
The platform aims to enhance returns on marketing investment through contextual mobile ads and also by reducing digital ad fraud.
While Affle's Consumer platform is used by online and offline companies for measurable mobile advertising, its enterprise platform helps offline companies to go online through platform-based app development, enablement of online-to-offline (O2O) commerce and through its customer data platform.
For more details about the company, you can have a look at Affle India factsheet and quarterly results on our website.
To know what's moving the Indian stock markets today, check out the most recent share market updates here.
Disclaimer: This article is for information purposes only. It is not a stock recommendation and should not be treated as such. Learn more about our recommendation services here...