Jul 7, 2021 - Titan Share Price Falls Despite Decent Performance in June Quarter
Titan Share Price Falls Despite Decent Performance in June Quarter
Jul 7, 2021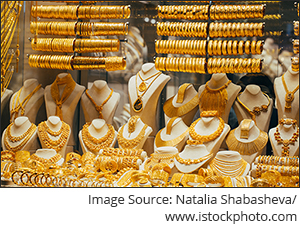 Titan company released its quarterly update for the June quarter and said revenues surged 117% year on year (YoY). This excludes bullion sales.
Investors responded to this news by taking Titan's shares more than 2% lower in the early trade today on the BSE.
Based on the update, June quarter revenues work out to be around Rs 27.5 bn. Note that YoY growth this time around was helped by a favourable base.
For perspective, Titan's March 2021 quarter revenues stood at around Rs 70 bn. This means revenues have declined as much as 60% sequentially.
The month of May was particularly disappointing for Titan. The company has said revenue contribution from April, May, and June stood at approximately, 50%, 10%, and 40%, respectively.
Segment wise operational activity
The sales recovery is gradually improving across the businesses, along with the increase in the store operational days.
This year, watches & wearables, and eyewear segments witnessed rapid recovery in walk-ins with the re-opening of stores, which was seen in only jewellery division last year.
Here's what the company said about its key segments.
Jewellery: Sales, excluding bullion, grew nearly 107% YoY. That came on a low base as it witnessed a washout in April and May last year during the nationwide lockdown.
Sales for June this year was only marginally ahead than that a year ago as larger states like Tamil Nadu and Karnataka were under a lockdown till most of June to combat the pandemic's second wave.
The division is gaining good traction in new customers and its mix in total buyers has reached the pre-pandemic levels.
Golden Harvest fresh enrollments, while adversely impacted due to the lockdowns, still showed a growth over last year same period and refund requests have been quite low and comparable to pre-pandemic levels.
The division added five Tanishq stores in the quarter, with retail space addition being approximately 20,000 square feet.
Watches & Wearables: The watches and wearables division grew 280% over the June quarter as sales were nil in April month of last year and moreover the recovery this year has been faster than that witnessed last year when footfalls in stores were very weak due to higher apprehension of covid.
Total store operational days were at 70%, 24%, and 51% for April 2021, May 2021, and June, respectively.
Sales were strong in the e-commerce channel especially in the second half of April 2021 and May 2021.
Also, omnichannel sales have been gaining traction along with brand websites generating customer leads.
Eyewear: The division grew nearly 117% over last year on the back of a low base and rapid recovery in walk-ins in May and June.
Total store operational days were at 71%, 19%, and 62% for April 2021, May 2021, and June, respectively.
Over 90% of stores are now open. The division accelerated its e-commerce path and launched Titan Eyeplus mobile app.
During the quarter, the division added six stores on a net basis, with addition of about 1,500 sq. feet of retail space.
Other Businesses: As many as 11 out of Taneira's 14 stores reopened after lockdown. On average, Taneira stores were operational for about 30% of total store days in the quarter gone by.
Fragrances and accessories business recovered slowly, but grew by three times over last year. Sales in the second fortnight of June is better than the first.
Among the subsidiaries, Titan Engineering and Automation (TEAL) had a revenue decline of 15% in the June quarter of 2022.
The business is seeing a strong comeback in the automation solutions business over the last few months and the enquiries are very encouraging.
With respect to the aerospace and defence business, it is seeing some signs of growth in the single aisle aircraft segment but it appears that the long haul segment will take more time to recover.
Further, CaratLane (of which 72.3% is owned by Titan Company) grew by 274% over the first quarter of the current financial year.
Second Covid-19 wave a setback for the company's business plans
Sales at Titan were affected in the quarter ended June amid lockdowns because of the pandemic's second wave, resulting in store closures across the country.
The company said the second Covid wave proved to be a setback for its business plans that were made with a lot of ambition, substantial excitement and passion.
Titan, however, said it's moving ahead with 'calmness and composure' and is confident of overcoming all the challenges.
In its annual report for the financial year 2021-22, the company said it is expecting that by September 2021, much of the country will be vaccinated, paving the way for some kind of normalcy in business environment.
How the stock markets reacted to Titan
Shares of Titan opened the day at Rs 1,767.5 on the BSE and Rs 1,762.8 on the NSE.
Its share price closed at Rs 1,728.9 (down 2%) on the BSE and Rs 1,728.4 (down 2%) on the NSE.
At its current price, it is trading at a P/E of 157.2.
The share touched its 52-week high of Rs 1,800 and 52-week low of Rs 941.8 on 25 June 2021 and 16 July 2020, respectively.
Over the last 30 days, the Titan share price is up 2.9%. Over the last one year, the company's share price is up 71%.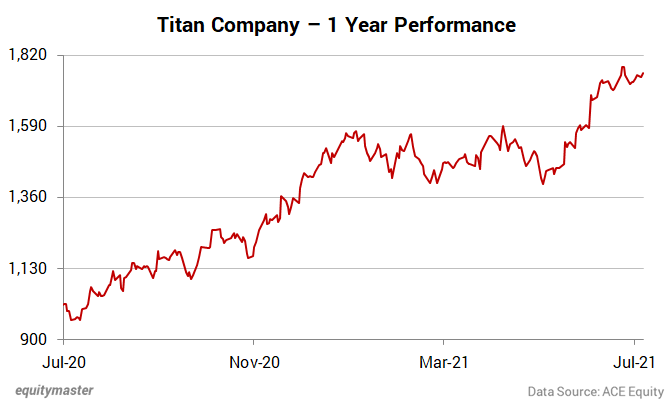 About Titan Company
Titan company (earlier known as Titan Industries) is an Indian luxury products company that mainly manufactures fashion accessories such as watches, jewellery and eyewear.
The company is a part of the Tata Group and started as a joint venture with Tamil Nadu industrial development corporation (TIDCO), the company is headquartered in electronic city, Bangalore.
Titan commenced operations in 1984 under the name Titan watches.
In 1994, Titan diversified into jewelry with Tanishq and subsequently into eyewear with Titan Eyeplus.
In 2005, it launched its youth fashion accessories brand Fastrack.
As of 2019, Titan is the fifth largest watch manufacturer in the world. It is the largest branded jewellery maker in India, with more than 80% of its total revenues coming from the jewellery segment.
For more details about the company, you can have a look at Titan Company factsheet and quarterly results on our website.
You can also compare Titan with its peers.
To know what's moving the Indian stock markets today, check out the most recent share market updates here.
Disclaimer: This article is for information purposes only. It is not a stock recommendation and should not be treated as such. Learn more about our recommendation services here...