Why Gold Price is Falling
Sep 16, 2022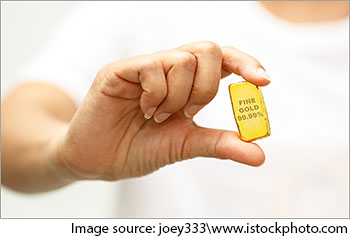 Editor's note: Inflation numbers continue to dampen sentiment for gold. A higher-than-expected inflation data released this week in the US has led to expectations of an aggressive rate hike by the Federal Reserve
The Fed is meeting next week for its policy review. Inflation numbers and a strong US dollar has made the yellow metal's prospects in the near-term bleak.
Inflation is an important factor lighting a big fire under gold prices. If experts are to be believed, inflation doesn't seem transitory and is pretty much here to stay.
Continuing the downward trajectory, gold prices fell yet again today and hit six-month lows.
Gold futures for the latest contract on MCX fell to Rs 49,200- levels.
Silver prices, too, followed suit. Silver's latest contract on MCX fell 0.3% to Rs 56,200 levels.
At a time when the Indian share market is falling and there are inflationary concerns, one would hope gold to do well.
After all, gold has a history of being an excellent hedge against market crashes. You also have the advantage of riding on a bunch of macro tailwinds for gold.
All in all, investing in gold should be a 'heads you win, tails you don't lose much' scenario.
But that's not the case. The recent volatility has investors worried. Silver prices are far more volatile than gold.
Take a close look at the chart below which shows the performance of gold in the past one year.
Gold Price (US$) 1 Year Performance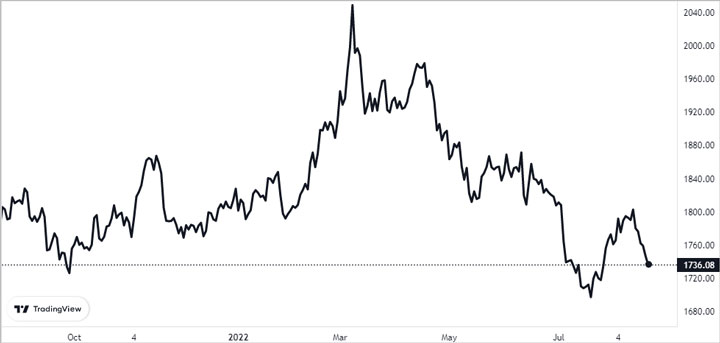 Data Source: TradingView
As can be seen from the chart above, after rising initially towards the end of July, gold prices have started to come down again.
The recent decline in gold has had a domino effect on gold loan financiers in India. Falling gold price is one of the main factors why Muthoot Finance share price is falling.
That apart, gold ETFs have also seen net outflow of Rs 4.6 bn and Rs 0.4 bn in July and August, respectively.
With inflation rearing its head (in the US) and stock markets across the globe again looking nervous, the stage is set for gold to make a comeback.
Earlier this year in July, we wrote to you about why the price of gold was falling. A similar downward movement was seen back then, and we wrote about the likely reasons for the downfall.
The same reasons remain relevant even today.
Continue reading to know why gold is falling...
Why Gold Price is Falling
The price of gold has taken quite a knock in recent weeks.
In July 2022, it was trading at May-June 2020 levels, which is kind of a disappointment for investors who bought into Gold as a hedge against the crisis unleashed by the pandemic.
Worse, the other reason for buying into Gold, inflation, has not played out.
So, why is the price of gold falling? There are broadly three reasons...
#1 Higher interest rates
First, higher interest rates across most of the world improve the relative attractiveness of fixed income instruments vis-a-vis gold, which is typically a non-income generating asset.
The higher the interest rates, the worse off you are in terms of holding solid gold in your lockers.
Update: The recent decline in gold prices can be attributed to the US Fed's hawkish comments on raising interest rates.
A poll of Reuters economists is predicting the Fed to raise interest rates by 50 basis points in September 2022 to tame inflation and tackle recession worries.
#2 Fear of accelerating inflation appear to be easing
Second, fear of accelerating inflation appear to be easing. We all have been taught that gold is a great hedge for inflation. (I am not going to delve into why this is so here. But suffice is to say there is common agreement on this point).
So, when the fears of inflation start to ease, it's not surprising to see a sell off in Gold. And that's exactly what has been playing out in the markets these days.
Prices of several commodities are easing off sharply triggered by fear of a global economic slowdown. If this persists, inflation could ease off quite dramatically in the coming months.
#3 Money moving away from gold and into higher risk assets?
Third, there is a chance that money may be starting to move back into higher risk assets.
Why? Well, on balance, the view in the markets is shifting to the fact that the US may be headed into a recession (or is already in one). If that's the case, then the interest hikes may ease off.
And you know what happens when money stays cheap, and there is plenty to go around, right? It flows into assets like stocks, which then offer better prospects. That's not great news for the gold bulls.
Performance of gold
Take a look at the chart below which shows how the safe haven metal has performed since 1 Jan 2020.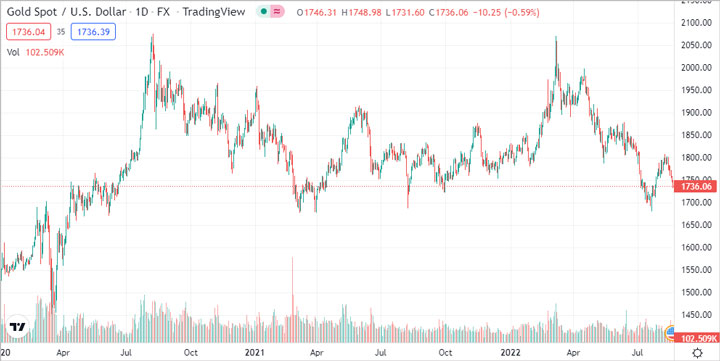 Data Source: TradingView
Now, I am sure there are more reasons as to why gold price is falling, but these are to my mind among the key ones.
Having said that, remember the role gold plays in your overall asset allocation.
Like someone told me years ago...
You buy stocks for good times, and gold for bad times.
Yes, think of gold not as something that will make you money. But like insurance.
It will pay off big only when something goes horribly long. Until then, it will idle along in your portfolio.
If that's your approach to gold, then this fall should not concern you.
But if you are an "investor" in gold, looking for a return, the performance of gold in the last couple of years, could perhaps, be termed as disappointing.
Don't forget to check out the below video where India's #1 trader Vijay Bhambwani discusses whether it's the time to be bullish on the yellow metal
Disclaimer: This article is for information purposes only. It is not a stock recommendation and should not be treated as such. Learn more about our recommendation services here...