Why Silver Price is Falling
Aug 22, 2022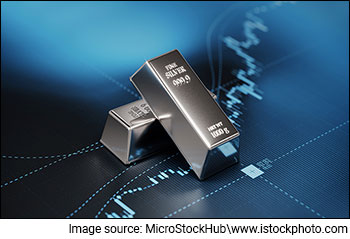 Editor's note: The price of silver has been in a downtrend recently. Ditto for the price of gold.
From around US$ 26 per ounce back in March 2022, the international price has fallen below the US$ 19 mark.
Silver had seen these price levels back in July 2022 as well, but there was a recovery. However, the run up proved to be short-lived and the price has started falling again.
In this article, we will take a look at all the reasons for the fall in the price of silver.
We Indians love investing in gold and silver. The affinity for these precious metals in our country has been strong since ancient times.
Thus, whenever gold or silver prices move up or down sharply, it makes headlines. So it's not surprising that the recent decline in silver has caught the attention of many.
Why is the price of the white metal heading lower?
Here are the reasons...
# The US Dollar is Getting Stronger
The price of precious metals and the US dollar tend to move in opposite directions. In finance speak, they are 'inversely co-related'.
This means if the dollar strengthens, silver is unlikely to do well. And that is exactly what has happened in this year.
The dollar is a bit of a juggernaut at the movement. It's trading close to its 20-year high. In fact, so strong is the dollar these days that even the euro, which is usually the stronger currency, has fallen to near parity against the dollar.
The strength of the dollar is due to money flowing in to the US from most other countries due to fears of a global recession.
In a recession, investors tend to park their funds in the perceived safe have of US treasury bonds.
Fears of a recession is rampant in global markets right now. This is keeping the dollar strong.
# High Inflation Leading to Higher Interest Rates
Another reason for the weakness in silver (gold too as gold price is falling), is the sharp rise in interest rates around the world.
The US central bank, the US Federal Reserve, is pursuing an aggressive monetary policy to get inflation under control. The Fed has already raised interest rates and will continue to do so in the weeks and months ahead.
This aggressive rate hike policy is also supporting the dollar and has triggered fears of the US sliding into recession.
Higher interest rates hurt sentiment in precious metals because gold and silver don't earn any interest while investors can earn higher interest on safe government bonds.
Usually, high inflation is positive for gold and silver prices, but this time higher interest rates have spoiled the party.
# Industrial Demand is Under Pressure
In financial markets, silver is treated as a part precious metal and part industrial metal. This is because about 60% of silver demand is from industries.
Silver is considered to be an indispensable industrial metal. It has wide-ranging uses in industries - photography, electronics, IoT, home appliances, textiles, medicine, dentistry, solar photovoltaic cells, LEDs, RFID chips, nuclear reactors, EV batteries, soldering and brazing alloys, water purification, wood preservatives, and more.
During a recession, demand for industrial goods reduces all over the world. Silver is not immune from this slowdown. Whenever the global economic growth seems to be under pressure, silver prices take a hit.
And this is what we are seeing in the market today. Also, the economic slowdown in China, due to harsh lockdowns, has made the situation worse for industrial demand.
Thus, silver prices are likely to be subdued in the short term.
# Outflows from Silver ETFs
In India, silver ETFs are still a relatively new investment vehicle. But in the west, they are very popular.
During covid times, these silver ETFs witnessed record inflows.
However, the weak sentiment in the market has lead to a reversal in 2022. Buyers have turned into sellers and are withdrawing their money.
Of the many market forces driving the price of silver higher, the investments in silver ETFs was a big one. It created a strong bullish sentiment in silver over the last 2 years.
Thus, if sentiment turns more negative than it is now, there could be more downside for silver at least in the short term.
Although, the outlook should improve over time.
Ace trader and long-time silver bull, Vijay Bhambwani, believes the silver bull market is still on. He explained his view in this video - Bull Market in Silver is Still on.
You can also check out Vijay's YouTube playlist on silver.
If you're thinking of taking advantage of falling prices by investing in silver now, we suggest this reading this helpful guide - How to Invest in Silver.
You can track the price of silver here.
Disclaimer: This article is for information purposes only. It is not a stock recommendation and should not be treated as such. Learn more about our recommendation services here...