Why HAL Share Price is Rising
Jul 12, 2023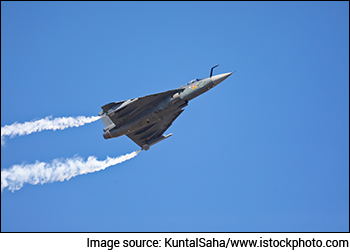 Defence stocks have emerged as a compelling investment opportunity for Indian investors in recent years.
A growing focus on defence modernization, increased government spending, and the "Make in India" initiative has put them on the radar of investors.
Riding this tailwind, is the stock of Hindustan Aeronautics Ltd. The stock is up more than 5% in the last month.
Let's find out why the company's shares are on an uptrend.
Technology transfer of helicopter engine technology to boost prospects
Shares of HAL rose over the last five days after the Defence Procurement Board approved a proposal to buy 26 Rafale fighters and Scorpene submarines for the Indian Navy, ahead of the Prime Minister Modi's visit to Paris this week.
The PM will visit France on 13th and 14th July and is the guest of honour at the Bastille Day Parade. He will be accompanied by a business delegation of top CEOs.
Full technology transfer for helicopter engines, acquisition of fighter jets for Indian Navy and the possibility of extending Scorpene submarine manufacturing line in India will be on the agenda during Prime Minister Narendra Modi's upcoming visit to Paris.
The announcement of 100% technology transfer for the Shakti engine that powers the Indian advanced light helicopters (ALH) is expected to a highlight of the trip.
The engines are currently being made by HAL. A full technology transfer would lead to far-reaching benefits for Indian industry and for the company.
India has been looking to acquire helicopter engine technology as it has embarked on a self-dependence mission for rotary-wing aircraft.
While smaller helicopters are being made domestically, the under-development Indian multi-role helicopter programme will further reduce imports.
Foray into South Asian markets to expand reach
HAL has recently expanded its presence in Malaysia, eyeing it as a potential market for its fleet of utility and attack helicopters and fighters in Southeast Asia.
This is expected to boost the company's revenue and growth prospects.
Defence Minister Rajnath Singh inaugurated the Regional Marketing Office in Kuala Lumpur, as part of a move to facilitate close defence industrial collaboration between India and Malaysia.
The Regional Marketing Office will serve as a hub for the HAL's engagement with the wider South-East Asian region and act as a window for other Indian defense PSUs.
The office will also service and maintain the Su-30 fleet of the Royal Malaysian Air Force (RMAF), according to media reports.
HAL is one of the largest producers of Su-30s and was also looking to supply spare parts to the RMAF - availability of which has been hit due to the ongoing Russia-Ukraine war.
This is not the first time that the company has set up its marketing office in Malaysia.
In August 2022, while eyeing a deal for Light Combat Aircraft (LCA) Tejas, which it eventually lost out to the South Koreans, the company had established an overseas marketing office in Kuala Lumpur.
HAL is also in talks with the Philippines for the sale of six indigenous Advanced Light Helicopters. The Philippines, in January last year, signed a contract with India for the BrahMos supersonic cruise missiles.
Healthy financials to support growth
For the financial year 2023, the company reported a 9.4% YoY increase in revenue on the back of healthy execution of its order book.
Due to the increase in revenue, the company's operating profit rose 13.9% YoY. Operating profit margins also rose 1.5% YoY to 38.6%.
Consequently, the company's net profit rose 13.4% YoY, with net profit margins up marginally.
During the March 2023 quarter, the Government of India launched an Offer for Sale, which received a positive response from investor community.
The government sold 3.5% of its stake through this route. This is to achieve the mandatory threshold of 25% minimum public shareholding in the company. Consequent to the OFS, the Government of lndia shareholding stands at 71.65%.
The board of directors of the company, declared a second interim dividend of Rs 20 per equity share. The total interim dividend declared for FY23 is Rs 40.
HAL also declared a stock split in the ratio 1:2. HAL also declared a stock split in the ratio 1:2. The company fixed 29 September 2023 as the record date to determine the eligibility of shareholders for the proposed split of shares.
HAL's net profit has grown at a CAGR of 24% in the last five years. This has translated into high return ratios. Its return on equity stands at 27.2% while its return on capital employed stands at 30.6%.
The company also has no debt on its books.
How HAL shares have performed recently
HAL shares have risen by more than 5% in the last month. Over the past six months, the company's shares are up by more than 50%.
The stock is also up by more than 122% in the last year.
HAL touched its 52-week high of Rs 3,950 on 19 June 2023 while it touched a 52-week low of Rs 1,718 on 15 July 2022.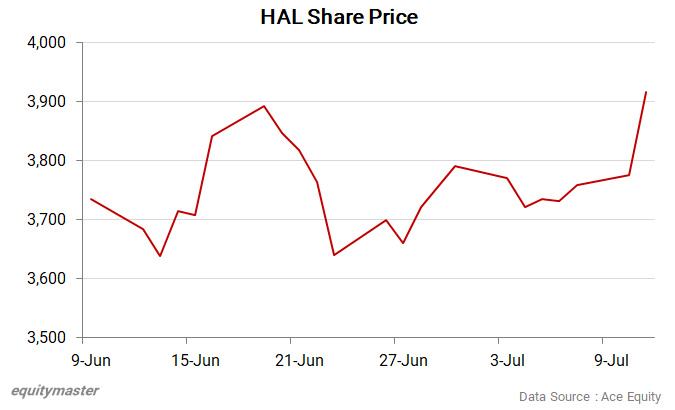 About HAL
Hindustan Aeronautics is an Indian public-sector aerospace and defence company, headquartered in Bangalore. The company was established on 23 December 1940 and is one of the oldest and largest aerospace and defence manufacturers in the world.
HAL is managed by a board of directors appointed by the President of India through the Ministry of defence, the Government of India.
The company is currently involved in designing and manufacturing fighter jets, helicopters, jet engines and marine gas turbine engines.
It is the only Indian company that specializes in aircraft manufacturing and providing maintenance and related services.
For more details about the company, you can have a look at HAL's factsheet and quarterly results.
Investment in securities market are subject to market risks. Read all the related documents carefully before investing
Safe Stocks to Ride India's Lithium Megatrend
Lithium is the new oil. It is the key component of electric batteries.
There is a huge demand for electric batteries coming from the EV industry, large data centres, telecom companies, railways, power grid companies, and many other places.
So, in the coming years and decades, we could possibly see a sharp rally in the stocks of electric battery making companies.
If you're an investor, then you simply cannot ignore this opportunity.
Details of our SEBI Research Analyst registration are mentioned on our website - www.equitymaster.com
Disclaimer: This article is for information purposes only. It is not a stock recommendation and should not be treated as such. Learn more about our recommendation services here...
Ayesha Shetty is a financial writer with the StockSelect team at Equitymaster. An engineer by qualification, she uses her analytical skills to decode the latest developments in financial markets. This reflects in her well-researched and insightful articles. When she is not busy separating financial fact from fiction, she can be found reading about new trends in technology and international politics.