HDFC Bank Earnings Miss Estimates Due to Sharp Rise in Gross NPAs. Stock Falls 4%
Jul 19, 2021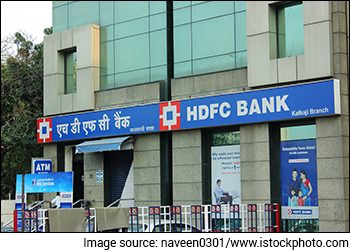 India's largest private lender HDFC Bank on Saturday reported a 16.1% year on year (YoY) rise in its standalone net profit at Rs 77.3 bn.
This compared with Rs 66.6 bn reported in the same quarter last year. Bottomline figures missed the Rs 79 bn estimate as predicted by several analysts.
The impact of Covid-19 disruption was visible on the bank's earnings which showed profit growth at the slowest pace since the December quarter of 2016.
Owing to this, shares of the bank fell over 3.5% today.
Key financials
HDFC Bank's total income in the quarter ended June 2021 rose 6.7% and stood at Rs 367.7 bn against Rs 344.5 bn in June 2020.
If compared sequentially, HDFC Bank's net profit and total income fell short.
The bank's total income in April to June 2021 stood at Rs 367.7 bn against Rs 380.2 bn in January to March 2021.
Its net profit for April to June 2021 stood at Rs 77.3 bn which was Rs 81.9 bn in January to March 2021.
--- Advertisement ---
[Alert] Sell These 3 Stocks Immediately

These 3 stocks are ticking time bombs in your portfolio.

It is very likely that you could be owning these 3 overvalued...

fundamentally weak... ready to crash stocks... in your portfolio today.

Because many stock brokers have painted rosy pictures of these stocks. But the reality is starkly different.

If the market crashes, then these stocks could wipe out your wealth.

You should get rid of these stocks as soon as possible.

We are going to reveal details of these 3 landmines at our upcoming special event at 5 pm on September 24.

You can click here to sign-up. It's free
------------------------------
Net interest income (NII) for the quarter rose to Rs 170.1 bn from Rs 156.7 bn, led by 14.4% rise in advances and a core net interest margin of 4.1%.
NII grew in single digits against the market expectations of double-digit expansion.
Here's a table comparing HDFC Bank's earnings on key parameters.
Financial Snapshot
| (Rs m) | Q1FY22 | Q1FY21 | Q4FY21 | YoY (%) | QoQ (%) |
| --- | --- | --- | --- | --- | --- |
| Interest Income | 304,830 | 303,780 | 304,236 | 0.3% | 0.2% |
| Interest Expenses | 134740 | 147,126 | 133,034 | -8.4% | 1.3% |
| Net Interest Income | 170,090 | 156,654 | 171,202 | 8.6% | -0.6% |
| Net Profit | 77,296 | 66,586 | 81,865 | 16.1% | -18.7% |
| Gross NPAs to Gross Advances | 1.47% | 1.36% | 1.32% | | |
| Net NPAs to Net Advances | 0.48% | 0.33% | 0.40% | | |
Data Source: Company Filings
The bank also recommended a dividend of 6.50 per equity share in the board meeting held on Saturday.
The balance sheet size of the bank at the end of June quarter stood at Rs 17,539 bn, up 13.5% over Rs 12,451 bn as of 30 June 2020.
Asset quality
Gross non-performing assets (NPA) rose 15 basis points sequentially to 1.47% of gross advances. Net NPA ratio for the first quarter was at 0.48%, as compared with 0.4% on 31 March 2021.
In a statement, HDFC Bank said,
The second wave of Covid-19 disrupted business activities for close to two thirds of the quarter, leading to a decrease in efficiency in collection efforts and a higher level of provisions.
Total provisions rose 24%. The bank made provisions worth Rs 48.3 bn for the quarter compared with Rs 38.9 bn in the year-ago quarter and Rs 46.9 bn in the March quarter.
Provisions and contingencies for the quarter included specific loan loss provisions of Rs 42.2 bn and general and other provisions of Rs 6.1 bn.
REVEALED: 3 "Super Smallcaps" You Didn't Know About
HDFC Bank's capital adequacy ratio improved marginally to 19.1% as of 30 June.
The bank's board also approved a proposal to raise funds through issuance of unsecured additional tier-1 bonds to foreign investors this fiscal.
AGM highlights
HDFC Bank's chief executive officer (CEO) Sashidhar Jagdishan said the ban imposed by Reserve Bank of India (RBI) on new digital launches has impacted the bank's business.
In December last year, the RBI asked HDFC Bank to put all new digital launches on hold till the bank resolve the tech issues.
The RBI-appointed third party audit on bank's IT audit is complete and HDFC Bank is awaiting the final decision from the regulator on withdrawal of the ban, Jagdishan added at the bank's annual general meeting (AGM) held on Saturday.
HDFC Bank is one of the biggest card issuers in the country with 15 m credit cards and 33.8 m debit cards as of December 2020.
Meanwhile, HDFC Bank's parent company, HDFC Securities is creating its own discount broking architecture to compete with new-age firms like Zerodha which are eating into market shares of entrenched players in the business.
Over the next two-three years, the company targets to gain market, Jagdishan said, making it clear that the largest private sector lender does not have any plans to sell stakes in the brokerage.
Jagdishan said HDFC Securities registered a 94.9% growth in its June quarter net profit and is doing extremely well.
As per filings, HDFC Securities' total income grew by 67.3% to Rs 4.6 bn in the June quarter.
--- Advertisement ---
INSIDER SECRET: An Astonishingly Easy Way to Pile Up Potentially 40-60% Gains in Just 1 Year

India's most well-connected trader with over 35 years of experience just confessed...

"This Lucrative Market Segment Could Leapfrog Over Nifty in The Next 12-16 Months"

... thanks to a massive and irreversible mega-trend fueling its growth!

In fact, he and his partner have already identified 2 spectacular stocks from this segment... which are ready to rake in potentially 40-60% gains in just 1 year... and make you big, fat profits!

The best part of them all...

Their Details Are Packed in This Special Report (Discover How to Claim it for Free)
------------------------------
Second-wave impact
HDFC Bank has turned cautious with respect to retail loans amid the second wave. The bank's overall retail loan book shrank to Rs 52.3 lakh crore in this quarter from Rs 52.7 lakh crore in March 2021.
Retail loans fell due to drops in credit card outstanding, auto loans, two-wheeler loans, and loans against securities.
Jimmy Tata, chief credit officer at HDFC Bank said an improvement in cheque bounce rates has shown the inherent quality of the lender's assets has not changed. The peak bounce rates in the second wave were lower than the first, he added.
The bank is also closely tracking developments in the commercial vehicle (CV) space where it has spotted the impact of high diesel prices.
Outstanding loans for CVs and construction equipment (CE) stood at Rs 271 bn as on 30 June, making up a little over 5% of HDFC Bank's domestic retail loans.
Equitymaster on HDFC Bank's June quarter performance
We reached out to Tanushree Banerjee, Co-head of Research at Equitymaster, and editor of the premium recommendation service Forever Stocks, for her view on HDFC Bank's earnings.
Here's what she has to say.
The disruptions following the second wave of Covid led to a decrease in HDFC Bank's loan originations and sale of third-party products in first quarter of financial year 2021-22.

Apart from that RBI embargo led to reduced use of credit and debit cards by customers.

There was also a dip in the efficiency in collection efforts.

HDFC Bank expects to see a continued rise in the number of customer defaults and consequently an increase the bank's NPA provisions. Provisions for asset quality, will therefore, keep HDFC Bank's profits curbed in the near term.

The problem of asset quality slippages is not unique to HDFC Bank. In fact, I see other players in the sector getting impacted too.
How the stock markets reacted to HDFC Bank's earnings
HDFC Bank share price opened the day down by 1% at Rs 1,491 on the BSE after the bank's earnings missed estimates.
It further extended losses and fell as much as 3.5% to Rs 1,468.
HDFC Bank has a 52-week high quote of Rs 1,650 touched on 24 February 2021 and a 52-week low quote of Rs 994 touched last year on 3 August.
Over the past one year, shares of HDFC Bank have gained 43% as compared to 46% gains in BSE Sensex and 63% gains in Bank Nifty index.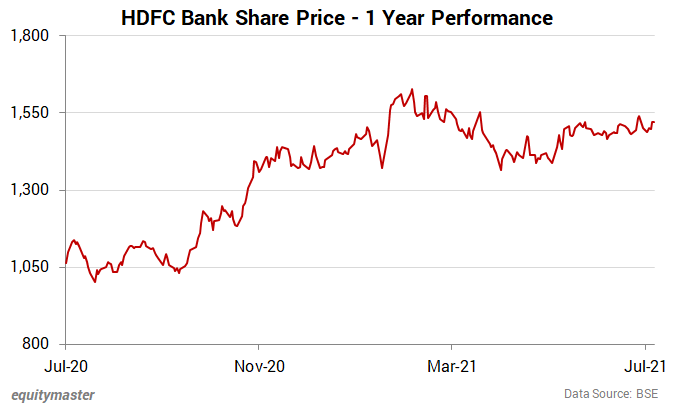 At the current price of Rs 1,468, the bank commands a marketcap of Rs 8,124.8 bn.
About HDFC Bank
Housing Development Finance Corporation (HDFC) was among the first to receive an in principle approval from the RBI to set up a bank in the private sector.
HDFC Bank is a publicly held banking company. The bank was incorporated in August 1994 in the name of HDFC Bank Limited, with its registered office in Mumbai, India.
It's engaged in providing a range of banking and financial services including retail banking, wholesale banking and treasury operations. It's promoted by HDFC which has 19.2% stake as on September 30, 2020.
Currently, HDFC Bank is the largest private sector bank in India.
HDFC Bank was the first bank in India to launch an International debit card in association with VISA (VISA Electron) and issues the MasterCard Maestro debit card as well.
To know more about the bank, check out HDFC Bank company fact sheet and HDFC Bank quarterly results.
For a sector overview, read our banking sector report.
You can also compare HDFC Bank with its peers.
HDFC Bank vs Kotak Mahindra Bank
To know what's moving the Indian stock markets today, check out the most recent share market updates here.
Disclaimer: This article is for information purposes only. It is not a stock recommendation and should not be treated as such. Learn more about our recommendation services here...