Adani Ports' Profit Jumps Helped by Increase in Cargo Market Share
Aug 4, 2021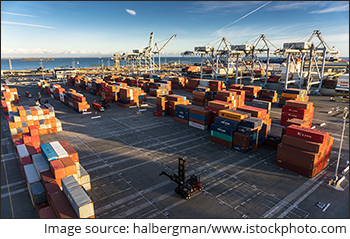 Adani Ports and Special Economic Zone (APSEZ) reported a 77% year on year (YoY) rise in consolidated net profit to Rs 13.4 bn for the quarter ended June, which was above analysts' expectations.
The country's largest integrated logistics player had clocked a consolidated net profit of Rs 7.6 bn in the same period a year ago.
The company reported a 99% YoY rise in consolidated revenue from operations to Rs 45.6 bn in the reported quarter, which was also above analysts' estimates.
The YoY growth was aided by the low base of the year-ago quarter that was adversely affected by the national lockdown to contain the spread of the Covid-19 infections as well as a global recession.
Cargo volumes saw a substantial increase during the quarter
The recovery in the global economy during 2021 helped cargo volumes at the company jump 83% YoY to 75.7 m tonnes.
At the same time, its acquisitions over the past year has helped market share rise by 310 basis points (bps) to 28.6%.
During the quarter, the port company's operating profit jumped 82% YoY to Rs 26.2 bn.
--- Advertisement ---
21st Century's BIGGEST Revolution is Happening... Are You in?

The biggest revolution of the 21st century is Electric Vehicles.

But let me warn you that the usual way of investing in EVs may lead you to more trouble than profits.

After spending thousands of manhours on research, we've found a hidden way to profit from this EV revolution... which holds far more potential than buying regular big-name EV stocks.

And we're going to reveal it all at our exclusive online event.

Register Me for Free
------------------------------
However, Adani Ports' operating margins took a sharp hit as they contracted 520 bps on-year to 57.5% likely due to higher costs.
The ports business had a strong quarter as revenues jumped 75% to Rs 33.4 bn aided by the acquisition of two new ports over the past 12 months and recovery in global cargo volumes.
Further, the ports business saw its operating margin expand 100 bps YoY to 71%.
The logistics business reported a 34% YoY growth to Rs 2.7 bn in the reported quarter with operating profit rising 44%.
Karan Adani, chief executive officer and whole-time director of APSEZ, said,
Our strategy of establishing a network of world-class ports to balance cargo across the east and west coasts has been tracking precisely as per plan, thereby continuing to de-risk our growth as well as lay the foundation of a broader logistics platform.

This has resulted into Adani Ports accelerating its market share gain.
Mergers and acquisition
The company's board has formed a committee of independent directors to evaluate an acquisition for consolidating Gangavaram Port (GPL) with APSEZ group, including merger, post completion of 10.4% stake sale by the Government of Andhra Pradesh (GoAP) in GPL, the company said.
The firm also said the consideration for 58.1% stake from DVS Raju and Family, agreed at Rs 120 per share, and process for acquisition of balance 10.4% from GoAP are at an advance stage.
The Rebirth of India: A Once-in-a-generation Wealth Making Opportunity Get Details Now
In the statement, APSEZ also said that the merger scheme for consolidating rail track assets (by acquiring SRCPL and demerging Mundra rail assets) has been filed.
Also, in notes to April-June quarter earnings, Adani Ports said the company acquired balance 25% stake in Krishnapatnam port for Rs 28 bn, making it a 100% subsidiary of APSEZ.
That apart, in April 2021 Adani Logistics announced a strategic and commercial partnership with e-commerce major Flipkart, to strengthen its supply chain infrastructure.
As part of this partnership, Adani Logistics will construct a massive 5.3 lakh square foot of fulfilment centre by leveraging state-of-the-art technologies in its upcoming logistics hub in Mumbai.
Business outlook going forward
The company has revised its cargo volume guidance to 350-360 m metric tonnes (MMT), a growth of 45% over the year earlier.
Its consolidated revenue is pegged at Rs 180-188 bn for the current financial year 2022.
Adani Ports' logistics revenue seen to be around Rs 10-12 bn.
It expects capital expenditure (capex) of around Rs 31-35 bn, including maintenance capex of Rs 5 bn.
The company has guided for free cash from operations to be around Rs 71-76 bn in the current financial year.
Equitymaster's view on Adani Ports
We reached out to Aditya Vora, financial writer at Equitymaster, for his view on the company's quarter performance.
Here's what he has to say...
Increased focus on ramping up the logistics business would be the key growth driver going forward.

It has also announced a partnership with Flipkart to construct a 0.5 m sq ft fulfilment warehouse in Mumbai. The centre is likely to be operational by the third quarter of the fiscal 2022.

We believe with recent acquisitions, increasing share of logistics business over the medium term and strong cargo and container volume run rate, Adani Ports will consolidate market share.

Scaling up the logistics business is a key monitorable. While the stock is pricing in strong growth and market share gains in the future. Any delay in the ramp up of the logistics business could de rate the stock.
How the stock markets reacted to Adani Ports
Shares of Adani Ports opened the day at Rs 719 on the BSE and Rs 718 on the NSE.
Its share price closed at Rs 694.6 (down 1.5%) on the BSE and the NSE.
At its current price, it is trading at a P/E of 28.5.
The share touched its 52-week high of Rs 901 and 52-week low of Rs 309 on 7 June 2021 and 24 September 2020, respectively.
Over the last 30 days, the Adani Ports share price is down 1%. Over the last one year, the company's share price is up 126.8%.
Adani Ports - 1 Year Performance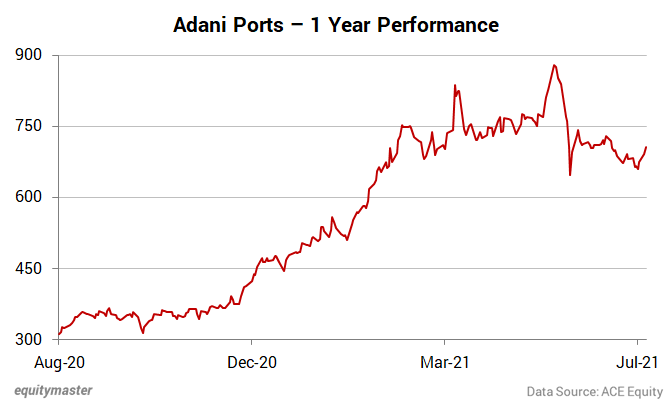 About Adani Ports
Adani Ports and Special Economic Zone (APSEZ) is the largest commercial ports operator in India accounting for nearly one-fourth of the cargo movement in the country.
Its presence across 12 domestic ports in seven maritime states of Gujarat, Maharashtra, Goa, Kerala, Andhra Pradesh, Tamil Nadu, and Odisha is the most widespread national footprint with deepened hinterland connectivity.
The port facilities are equipped with the latest cargo-handling infrastructure which is not only best-in-class, but also capable of handling the largest vessels calling at Indian shores.
Through its subsidiary Adani Logistics, APSEZ operates three logistics parks located at Patli in Haryana, Kila-Raipur in Punjab, and Kishangarh in Rajasthan.
With the ability to handle 5 lakh twenty foot equivalent units (TEUs) annually, the Adani logistics business is growing at a rapid pace.
The company's integrated services across three verticals, that is, Ports, Logistics and SEZ, has enabled it to forge alliances with leading Indian businesses making APSEZ an undisputed leader in the Indian port sector.
For more details about the company, you can have a look at Adani Ports factsheet and quarterly results on our website.
To know what's moving the Indian stock markets today, check out the most recent share market updates here.
Disclaimer: This article is for information purposes only. It is not a stock recommendation and should not be treated as such. Learn more about our recommendation services here...