Titan Reports Impressive Earnings Led by Robust Performance of Jewellery Business
Aug 5, 2021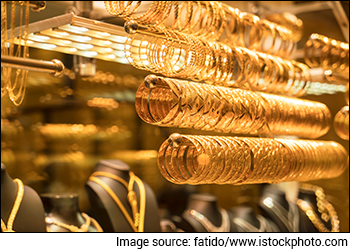 Yesterday, post market hours, jewellery company Titan reported a net profit of Rs 610 m for the quarter ended June 2021.
This compared with a net loss of Rs 2.7 bn in the year-ago quarter.
The results beat estimates as the street was expecting Titan to report a net loss in the June quarter.
Given the tough business conditions that jewellery retailers faced due to second wave, Titan's results were good.
Upbeat sales on low base
Titan's sales in the quarter under review spiked 74.5% on a year on year (YoY) basis to Rs 32.5 bn.
This was aided by a low base in the year ago quarter as business was hit due to nationwide lockdown.
In the year-ago quarter, Titan's business was severely affected by the national lockdown to contain the spread of the Covid-19. In the recently concluded quarter too, business was dented by the second wave.
However, sales figures topped estimates as analysts were expecting the company to report revenues of Rs 28.6 bn for the June quarter.
Titan's sales took a small beating until the third week of April as stores were temporarily closed in some key states.
Most of its stores were shut within a short span of time and could re-open gradually only in June, with several restrictions on operating hours and days of the week.
Sales saw a spike despite the sharp decline in income from bullion sales to Rs 4.2 bn as against Rs 6 bn in the year ago quarter.
Revenue Trend

The company reported an EBITDA of Rs 1.4 bn for the quarter ended June as against an operating loss of Rs 2.5 bn a year ago.
Jewellery business near pre-covid levels
In a press release, Titan said its jewellery division, its mainstay, is gaining good traction in new customers.
Its mix in total buyers has also reached pre-pandemic levels.
The company's jewellery segment recorded sales of Rs 24.7 bn as compared to Rs 11.8 bn in the same period a year ago.
Jewellery division's EBIT in the June quarter came in at Rs 2.1 bn as against Rs 540 m of loss in the year ago quarter. This shows that the company was better prepared for lockdowns in the second wave.
Titan's watch business, which contributes most of Titan's remaining revenues, saw its EBIT losses reduce.
The eye wear division recorded total income of Rs 670 m, a growth of 120% as sales were nil in April last year and also on back of rapid recovery in walk-ins in May and June.
Eye wear division accelerated its path on ecommerce and launched Titan Eyeplus' app. It also launched Neo Progressive lens and computer glasses, exclusively for ecommerce channel.
Here's what CK Venkataraman, MD of Titan, said in a press release.
While we started the quarter with strong business momentum, the second wave of the pandemic severely disrupted it and we quickly shifted our priorities to health and safety of our employees, business associates, and customers.
Now that several employees are vaccinated and digital presence is strengthening, Titan is optimistic of overall performance going ahead.
Performance of subsidiaries
Titan Engineering and Automation (TEAL) recorded total income of Rs 690 m, a decline of 11% YoY.
Meanwhile, CaratLane recorded total income of Rs 1.6 bn despite the significant loss in sales from store shutdowns in June quarter. This is a growth of 263% YoY primarily due to the low base last year.
Titan's philosophy of not taking any price exposure on gold continues. It procures gold either by way of gold on lease from authorised banks or by spot purchases through its gold exchange program, from spot bullion market or by way of outright jewellery purchases.
How the stock markets reacted to Titan's earnings
Titan share price opened the day up by 1% at Rs 1,822 on the BSE today against its previous close of Rs 1,799.80.
However, it slipped 1.5% to Rs 1,764 as the session progressed.
It ended the day at Rs 1,799, down 0.1%.
Ahead of its earnings, shares of Titan hit a new high of Rs 1,854.60 on Tuesday, after they rallied 5% on the BSE in the intra-day trade.
Yesterday, the stock of the Tata Group company surpassed that previous high and touched a new high of Rs 1,858.
Over the past one year, shares of Titan have outperformed both benchmark indices and have gained 67%.
At the current price of Rs 1,799, the company commands a marketcap of Rs 1,597.1 bn.
About Titan Company
Titan was incorporated in 1984 as a joint venture between the Tata group and Tamil Nadu Industrial Development Corporation Ltd (TIDCO).
Titan is the market leader in both its core segments, watches, and branded jewellery.
Titan's brand portfolio includes Titan, Sonata, Fastrack, Raga, Xylys, Favre Leuba, and Nebula for watches; and Tanishq, Mia, Carat Lane, and Zoya for jewellery.
Its other business activities include precision engineering, prescription eye wear, accessories, fragrances and ethnic wear. The company has also launched a new brand, Skinn in the perfume segment in 2013.
The Tata group and TIDCO hold about 25% and 28%, respectively, of Titan's equity shares.
Titan's manufacturing and assembly plants are in Hosur and Coimbatore (Tamil Nadu), and in Dehradun, Roorkee, and Pantnagar (all in Uttarakhand), and Sikkim.
To know more about the company, check out Titan company fact sheet and quarterly results.
For a sector overview, read our retailing sector report.
You can also compare Titan with its peers.
Titan vs Thangamayil Jewellery
Titan vs Goldiam International
To know what's moving the Indian stock markets today, check out the most recent share market updates here.
Disclaimer: This article is for information purposes only. It is not a stock recommendation and should not be treated as such. Learn more about our recommendation services here...