Ace Investor Madhusudan Kela Makes Fresh Entry in this Finance Stock
Aug 10, 2023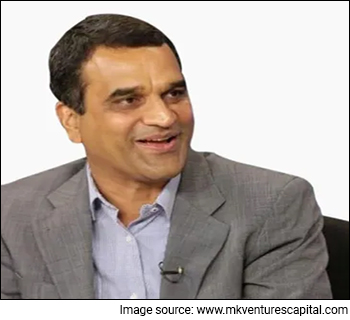 With stocks ripping higher in 2023, it may feel that you've missed out on the opportunity for easy profits.
However, stocks have shown resilience by advancing despite concerns about rising interest rates, a potential economic downturn, and declining corporate earnings. And they could continue to do so.
But finding them is the real challenge. Consequently, many investors turn to the portfolios of renowned investment experts who have a proven track record of outperforming the market and a talent for identifying undervalued stocks that can potentially yield significant returns.
As a result, every move these investing gurus make, including their decisions to buy or sell stakes in specific companies, garners significant market attention.
For investors seeking such news, there is noteworthy stock market news: Madhusudan Kela has recently made a fresh entry in this finance stock.
Who is Madhusudan Kela?
Known for his ability to identify quality companies with strong growth prospects, Madhusudan Kela is one of the most well-known and seasoned investors in the Indian stock market, with an extensive experience of over 27 years.
He prefers a value investing style and has a long-term investment horizon.
Which multibagger stock did Madhusudan Kela buy and why?
The stock in question is none other than Indostar Capital Finance.
The latest shareholding pattern of Indostar Capital Finance shows that Madhusudan Kela picked up around 2.5% stake in the small-cap company. The ace investor bought 3.3 m shares in the company for Rs 559 million (m).
In the previous quarter, Madhusudan Kela's name was missing from the list of shareholders. Any investor holding more than a 1% stake has to report filing to the exchanges.
While we don't know the exact reasons why he bought a stake in Indostar Capital Finance, there are some reasons we can guess...
#1 Bargain Buy
The finance stock is currently trading at a favourable price-to-earnings (PE) ratio of 11.9x, which is significantly lower than the industry average of 19.2x.
Additionally, the price-to-book value of the stock stands at 0.7, also lower than the industry average of 1.7x. This attractive valuation may be one of the reasons why Madhusudan Kela, renowned for his expertise in selecting lesser-known stocks, has shown interest in this particular stock.
Despite the challenging market conditions, this smallcap stock has shown promising performance in recent times.
In the past month alone, it has delivered an impressive return of 8.7%. So far, in 2023, the stock has already gained 24.3%. These significant return highlights the potential upside and value that this stock may offer.
#2 Merger to expand reach
JM Financial Home Loans, an integral arm of the JM Financial Group, is currently in preliminary discussions with Indostar Capital Finance to potentially merge with the latter's home finance business.
By considering strategic options such as combining their operations and potentially listing the retail mortgage portfolio of JM Financial, both companies are poised to unlock several avenues for expansion and development.
This alignment positions the merged entity to better cater to the evolving needs of the affordable housing market, potentially capturing a larger share of this thriving segment.
The merger could pave the way for an enriched product portfolio. By pooling its resources, the merged company can diversify its offerings, presenting a wider array of loan products and related services to customers, which would effectively address a broader spectrum of financial requirements.
This optimistic outlook towards future growth could also be a motivating factor behind Madhusudan Kela's decision to acquire a stake.
Strong growth prospects
The company is focused on expanding its product offerings and geographic reach, which will help it to capture a larger share of the growing Indian financial services market.
The rise of digitalisation is having a major impact on the finance sector, as it is making it easier and more convenient for people to access financial services. This is leading to an increase in demand for financial services, which is driving growth in the sector.
Rising disposable income of people in India is leading to an increase in demand for financial services, such as loans, insurance, and investments. This is also driving growth in the finance sector.
How shares of Indostar Capital Finance have performed recently
Over the last one month, the share price of Indostar Capital Finance has increased 8%. While, in the past one year, the stock is trading higher by 25%.
The company touched its 52-week high of Rs 197.4 on 26 August 2022 and its 52-week low of Rs 103.2 on 31 March 2023.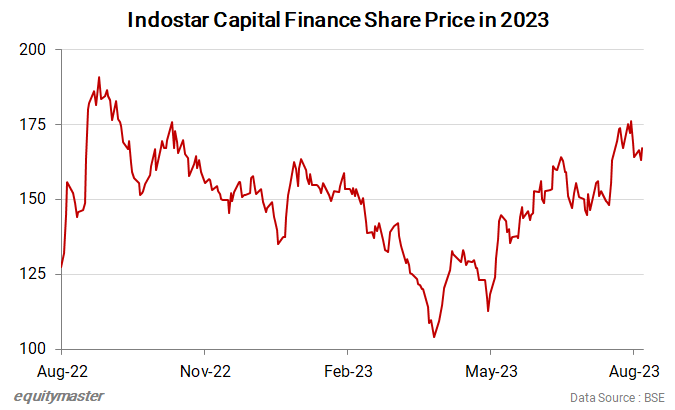 About Indostar Capital Finance
Indostar Capital Finance is a leading non-banking finance company (NBFC) registered with the Reserve Bank of India as a systemically important non-deposit taking company.
The company operates four principal lines of business namely corporate lending SME lending vehicle financing and housing financing.
Indostar also offers acquisition funding, promoter funding for equity buy back or take outs, family settlements and asset financing.
It seeks to finance projects across sectors including real estate, cement, power, media, entertainment, dairy, financial services, and infrastructure.
For more details, see the Indostar Capital company fact sheet and quarterly results.
For a sector overview, read our finance sector report.
You can also compare company with its peers:
Investment in securities market are subject to market risks. Read all the related documents carefully before investing
Want to Grow Your Wealth With Safe Stocks?
If you want a simple, safe, and hassle-free approach to long term wealth building...
Without having to worry about negative news or every little downswing in the market...
And without having to worry whether your investments will actually "deliver"...
You must read our note on Blue Chip Stocks now.
Details of our SEBI Research Analyst registration are mentioned on our website - www.equitymaster.com
Disclaimer: This article is for information purposes only. It is not a stock recommendation and should not be treated as such. Learn more about our recommendation services here...