Sep 29, 2022 - The White Knight Rises: This Group is Silently Beating Adani and Ambani
The White Knight Rises: This Group is Silently Beating Adani and Ambani
Sep 29, 2022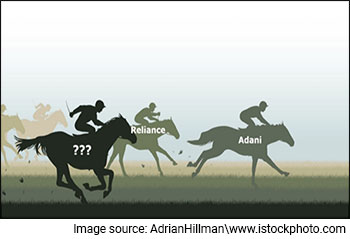 When the outcome of a race is decided long before the finishing line, is the race as exciting?
What is it that makes a race truly spectacular or memorable?
It is when the odds are stacked against the underdogs and even yet, they win. When that happens, even people least interested in a sport sit up and take notice.
Today, there is a much bigger game at play as 1.4 billion people watch with bated breath.
It involves hundreds of billions of dollars and a battle to become the number 1 business group in India.
And just like a sport, this race also has two prominent players vying for the top spot- the Mukesh Ambani led Reliance group and Gautam Adani led Adani group.
In recent years, Ambani and Adani have become the best-known faces of Indian business even as one overtakes the other in the list of richest people in Asia from time-to-time.
Both have pledged to invest billions of dollars in India, promising to transform the economy and change the landscape of India.
Critics, on the other hand believe their motivations are limited to creation of their own personal wealth by any means possible.
And there are a lot of critics...
The next decade is crucial for India's ambitions to become a super power.
The Modi led government acknowledges that public sector companies do not have the ability to spur the desired growth. Instead, the government's hopes increasingly rest on a handful of private companies to lead the charge.
But in this crucial game, there is a huge section of the Indian population that is hoping that the winner is someone they can trust and believe in.
An underdog, that becomes India's white knight leading us towards our destiny of once again becoming the leading economy of the world.
The underdog story has a universal appeal. It taps into the qualities we like best about ourselves and find most admirable in others.
While Reliance and Adani battle it out day after day announcing one mega investment after another in India, there is one corporate group that is silently beating both Adani and Ambani without drawing much attention.
The White Knight Rises - The Tata Group
"Work hard in silence, let your success be your noise." - Frank Ocean
This quote resonates with the way the Tata group seem to be silently going about their business plans.
Ambani and Adani have announced capital expenditures to great fanfare of close to US$ 120 bn combined over the next 5 years.
And everyone seems to be talking about the huge outlay and its ramifications for their group companies and the Indian economy.
However, very few seem to have noticed that the Tata group's planned investments over the same period in India are far higher than both Ambani and Adani!
As per The Economist, a newspaper, The Tata group is planning to invest a mammoth US$ 90 bn in new industries such as electric vehicles, batteries, mobile components, semiconductors, renewables energy and e-commerce by 2027.
This makes it the largest investment in India by any corporate group far surpassing both the Reliance and Adani groups.
To those watching the Tata group closely, it is another important indicator of the transformation which the group is undergoing over the past few years, something which is now gathering serious momentum.
The House of Tatas: Version 2.0
There is something radically different these days in the corridors of Bombay house, the headquarters of the diversified Tata group.
With a legacy of 154 years, the Tata group is associated with trust and stability having been the backbone of India's growth story with sweeping yet invisible contributions over the years.
But in all these years, there is one thing that the Tatas have never been known for- Agility.
Reliance and Adani group on the other hand with their aggressive bets and quick decision-making abilities have matched the Tata group's market value in less than 45 years of establishment.
But there is a change afoot ever since Natarajan Chandrasekaran took over the reins of the salt to software conglomerate in 2017.
During his first four years at the helm, instead of focussing on growth and deal-making, Chandra chose to tackle a complex set of challenges and focus on scale, synergy and simplification to enable the group to realise peak performance.
The Tatas have been busy over the last few years-
The resolution of Docomo's US$ 1.2 bn legal dispute was finalised and the business was sold to Bharti Airtel.
Since 2017, Tata Steel has deleveraged Rs 30,000 cr of debt.
Similarly, the domestic business of Tata Motors has made a turnaround and become EBIDTA positive over the last few quarters. Tata Motors is on course to becoming a zero net-debt company by FY 2024.Most importantly, the group has been taking steps to consolidate its business to improve its efficiency.
Last week, the group announced a merger of seven steel companies into Tata Steel. It will include the merger of four listed companies.
In March, Tata Consumer Products announced its merger with Tata Coffee.
It is reported that Tata Sons has decided to halve the number of listed companies from 29 to 15 in the coming months.
Hence, the group has shown unexpected agility and decisiveness to speed up its simplification strategy to focus better on the growth and scale of the group.
Further, the "One Tata" approach leverages collaborations between group companies and associates.
And now, it seems like the Tatas have stepped up their game, ready to forge ahead of its competitors based on this carefully crafted platform leaving the competition far behind.
In Chandrasekaran's own words in an interview with Financial Times, London, he said:
"We have moved away from fixing to focus on growth."
Ta-ta World... We are Home Again, India
When it comes to globalisation, the Tata Group is the first name that springs to mind.
Ratan Tata, Chandrasekaran's predecessor took the Tata group truly global in turn creating an international empire.
Beginning with Tata Tea's acquisition of Tetley in 2000, Tata went on a shopping spree acquiring as many as 36 companies in just 9 years in foreign markets to globalise.The most noteworthy and possibly controversial acquisitions till date have been the Tetley acquisition by Tata Tea, Tata Steel's takeover of Anglo-Dutch steel maker Corus and British automobile marquees Jaguar and Land Rover by Tata Motors.
But over the years, Ratan Tata was often criticised by analysts and experts to pull back and refocus on India, its home market.
Rising incomes, consumption, and internet use among the 1.4 billion population makes international markets look comparatively less promising.
By contrast, the Reliance group's much more 'India-focused' strategy seemed to have worked far better over the same period.
In retrospect, it is probable there is more than meets the eye behind the strategic decision to go worldwide.
At the time, Tatas were worried about the unchecked corruption and manipulation of policies in India as other business houses were known to "curry favours" from influential politicians.
For instance, the Reliance group's rise to success was as controversial as it was fascinating. It received its fair share of criticism for building an empire allegedly based on favours from the higher-ups in government.
And if we look back, there may be some substance to it.
In 2010, Ratan Tata had mentioned in an interview that he did not enter the airline business because he was not comfortable with the notion of paying a bribe of Rs 150 m to an un-named government official.
"We went through three prime ministers, and each time there was a particular individual that thwarted our efforts to form another airline," Tata said. He even quoted another industrialist that said, "You people are very stupid. The minister wants Rs 150 m. Why don't you just pay it? You want the airline."
In 2012, while speaking at an event organised by Harvard Business School, Ratan Tata said,
"I think corruption has become worse and if you choose not to participate in this, you leave behind a fair amount of business. Unlike in 1991, corruption is now not only seen in the grant of licence approvals, but also in the award of contracts and in changing the terms of contractual obligations."
By 2012, almost 70% of the group's revenues came from its overseas operations.
But over the last few years, there have been three significant changes in the business environment which have changed the Tata's strategy going forward.
First, the Modi led government has made doing business easier. No government since India's independence has been as proactive and pitched as hard for the private sector to invest in India.
And this is a big shift. Earlier corporate houses had to lobby to get permissions in place for setting up new businesses.
Now, the government is welcoming corporate houses with open arms encouraging them to create new businesses and expand their existing operations in the country.
And the bureaucrats in Delhi know there are only a handful of large corporates that are up to the challenge. Among them, the Tata's are no doubt at the top of the list if they were to evince interest.
In Modi's own words, "India is ready for business as never before."
Second, Covid-19 sent a terrifying message for the Tata group as it put the clock back on globalisation.
With most of its revenues from outside India, the group realised it must reduce its dependence on international markets as this could be a small hint of future dystopia.
Finally, while international operations make up the bulk of its revenues and capex, the return on capital employed is under 10% which is considered poor.
And with India now being considered the top investment destination for higher growth, it is only natural the Tata's shift their focus back home and increase their capital expenditures in India to derive a higher return on investments.
In the last few years, the share of revenue from domestic market has improved from 30% to close to 40% last year.
US$ 90 bn and Counting...
The Tata Group has ambitious plans for its next level of growth.
With a renewed focus on India, the group may invest close to 80% of their total capex over the next 5 years in its domestic operations.
With an expected investment of US$ 90 bn, the Tata group's investment in India is far higher than the US$ 75 bn investments planned by Mukesh Ambani-owned Reliance Industries and US$ 55 bn investment planned by the Adani group in the next five years in the country.
The group is pumping money into new avenues with a never-before-seen nimbleness.
Whether it is the e-pharma company 1MG, Bigbasket, CureFit or the landmark acquisition of ailing national airline Air India, the Tatas are on a roll.
And wait there is a lot more! Tata Power has earmarked US$ 10 bn for green energy in the next five years.
Of this, US$ 1.25 bn will be spent in the current financial year.
Tata Digital which owns the newly launched 'super' app Tata Neu is expected to get a fresh cash infusion of over US$ 400 m ahead of the festive season this year. The group has reportedly spent US$ 2 bn on the platform for Tata customers.
Tata Electronics, a Tata Sons subsidiary, is investing over US$ 600 m to set up a phone component manufacturing plant at the industrial complex in Tamil Nadu.
This is reportedly the location where Tata is making components for the latest iPhones for Apple.
Then there is the launch of a new company for creating 5G and other telecom gear for the global markets. The group is also preparing the blueprint to launch a battery company as part of its transition to be future ready.
And the Tatas are on track to become India's first semiconductor powerhouse. The group has been in advanced talks with various states to set up a semiconductor assembly unit.
It takes an investment of US$ 5-6 bn to set up a semiconductor fabrication unit.Chandrasekaran has said that going forward, electronics and high-tech manufacturing are key focus areas for the company.
But that does not mean the group is turning their back on the good old industries.
Tata Steel has planned capex of over US$ 1 bn in its Indian operations during the current financial year.
The thumb rule for any country is that its steel consumption should outstrip the GDP growth rate. In India, it is a tad behind. Leveraging the Indian infrastructure growth story, therefore, makes immense sense for Tata Steel.
With the anticipated growth in India's infrastructure expected to play out over the next decade, Tata Steel could spend US$ 5 bn on capex every year to add 4-5 m tonnes of capacity yearly to take advantage of this opportunity.
Tata Chemicals, the world's third-largest soda-ash maker will expand its current businesses for which it will invest US$ 600 m in capital expenditure in the next few years.
Tata Motors will be making its highest ever domestic investment this financial year of up to US$ 750 m for the expansion of its capacity.
At the company's commercial vehicle business level, the company will invest US$ 250 m per annum to keep coming up with new vehicles.
And finally, Tata Sons Ltd, the holding company of the Tata group, plans to raise US$ 4 bn to infuse fresh capital into Air India and refinance costly debt.
Ready, Set, Go...
As the horses gallop towards the finishing line, there are two in the lead, neck to neck and everyone is on their feet cheering them on, not knowing which one will win this nail-biting race.
But wait, what is this? There is another horse coming in hard. He was written off as a 'has been', too old to keep up with the competition.
But now suddenly, here he is back in contention, breathing down the necks of the two leading stars of the day.
For many who believe the race to become the biggest corporate house in India is between the Reliance group and Adani group, it might be time to take a step back and drown out the hype and noise surrounding us.
There are three horses running this race and is not over till it's over...
One has amassed a personal fortune of over US$ 130 bn in just two years while his group's finances are still to catch up, questioning the rationale behind the meteoric rise.
Interestingly, total revenues of all 7 Adani group listed companies are only 61% of the revenues of just one Tata group company, TCS!
The other has a dubious record at best having been mired in multiple controversies of manipulating the system over the years.
Whether such a large empire could have been built without the expedient loopholes and "well-oiled" politicians and bureaucrats is a question that will have to remain unanswered.
Finally, we have a group that has formed the backbone of India with sweeping yet invisible contributions. For the last 154 years, Tatas have been an invisible force driving progress for the nation, as well as the aspirations of India's billion-plus people.
Given how the equation sets up, which horse are you going to bet on?
You can also check out the video version of this editorial on Equitymaster's YouTube channel.
Disclaimer: This article is for information purposes only. It is not a stock recommendation and should not be treated as such. Learn more about our recommendation services here...
Yazad Pavri
Cool Dad, Biker Boy, Terrible Dancer, Financial writer
I am a Batman fan who also does some financial writing in that order. Traded in my first stock in my pre-teen years, got an IIM tag if that matters, spent 15 years running my own NBFC and now here I am... Writing is my passion. Also, other than writing, I'm completely unemployable!