The Nifty Realty Index is Building Momentum
Nov 25, 2022
Indian share markets have turned bullish, and the benchmark BSE Sensex hit a new all-time high yesterday.
As a trader, keeping a check on sectorial momentum and grabbing the opportunities is the key to success.
With sectors' outperformance and underperformance changing frequently, betting on the right sector at right time, can go a long way in making money for traders.
It's time for the Realty Sector
The realty index gained reversal momentum in the first half of today's trade after consolidating for a couple of days.
The fall from 454 to 436 halted at the 200DEMA (Daily Exponential Moving Average) and the reversal from long-term EMA signals the bulls are grabbing an opportunity.
Nifty Realty Index Technical Chart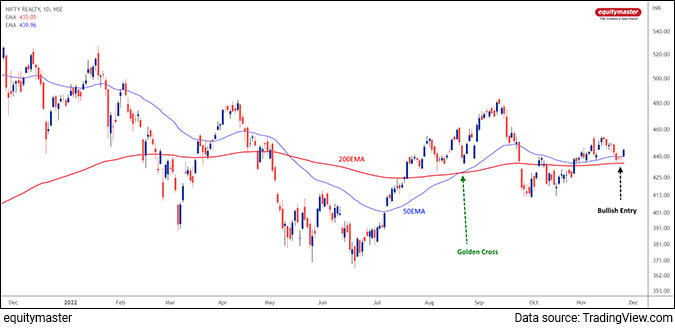 Technically, the bullish crossover of 50DEMA over 200DEMA is known as the 'golden cross' - the long-term bullish trend.
The index is trending above the golden cross and the retest offers the low risk - high reward bullish entry.
Traders should look at realty stocks till the index is trending above the 430 level.
At present, the index is trading 0.9% higher at 444 levels. From the index, Indiabulls Real Estate and Oberoi Realty are the top gainers.
If you're interested in being part of my charting journey as I share how to create wealth from the profitable trade setups, join my telegram channel - Fast Profits Daily. You'll get access to the best trading ideas in the stock market.
Now Before You Go, This is Something You Need to Know...
Equitymaster's co-head of research, Tanushree Banerjee, believes that one of the fastest growing sectors this decade will be defence.
In fact, within defence there are segments with 33x growth potential by 2030. Yes, it's a massive opportunity.
Tanushree has already identified 3 next-generation defence stocks to ride this mega opportunity.
Now, these are not ordinary defence stocks.
Very few people know about the real potential of these companies.
Because these companies are working silently on developing next-generation warfare technologies.
Our research says that these 3 defence stocks could potentially provide you some of the biggest gains of your lifetime.
* 2 out of these 3 stocks have already run up. Act fast or you might completely miss out on this big opportunity.
Disclaimer: This article is for information purposes only. It is not a stock recommendation and should not be treated as such. Learn more about our recommendation services here...
Brijesh Bhatia Research Analyst and expert chartist, is the editor of Alpha Wave Profits. Fully committed to his craft, Brijesh has mastered the art of making money by trading using technical analysis. Brijesh has an MBA from ICFAI and 16 years of experience in India's financial markets. He began his career on Dalal Street as commodities dealer and it wasn't long before he developed his own unique trading system. Brijesh worked on his trading system until it could be expected to deliver 5 units of return for every unit of risk.