5 Indian Space Stocks to Add to Your Watchlist
Jan 20, 2023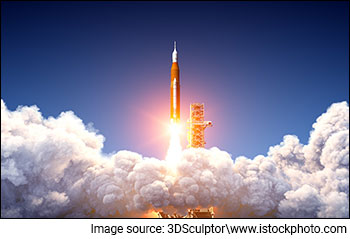 Editor's note: India is on the cusp of a space revolution. With the government's increased focus on space technology and private companies entering the industry, the future looks bright for space stocks.
As the industry is still in its early stages, now is the perfect time to keep an eye on these companies and their potential.
Read on to know more...
Space Stocks in India: An Overlooked Investment Theme
Not many people know this, but India has a strong presence in different aspects of the space industry, including aerospace engineering and astronautics.
The country is on its way to own a slice of the trillion-dollar global aerospace and defence industry.
But is it considered a space power?
Not at the moment. Revenues for the segment estimate around US$10 billion (Rs 816.5 bn), only 2% of the global total.
In 1960s, with an objective of developing space flight capabilities in the country, ISRO was launched.
The space program has come a long way since its humble beginnings. In a country where space exploration is considered an elite hobby for the rich, India's decision to shoot for the moon and beyond could change everything.
It could be the investment theme for 2023.
The sector has generated eye-catching headlines recently with successful rocket launches.
In this article, we look at the recent space developments and the space tech stocks that are likely to grow.
It's probably time to consider this space to potentially make some money and increase your understanding of this fascinating field.
Trying to land in space
A different kind of race has emerged, and India is trying to land a spot there. After state owned ISRO, the private sector too has made some big moves.
India's first privately developed rocket, Vikram-S, blasted off earlier this month: An Indian SpaceX moment.
This was followed by domestic firms looking to set up manufacturing facilities for satellites, to foray into the exciting sector.
Startups including Pixxel and Dhruva Space are eyeing new assembly facilities for satellite manufacturing in India.
A report noted that the number of private players in India's space tech sector has seen a 100-fold increase in a decade.
This, on the back of increasing demand, government's push, along with technical expertise and know-how.
The government's liberalised space policy is in the final stages of completion. This policy could allow Indian companies in the space race to take a larger share of the global space market.
No wonder funding is shooting up!
In 2022 so far, funding to private players in the space sector has jumped 61.5% to US$108.5 million (Rs 8.9 bn).
2022 was a year when global liquidity dried up. The tech funding and venture capital remained scarce. Most startups resorted to layoffs.
But not the space sector.
According to data shared by the Indian Space Association (ISpA), of the US$245.35 million (m) that the sector has received in the last seven years, US$198.22 m came post-2020.
This was when space was opened to the private sector. Until then the space sector was dominated by ISRO.
India currently has 104 space startups and 368 space tech companies, according to official data.
All sounds exciting, but what are the applications?
The space segment has many applications, from mapping weather patterns to finding asteroids that may be on course to collide with earth.
Most of us take space technology for granted, but everything from GPS to digital imaging was invented in space and brought to Earth by humans.
The benefits of investing in space technology are vast, including better national security, telecommunications, environmental monitoring and weather forecasting.
Finding niche space companies assisting the space tech ventures with advanced technology could turn out to be safe investments over the long run.
Top Space Stocks that stand as big beneficiaries
For a retail investor, space tech startups won't be a vehicle to ride the boom in the space economy.
But there are a few companies which are directly or indirectly involved in the segment.
Smallcap expert at Equitymaster Richa Agarwal discussed about a few such stocks in her editorial today. Here's an excerpt or what she wrote:
The first is Avantel. Within the space sector, satellite launch services are going to be the fastest growing segment with increasing private participation.

Avantel, with its experienced promoters, established track record, and strong balance sheet, is well placed to make the most of this opportunity.

A microcap valued at just Rs 7 bn, it develops customised solutions for INSAT based mobile satellite services with wireless communications. The company focuses on small software defense radios and small satellites.

Its strong in-house R&D facilities are certified by the Department of Scientific and Industrial Research (DSIR), government of India.

Its promoter is a technocrat with over three decades of experience. Its customers include ISRO, Boeing, DRDO, Bharat Electronics, L&T, Indian Navy, National institute of Ocean Technology, among others.
The second stock she discussed was Mishra Dhatu Nigam (Midhani).
It supplies high strength steel for rockets and satellites and castings for semi cryo engine of satellite launch vehicles and fuel tanks. It manufactures superalloys, special purpose steel and other special metals.

It also makes Titanium alloys with applications in the aerospace industry due to its low weight, high strength, and ability to function at high temperatures. The company has supplied alloys for ISRO's Gaganyaan mission.

The space segment accounts for 35% of its current order book.
You can read the entire editorial here: Ride India's Space Economy Boom with These Companies.
There are three more stocks that could in some way ride tailwinds from the sector.
One is the obvious name in the list - Larsen & Toubro (L&T).
From space launches to bullet trains, L&T is executing India's next-gen engineering projects.
The company's defence business is structured into two groups:
Defence and Aerospace
Defence Shipbuilding
In the middle of the pandemic, the company delivered the hardware to power the launch of ISRO's maiden Human Space Flight Program (Gaganyaan), ahead of schedule. L&T has provided critical subsystems for most of India's space missions.
Currently, ISRO is in the process of inducting a batch of Polar Satellite Launch Vehicles (PSLVs) which are being built by a consortium of Hindustan Aeronautics (HAL) and L&T.
Last year, Indian startups did sign a memorandum of understanding (MoU) with L&T. Already a powerhouse, L&T is becoming a force to reckon with, having exposure to green hydrogen market as well.
Moving on to the next company, Data Patterns, a smallcap stock, made strong inroads in the segment and by becoming a member of the consortium of space sector companies incubated by the Indian Institute of Technology Madras (IITM).
It earlier made small satellites for a satellite company and Thapar Institute of Engineering & Technology.
The company has also supplied the cable harness health checkout, among other systems for ISRO's Gaganyaan mission.
Early investors in the company were head on as its initial public offer received massive bids resulting in 30% listing day gains.
Since then, the stock has only gone up, before witnessing pressure in recent sessions.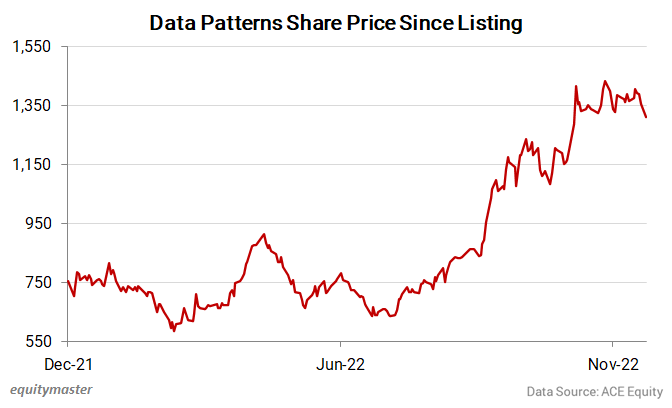 Being a vertically integrated defence and aerospace electronics solutions provider, the company has proven in-house design and development capabilities.
Unlike large defence giants catering to specialised defence equipment, Data Patterns caters to the entire spectrum of defence and aerospace platforms like space, air, land, and sea.
As on March 2022, the company's order book was from several marquee customers in the Indian defence ecosystem, including the Defence Ministry, BrahMos, DRDO, the Government of India's space organisation, Hindustan Aeronautics, Bharat Electronics, and a PSU involved in the missile space.
The last company on the list is none other than monopoly stock Hindustan Aeronautics (HAL).
Recently, HAL inaugurated its integrated Cryogenic Engine Manufacturing Facility at Bangalore. Production will start next year.
The company will cater to the manufacturing of entire rocket engines under one roof for ISRO. It's a big step in boosting self-reliance in manufacturing of high-thrust rocket engines.
So there you go...a list of space stocks in India to keep your eye on.
Track these stocks closely and see if they receive any big order which could have long term impact on the fundamentals.
For instance, last year in September, when drone stocks in India were booming, Zen Technologies secured a Rs 1.6 billion (bn) order from the Indian Air Force (IAF) for the supply of drones.
Shares of the company more than doubled in just a month's time since this news came out!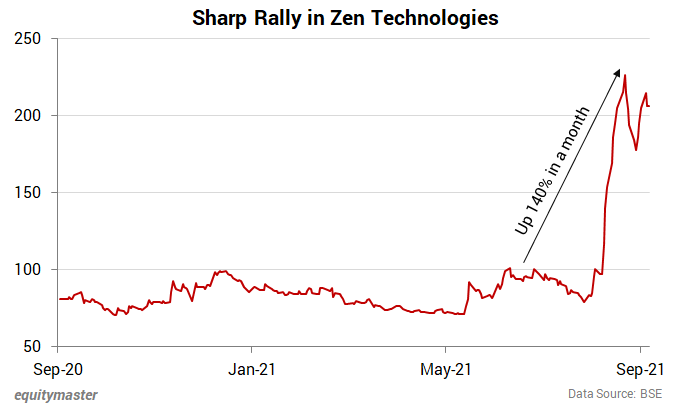 Watch this space for more where we discuss ideas to create and preserve wealth in safest businesses.
Co-head of Research at Equitymaster Tanushree Banerjee believes this ecosystem is brand new and much bigger than that of electric vehicles.
Watch the below video to know more:
Now Before You Go, This is Something You Need to Know...
Equitymaster's co-head of research, Tanushree Banerjee, believes that one of the fastest growing sectors this decade will be defence.
In fact, within defence there are segments with 33x growth potential by 2030. Yes, it's a massive opportunity.
Tanushree has already identified 3 next-generation defence stocks to ride this mega opportunity.
Now, these are not ordinary defence stocks.
Very few people know about the real potential of these companies.
Because these companies are working silently on developing next-generation warfare technologies.
Our research says that these 3 defence stocks could potentially provide you some of the biggest gains of your lifetime.
* 2 out of these 3 stocks have already run up. Act fast or you might completely miss out on this big opportunity.
Disclaimer: This article is for information purposes only. It is not a stock recommendation and should not be treated as such. Learn more about our recommendation services here...