Why Sunteck Realty Share Price is Falling
Dec 31, 2022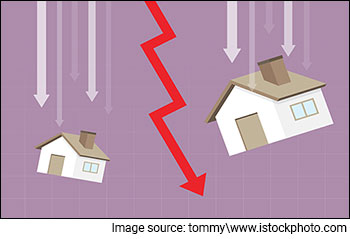 In 2022, the Indian real estate sector marked a strong recovery from a lengthy period of economic stagnation.
The industry was able to breathe easier on the back of several factors including renewed housing sales, a boost in customers' demand and activity, and due to reducing unsold inventory.
Despite all this, shares of many real estate stocks have fallen in the last one month.
The correction was seen at a time when foreign investors (FIIs) poured Rs 31.5 billion (bn) in best realty stocks in December 2022.
Among the beaten down stocks from the sector is Sunteck Realty. The stock has fallen 18% in the past month.
Let's find out why...
Uncertain outlook due to rising interest rate
For the September 2022 quarter, Sunteck Realty posted a 40.7% year-on-year (YoY) decline in revenue, at Rs 807.5 million (m) from Rs 1.4 bn a year ago.
The net profit also declined by 84.7% YoY to Rs 23.3 m, as against Rs 152.6 m.
This decline was on the back of lower inventory sales in the Naigaon area. In the said quarter, the company was able to sell Rs 3.8 bn worth inventory from prior launches, while approximately Rs 6.8 bn of inventory still remains unsold.
This decline in sales can be attributed to increasing repo rates. The RBI is raising key rates to curb the inflation pressures. It has hiked repo rate by five times since May 2022.
RBI hiked the repo rate for the first time in May when the setting panel unanimously hiked the benchmark lending rate by 0.4%.
This was followed by an increase of 0.5% each in June, August and September. It further hiked rates by 0.35% in December. In total, the RBI has hiked the rate by 2.25%.
These continuous rate hikes have led to short-term turbulence in the overall housing demand.
This is because the repo rise has also increased the interest rates on housing loans, making them costlier for the borrower, reducing the affordability of purchasing the house, and creating a liquidity crunch in the market.
In addition, a dramatic rise in the cost of essential raw materials like steel and cement due to geopolitical worries, has driven up the cost.
As a result, the price of the luxury segment of the company saw a jump of 10-15% in the September 2022 quarter.
Also, with inflation kicking in, the disposable income of people have taken a hit.
These factors combined have impacted the performance of the company.
For the upcoming quarters, the company is planning to launch the towers at Sunteck OneWorld and 4th Avenue SunteckCity.
How Sunteck Realty shares have performed recently
Sunteck Realty shares have declined by more than 18% in the last month. Over the year, the stock is down more than 33%.
The company touched its 52-week high of Rs 589.9 on 18 January 2022 and its 52-week low of Rs 315 on 23 December 2022.
At the current price, the stock is trading at a price-to-book value multiple of 2.6.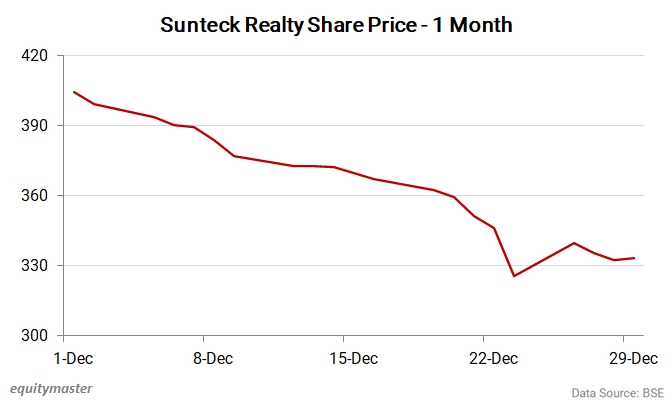 About Sunteck Realty
Sunteck Realty is a Mumbai-based real estate and construction company.
It is engaged in the construction, development, and management of commercial and residential properties.
The company is known for its high-end residential properties under different brand names: Signature for ultra-luxury properties, Signia for luxury properties and City for mid-segment properties.
The company was set up by Kamal Khetan in 1981. In March 2009, it entered into a partnership with Oman-based WJ Towell Group and Piramal Group.
It also formed a 51:49 joint venture in 2009 with the Bank of Muscat for developing real estate projects in Oman.
The company has been listed as a Fortune Next 500 company for the years 2017, 2018, 2019, and 2020.
For more details about the company, you can have a look at Sunteck Realty's fact sheet and Sunteck Realty's quarterly results on our website.
You can also compare Sunteck Realty with its peers on our website:
Sunteck Realty vs Godrej Properties
Sunteck Realty vs Eldeco Housing
Sunteck Realty vs Emami Realty
To know what's moving the Indian stock markets today, check out the most recent share market updates here.
Investment in securities market are subject to market risks. Read all the related documents carefully before investing
Safe Stocks to Ride India's Lithium Megatrend
Lithium is the new oil. It is the key component of electric batteries.
There is a huge demand for electric batteries coming from the EV industry, large data centres, telecom companies, railways, power grid companies, and many other places.
So, in the coming years and decades, we could possibly see a sharp rally in the stocks of electric battery making companies.
If you're an investor, then you simply cannot ignore this opportunity.
Details of our SEBI Research Analyst registration are mentioned on our website - www.equitymaster.com
Disclaimer: This article is for information purposes only. It is not a stock recommendation and should not be treated as such. Learn more about our recommendation services here...