Indian Stock Market News January 24, 2019
Sensex Opens Flat; Metal & Automobile Stocks Drag
Asian stock markets are higher today as Chinese and Hong Kong shares show gains. The Shanghai Composite is up 0.6% while the Hang Seng is up 0.2%. The Nikkei 225 is trading down by 0.3%. Wall Street ended slightly higher on Wednesday after a spate of upbeat earnings reports, but lingering concerns about trade tensions and the longest US government shutdown ever limited the advance.
Back home, India share markets opened on a flat note. The BSE Sensex is trading down by 17 points while the NSE Nifty is trading down by 2 points. The BSE Mid Cap index opened up by 0.2% while BSE Small Cap index opened up by 0.1%.
Sectoral indices have opened the day on a mixed note with power stocks and realty stocks witnessing maximum buying interest. While, metal stocks and automobile stocks have opened in red.
The rupee is currently trading at Rs 71.28 against the US$.
Aviation stocks opened the day in green with Jet Airways & Spicejet leading the gainers. Interglobe Aviation (Indigo) on Wednesday presented its December 2018 (Q3FY19) result, which surprisingly was not a good one.
Indigo's net profit came in at Rs 1.9 billion which nosedived massively by 75% compared to the profit of Rs 7.6 billion a year ago same period. Even operating profit (EBIDTA) of Indigo plunged by 16% to Rs 16.8 billion in Q3FY19 versus Rs 20 billion in Q3FY18. EBITDA margin during the quarter stood at 21.2% as against 32.4% in Q3FY18.
For weak Q3FY19 profitability, Indigo blamed high fuel prices and currency depreciation.
On the other hand, Indigo's revenue from operations stood at Rs 79.2 billion in Q3FY19, rising by 28.1% from Rs 61.8 billion in the corresponding period of the previous year.
Total income for the quarter ended December 2018 was Rs 82,294 million, an increase of 28.4% over the same period last year.
It was revenue from passenger tickets which continued its stellar performance for Indigo.
For the quarter, passenger ticket revenues were Rs 70.7 billion, an increase of 32.8% and ancillary revenues were Rs 8,051 million, an increase of 15% compared to the same period last year.
Meanwhile, expenses also saw sharp increase in Q3FY19. Indigo's total expense was at Rs 80.4 billion up by 50.6% over same quarter last year.
As on December 2018, IndiGo had a total cash balance of Rs 141.4 billion comprising of Rs 46.2 billion free cash and Rs 95.2 billion of restricted cash.
Total debt was at Rs 24.8 billion. The entire debt for IndiGo is aircraft related.
Going forward, Indigo expects fourth quarter fiscal 2019 year-over-year capacity to increase by 34% in ASKs.
Indigo share price opened the day up by 0.9%.
Moving on to the news from the economy. As per Crisil Ratings, India's growth rate is likely to inch up to 7.3% in 2019-20, provided that there are normal rains and a stable political outcome of the general elections.
India is expected to clock a growth rate of 7.2% in the current financial year, up from 6.7% in 2017-18.
It said with the government likely to stick to a fiscal consolidation path, the pick-up in growth is expected to be only gradual.
Stating that fiscal health remains a key risk, Crisil said the fiscal deficit is likely to be 3.3% of the gross domestic product (GDP) in the next fiscal. The deficit is budgeted at 3.3% in the current fiscal.
As per the report, global crude oil prices are expected to soften to settle at around US$60-65 average per barrel in fiscal 2020, compared with US$68-72 average per barrel in fiscal 2019 as overall global demand slows.
Further, it stated that fiscal 2019 would be the second consecutive year of sub-4% Consumer Price Index (CPI)-based inflation. From an average 4.5% in fiscal 2017, CPI inflation fell to 3.6% in fiscal 2018.
It said the current account deficit (CAD) would reduce to 2.4% of GDP in fiscal 2020 from 2.6% in fiscal 2019.
The rupee, Crisil expects, will remain volatile and settle at 72 to a dollar on an average by March 2020, compared with an estimate of 71 to a dollar by March 2019.
Crisil said domestic interest rates, which had risen last year, are expected to soften in fiscal 2020.
With inflation under control, softer crude oil prices relative to last year, the Monetary Policy Committee would change its stance to neutral from calibrated tightening and could cut the repo rate by at least 25 basis points (from 6.5% currently), it stated.
Speaking of GDP growth, have a look at the latest data projecting the nominal GDP of countries by the year 2030.
India in the Pecking Order of Strongest Economies in Another Decade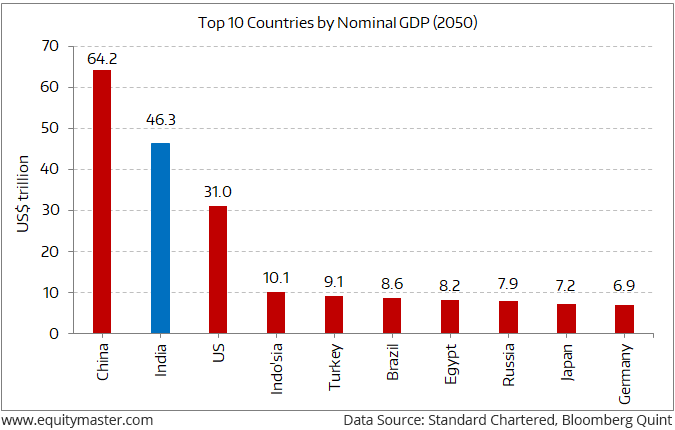 As you can see in the chart, China would be by far the strongest economy in another decade. In fact, its GDP could be more than double of America's.
But that India will be a close second.
With GDP crossing 40 trillion dollars, the Indian economy will be at least a third bigger than the US.
No doubt the 40 trillion-dollar GDP will not come without some hiccups.
But once you know the stocks that could gain the most in the coming decade, you too be saying - 'Buy Indian. I am'.
To know what's moving the Indian stock markets today, check out the most recent share market updates here.
For information on how to pick stocks that have the potential to deliver big returns,
Read the latest Market Commentary
Stock Market Updates
Aug 16, 2019 Closing
The BSE Sensex ended the day up by 39 points, while the NSE Nifty closed up by 18 points.
Aug 16, 2019 03:34 PM
PIDILITE INDUSTRIES share price has hit an all time high at Rs 1,373 (up 1.7%). The BSE FMCG Index is up by 0.4%. Among the top gainers in the BSE FMCG Index today are PIDILITE INDUSTRIES (up 1.7%) and P&G HYGIENE (up 0.2%). The top losers include AVANTI FEEDS (down 0.1%) and COLGATE (down 0.1%).
Aug 16, 2019 03:32 PM
APL APOLLO TUBES share price has surged by 6% and its current market price is Rs 1,350. The BSE CAPITAL GOODS is down by 0.1%. The top gainers in the BSE CAPITAL GOODS Index are APL APOLLO TUBES (up 6.4%) and SUZLON ENERGY (up 6.7%). The top losers are LAKSHMI MACHINE (down 0.2%) and HONEYWELL AUTOMATION (down 0.4%).
Aug 16, 2019 03:30 PM
CANARA BANK share price has surged by 5% and its current market price is Rs 237. The BSE BANKEX is up by 0.8%. The top gainers in the BSE BANKEX Index is CANARA BANK (up 5.2%). The top losers is HDFC BANK (down 0.2%).
Aug 16, 2019 03:30 PM
ECLERX SERVICES share price has plunged by 5% and its current market price is Rs 519. The BSE IT is down by 0.8%. The top gainers in the BSE IT Index are FIRSTSOURCE SOL. (up 3.5%) and ORACLE FINANCIAL (up 3.2%). The top losers is ECLERX SERVICES (down 5.5%).
Aug 16, 2019 03:22 PM
DR. LAL PATHLABS LTD share price has surged by 7% and its current market price is Rs 1,201. The BSE HEALTHCARE is down by 0.3%. The top gainers in the BSE HEALTHCARE Index are DR. LAL PATHLABS LTD (up 7.1%) and APOLLO HOSPITALS (up 8.1%). The top losers are STRIDES PHARMA SCIENCE (down 0.1%) and SANOFI INDIA (down 0.2%).
View More Indian Share Market News
Most Popular
Aug 5, 2019
Credit growth is likely to accelerate in India in the next decade. Here's how you can benefit from this megatrend.
Aug 8, 2019
This debt-free, well-managed company is all set to soar.
Aug 7, 2019
As markets continue to rattle amid earning season, upcoming elections, volatile crude price and US China trade war, it's a great idea to add some stability to your portfolio by adding dividend stocks.
Aug 12, 2019
My experience at the recent AGM of this smallcap company which has financials of any FMCG major.
Aug 9, 2019
Qatar has turned around after the Saudi embargo. This is good news for India.
More