Indian Stock Market News April 25, 2018
Sensex Ends Day in Red; IT Stocks Rally
After opening the day in red, share markets in India witnessed volatile trading activity throughout the day and ended the day in red. Sectoral indices were mixed, with stocks in the IT sector and stocks in the telecom sector leading the gains.
At the closing bell, the BSE Sensex stood lower by 115 points (down 0.3%) and the NSE Nifty closed down by 44 points (down 0.4%). The BSE Mid Cap index ended the day down 0.5%, while the BSE Small Cap index ended the day down by 0.7%.
Asian stock markets finished in red. As of the most recent closing prices, the Hang Seng was down by 1% and the Shanghai Composite was down by 0.4%. The Nikkei 225 was down by 0.3%. Meanwhile, European markets too were trading in red. The FTSE 100 was down by 0.7%, The DAX, was down by 1.5% while the CAC 40 was up by 0.6%.
The rupee was trading at Rs 66.78 against the US$ in the afternoon session. Oil prices were trading at US$ 67.15 at the time of writing.
Bharti Airtel share price was in focus today after it approved merger of its listed tower arm with privately held Indus Towers Ltd. to create the largest telecom infrastructure company outside China.
Bharti Infratel currently owns 42% equity interest in Indus Towers, which has a portfolio of 1,22,920 towers as of June 2017.
--- Advertisement ---


Unknown to Millions…

In our view, investing in small cap stocks is one of the best ways for regular investors to retire rich.

But we think this strategy is still unknown to millions.

We bet… you haven't heard about small cap stocks from the mainstream media.

And we believe… even your friends don't know about them.

But there are some who are using this proven strategy to retire early and wealthy.

And now it's your turn…

Today, we are going to show you a way to access a carefully selected list of small cap stocks that could guide you to potentially big returns.

And there's more good news for you…

Until 27th April, you also have a unique opportunity to claim one-year Access to our extremely successful small cap stock recommendation service…Virtually Free!

Click here for full details…
------------------------------
The combined entity between Bharti Infratel Ltd. and Indus Towers will have more than a third of the market with 163,000 towers.
Bharti Airtel, India's largest telecom operator, and Vodafone India Ltd. own 42 percent each in Indus Towers, while Idea Cellular Ltd. holds 11.15 percent. The remaining 4.85 percent is held by U.S.-based private equity firm Providence.
The proposed merger will unlock value for the telecom incumbents in India.
The entry of Reliance Jio and the fierce tariff war it has triggered has set off brisk activity in the telecom industry for fundraising and consolidation, as the incumbents look for ways and means to fend off the competition.
Telecom Sector: A decade of Underperformance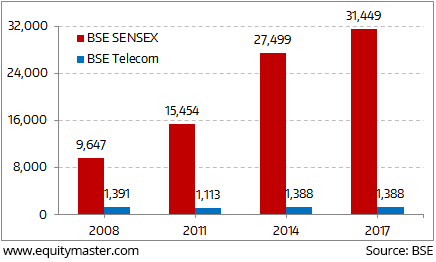 Note that the whole telecom business has been an underwhelming story so far. While the telecom subscriber base has increased from 300 million in 2008 to 1.2 billion in 2017, investors have little to cheer. The BSE Sensex has gone up 3.25 times in nine years, but the BSE Telecom Index has not moved an inch from its levels of 2008.
Telecom companies are straddled with high debt, intense competition, and lack of pricing power. High spectrum costs and regulatory issues have hampered the sector. While consumers have benefited from low costs and new players fighting for their share, investors have suffered.
With the entry of Reliance Jio, the competition has intensified further. Reliance Jio's low cost offerings and strategy of capturing market share will further dent the sector. The sector has been a classic 'value trap'. While it always looks cheap compared to other sectors, it has failed to provide any reasonable returns. We also believe the situation is unlikely to change in the near future. For an investor, it's important to differentiate between 'value' and 'value traps'.
Moving on to news from stocks in the automobile sector. Tata Motors share price was in focus today after its erstwhile partner Volkswagen AG signalled it isn't shutting the door on a tie-up with the Indian automaker.
Volkswagen said that it is working on a strategy to bring budget cars to millions of cost-conscious buyers in the South Asian country, and a collaboration with the owner of Jaguar Land Rover is possible.
The planned tie-up with Tata announced last year was aimed at achieving cost savings and technical synergies but was scrapped in five months. At the time, they said they could revive cooperation efforts in the future if the conditions arise.
In March last year, the two companies signed a memorandum of understanding at the Geneva Motorshow to explore various options, including a partnership for the development of Tata's new advanced modular platform (AMP), a joint venture or a contract manufacturing agreement, in a bid to achieve economies of scale that would have helped to cut costs.
In August last year, the companies said that they have performed a technical feasibility and commercial evaluation of a potential collaboration and jointly concluded that the envisioned areas of partnership may not yield the desired synergies as originally assessed.
However, both the companies had said they would keep the door open for future collaborations and partnerships.
Tata Motors share price ended the day down by 0.9%.
And here's a note from Profit Hunter:
Bharti Airtel is the top gainer in the Nifty 50 Index. The company announced its quaterly results yesterday after the market hours and today, the stock is up 3.5%.
The stock touched a life-time high of 565 in November 2017 and slipped lower to trade in a downtrend. It traded in a falling channel line from February 2018.
It touched a low of 375 a few days back. It bounced up from this low after finding support from the horizontal support line. The stock also found support from the channel's support line.
Today, the stock broke above the channel's resistance line with strong volumes. The RSI indicator also formed a bullish divergence with the price.
So will the stock challenge the life-time high or it is just a bounce before it resumes its downtrend. Let's wait and watch...
Bharti Airtel Broke Channel's Resistance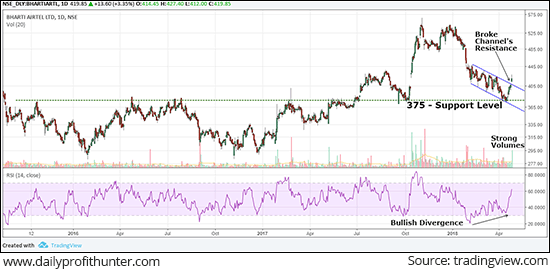 For information on how to pick stocks that have the potential to deliver big returns,
Read the latest Market Commentary
Stock Market Updates
May 24, 2018 11:49 AM
JAIPRAKASH ASSO. share price has surged by 5% and its Current Market Price is Rs 16. The BSE REALTY is down by 0.50%. The top gainers in the BSE REALTY Index is JAIPRAKASH ASSO. (up 5.00%). The top losers are HOUSING DEV. INFRA (down 0.37%) and DLF LTD (down 0.54%).
May 24, 2018 09:55 AM
DILIP BUILDCON LTD share price has plunged by 6% and its Current Market Price is Rs 1,080. The BSE CAPITAL GOODS is down by 0.06%. The top gainers in the BSE CAPITAL GOODS Index are SADBHAV ENGINEERING (up 1.77%) and MAHINDRA CIE AUTO. (up 1.61%). The top losers are DILIP BUILDCON LTD (down 5.89%) and GE T&D INDIA (down 6.88%).
May 24, 2018 09:48 AM
TATA MOTORS share price has plunged by 6% and its Current Market Price is Rs 308. The BSE AUTO is down by 0.86%. The top gainers in the BSE AUTO Index are ASHOK LEYLAND (up 1.20%) and EICHER MOTOR (up 0.66%). The top losers is TATA MOTORS (down 5.51%).
May 24, 2018 09:30 am
Indian share markets open in green with Sensex trading up by 87 points, while the Nifty is trading up by 26 points.
May 24, 2018 09:32 AM
ZENSAR TECHNOLOGIES share price has hit an all time high at Rs 1,345 (up 3.42%). The BSE IT Index is up by 1.61%. Among the top gainers in the BSE IT Index today are ZENSAR TECHNOLOGIES (up 3.42%) and TCS (up 0.97%). The top losers include ORACLE FINANCIAL SERVICES (down 0.08%) and ECLERX SERVICES (down 2.71%).
May 24, 2018 09:19 AM
JET AIRWAYS share price has plunged by 7% and its Current Market Price is Rs 392. The BSE 500 is up by 0.18%. The top gainers in the BSE 500 Index are NAVNEET EDUCATION (up 6.01%) and KAVERI SEED (up 5.46%). The top losers are JET AIRWAYS (down 6.92%) and ITD CEMENTATION INDIA (down 5.94%).
View More Indian Share Market News
Most Popular
May 16, 2018
The markets seem confused. They're neither going up nor down. What should investors do? Consider Safe Stocks. Here's the top 5 Safe Stocks in the market today.
May 17, 2018
A mutual fund regulation could cause small cap prices to tank - If you haven't been paying attention to your small caps - now is the time to catch the opportunities that start pouring in.
May 17, 2018
Home loans continue to grow, despite falling sales. What explains this phenomenon?
May 17, 2018
The stock of Vakrangee helps us understand why it's a bad idea to chase high-flying stocks.
May 22, 2018
2017 was a great year for the market. You were rewarded for taking excessive risk. But Ajit Dayal believes 2018 will be different. You will be rewarded for doing the opposite. Read on to know more...
More