Indian Stock Market News May 14, 2020
Inside Modi's Mega Stimulus Package, Vedanta's Delisting Plan, SGX Nifty Surges, and Top Cues in Focus Today
Indian share markets ended on a strong note yesterday.
Indian stock markets staged a gap up opening yesterday as investors were optimistic over the announcement of Rs 20 lakh crore economic relief package announced by Prime Minister Narendra Modi.
At the closing bell yesterday, the BSE Sensex stood higher by 637 points (up 2%) and the NSE Nifty closed higher by 187 points (up 2%).
The BSE Mid Cap index and the BSE Small Cap index ended up by 1.5% and 2%, respectively.
On the sectoral front, gains were largely seen in the capital goods sector, banking sector and realty sector.
After surging more than 450 points, SGX Nifty gave up some gains and was trading at 9,387, up by 211 points, at the time of Indian stock market closing hours yesterday.
SGX NIFTY is a derivative of NIFTY index traded officially in Singapore stock exchange.
How it performs this week and affects trades in Indian markets remains to be seen.
We will keep you updated about its movement in upcoming market commentaries. Stay tuned.
--- Advertisement ---
These 3 Stocks are the Dark Horses of the Stock Market

The mainstream media mostly ignores them.

Mutual funds and hedge funds can't buy them in bulk.

Stock brokers rarely cover them.

These stocks are the dark horses of the stock market.

They only come in limelight after they have rallied by hundreads of even thousands of percent.

Our head of smallcap research, Richa Agarwal, has a knack for identifying such stocks before they begin their rally.

Over the years, she has spotted such stocks which have gone on to offer triple and even quadruple digit gains for investors. (* Past performance is no guarantee of future results)

Today, when the markets are near all-time high... and some investors are thinking of booking profits... Richa has spotted 3 such stocks which are set for a massive rally.

She will reveal the details of these 3 stocks on 16th March at her free online summit.

Click here to sign-up instantly. It's free.
------------------------------
Speaking of stock markets, in the recent episode of Investor Hour Rahul Goel talks to Vijay Bhambwani, who he calls India's #1 trader.
Vijay believes there's money to be made in the market... across asset classes.
He talks about about stocks, bonds, the rupee, gold, silver, crude oil, and pretty much everything of interest to both traders and investors.
Tune in to find out more...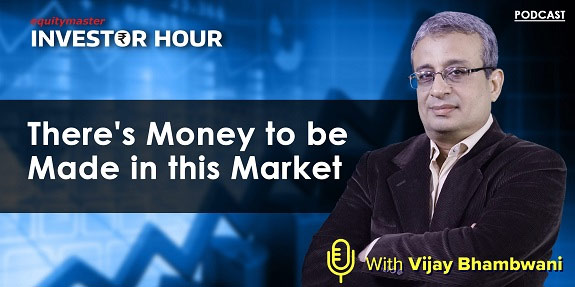 Also, note that the coronavirus impact has shaken markets worldwide. Businesses are seeing unprecedented shifts in a virus struck, locked down economy.
As per Richa Agarwal, editor of our premium smallcap service Hidden Treasure, there are robust smallcap businesses that are not just resilient but likely to emerge stronger from this crisis.
Richa has shared her views on these smallcaps, in the video below. Tune in now...
Top Stocks in Focus Today
Market participants will be tracking Maruti Suzuki share price, Kotak Mahindra Bank share price and Siemens share price as these companies announced their March quarter results (Q4FY20).
Kotak Mahindra Bank reported standalone profit of Rs 12.7 billion for the quarter under review, registering a 10% fall due to a significant jump in COVID-19 related provisions.
Meanwhile, Maruti Suzuki posted 28% year-on-year (YoY) drop in standalone net profit at Rs 12.9 billion for Q4FY20. It had reported a net profit of Rs 17.9 billion in the same period last year.
Shares of cement manufacturers will also be in focus today as Prime Minister Narendra Modi announced a Rs 20 trillion stimulus package. Market participants will be tracking shares of Ambuja Cements, UltraTech Cement, ACC, Orient Cement, JK Cement and Ramco Cements.
--- Advertisement ---
REVEALED: Vijay Bhambwani's Secret to potentially Making Rs 18,870, Rs 9,425 and Rs 7,315 in a Single Day...

India's #1 Trader Vijay Bhambwani is finally going to reveal the details of his secret trading system...

... that could guide you generate potentially upto tens of thousands of rupees... in sometimes less than 60 minutes...

In fact, it has been proven to generate Rs 18,870, Rs 9,425 and Rs 7,315 in a single day...
*past performance does not guarantee future results. Trades were executed as part of track record building.

Be the first to get the full details of this breakthrough system when you attend his Vertical Profits Summit at 5pm sharp on 15th March...

Click Here to Book Your Free Spot Now
------------------------------
Modi's Rs 20 Trillion Stimulus Package
Prime Minister Narendra Modi on Tuesday evening announced a much-awaited Rs 20 trillion stimulus package.
Modi said the Rs 20-trillion package, nearly 10% of India's gross domestic product (GDP), would be with the objective of putting money into people's pockets to spur domestic consumption and demand.
The package would cater to various sections, including the cottage industry, micro, small and medium enterprises (MSMEs), laborers, and middle class.
The package includes the government's recent announcements on supporting key sectors, as also measures rolled out by the Reserve Bank of India (RBI).
Finance Minister Nirmala Sitharaman unveiled the details of this economic package yesterday.
Here are the top highlights on what's inside the Modi's Rs 20 trillion stimulus package:
Finance Minister Nirmala Sitharaman rolled out the Rs 20 trillion stimulus package, labelled 'Atmanirbhar Bharat Abhiyan', aimed at spurring growth and building a self-reliant India.
FM announced six measures for micro, small and medium enterprises (MSMEs), two measures related to employees provident fund (EPF), two related to housing finance coompany (HFCs) and micro finance institutions (MFIs), one for discoms, one for real estate, in addition to three other tax measures.
The FM said collateral free loans will be offered to MSMEs. The loans worth Rs 3 lakh crore will be given to MSMEs. These loans will have 4-year tenure and a total of 45 lakh MSME units will benefit from the same.
For the first 12 months, there will be no principal repayment for this loan.
Banks and NBFCs offering such loans would be given 100% cover on principal and interest payments. Stressed MSMEs loan provisions have been kept at Rs 200 billion. Over 2 lakh units are seen benefitting from the measure.
FM said the government has already refunded Rs 180 billion to tax payers. A total of 14 lakh taxpayers have benefitted from clearing of refund dues.
EPF relief for all establishments with Rs 25 billion liquidity support. There will be extending support for another three months from March-May 2020 to June-August 2020 as well. Nearly 3.6 lakh establishments benefit, 72.22 lakh employees will benefit from this.
To increase take-home salaries for those not covered in EPF benefit, the statutory PF contribution is being reduced from 12% to 10%.
For NBFCs, HFCs and MFIs the FM said that it was felt NBFCs were not getting resources. The government is launching Rs 300 billion special liquidity scheme where government will buy investment grade debt papers of NBFCs, HFCs and MFIs. These securities will be fully guaranteed by GoI.
The economic package will cater to MSMEs, labourers, middle-class industry. It will also cater to cottage industry.
MoS Finance Anurag Thakur, who accompained Sitharaman, said the team will come everyday to announce some reform measures for different sectors, as mandated by the Prime Minister.
These were some of the key highlights form the FM's speech yesterday. We will keep you updated on the reform measures announced in coming days for various sectors. Stay tuned.
Note that in March, Finance Minister Nirmala Sitharaman had announced a package of Rs 1.7 trillion.
Unlike the previous stimulus packages, this one is no longer a tiny fraction of India's GDP.
At about 10.2%, it is among the biggest stimulus packages announced over the past few months by governments all around the world. This is evident in the chart below: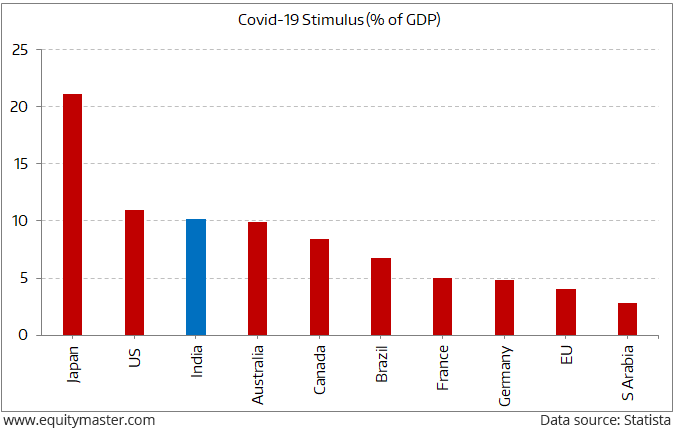 We will keep you updated on the latest developments from this space. Stay tuned.
Vedanta Announces Plans to Delist
Vedanta announced its plans to delist by buying out shares held by public.
In a regulatory filing, Vedanta said that its promoter group Vedanta Resources has "expressed its intention to, either individually or along with one or more subsidiaries, acquire all fully paid-up equity shares of the company that are held by the public shareholders of the company".
The board of directors of the company are scheduled to meet on Monday, May 18, 2020 to consider the proposal for voluntary delisting of the equity shares of the company.
Billionaire Anil Agarwal controlled Vedanta Resources will offer Rs 87.5 per share to nearly 49% public shareholders of Vedanta.
Vedanta Resources, along with the other members of the promoter group, presently holds 51.06% equity of the company.
The company said that delisting of Vedanta is the next logical step in this simplification process and will provide the group with enhanced operational and financial flexibility in a capital-intensive business.
The company further said the proposed delisting offer will provide public shareholders of Vedanta an opportunity to realize immediate and certain value for their shares at a time of elevated market volatility.
As of September, Vedanta had an outstanding net debt of US$ 6.6 billion. The company has debt maturities of US$ 1.9 billion till September 2021 and an annual interest payment of US$ 400 million.
Retail Inflation Eases to 5.84%
According to data released by the Ministry of Statistics and Programme Implementation, retail inflation, calculated on the basis on Consumer Price Index (CPI), was revised to 5.84% in March.
Data released by the National Statistical Office (NSO) showed that retail inflation remained in the RBI's upper target limit of 6% for the first time since November 2019.
This was the lowest level of retail inflation reported since November last year.
The ministry said it was not releasing general CPI for April in view of the nationwide lockdown to contain spread of COVID-19 pandemic.
Generally, the price data for calculation of CPI are collected from selected 1,114 urban markets and selected 1,181 villages. However, due to the coronavirus-led lockdown, the price collection of CPI through personal visits of price collectors was suspended with effect from 19 March 2020.
In the month of April 2020, price data was largely collected by telephonic enquiry from the designated outlets.
Meanwhile, India's industrial output as measured by IIP (Index of Industrial Production), steeply contracted by 16.7% in the month of March 2020 as compared to the year-ago period.
This was mainly due to slump in production from mining, manufacturing and electricity sector amid nationwide lockdown.
How the above indicators of the economic activity look in the coming months remains to be seen. Meanwhile, we will keep you updated on all the developments from this space.
To know what's moving the Indian stock markets today, check out the most recent share market updates here.
For information on how to pick stocks that have the potential to deliver big returns,
Read the latest Market Commentary
What else is happening in the markets today? Dig in...
Stock Market Updates
Mar 3, 2021 03:35 PM
J&K BANK share price is trading up by 8% and its current market price is Rs 32. The BSE BANKEX is up by 2.8%. The top gainers in the BSE BANKEX Index are J&K BANK (up 7.6%) and RBL BANK (up 5.2%).
Mar 3, 2021 03:27 PM
RELIANCE IND. share price is trading up by 5% and its current market price is Rs 2,216. The BSE OIL & GAS is up by 1.3%. The top gainers in the BSE OIL & GAS Index is RELIANCE IND. (up 5.1%). The top losers are PETRONET LNG (down 0.1%) and BPCL (down 0.4%).
Mar 3, 2021 03:23 PM
AU SMALL FINANCE BANK share price has hit an all time high at Rs 1,224 (up 4.2%). The BSE BANKEX Index is up by 2.8%. Among the top gainers in the BSE BANKEX Index today are AU SMALL FINANCE BANK (up 4.2%) and KOTAK MAHINDRA BANK (up 3.0%).
Mar 3, 2021 03:13 PM
REDINGTON share price is trading down by 5% and its current market price is Rs 200. The BSE 500 is up by 1.9%. The top gainers in the BSE 500 Index are IFCI (up 19.9%) and IDBI BANK (up 12.1%). The top losers are REDINGTON (down 5.1%) and SYMPHONY (down 5.1%).
Mar 3, 2021 03:09 PM
RBL BANK share price is trading up by 5% and its current market price is Rs 249. The BSE BANKEX is up by 2.7%. The top gainers in the BSE BANKEX Index are RBL BANK (up 5.0%) and FEDERAL BANK (up 5.7%).
Mar 3, 2021 12:30 pm
BSE Sensex is trading up by 586 points, while the NSE Nifty is trading up by 190 points.
View More Indian Share Market News
Most Popular
Feb 24, 2021
Last time the smallcap index crossed 19k a big correction followed. Here's what makes it different this time.
Feb 25, 2021
In this video, I'll show you how to get started on the path to daily trading profits.
Feb 19, 2021
In this episode, ace trader Brijesh Bhatia talks to us about the best investments of 2021, his profitable trading system, and much more.
Feb 23, 2021
An Indian company founded three decades ago in a garage caught my attention...
More