Indian Stock Market News May 16, 2018
Markets will remain closed on 15th August 2018.
We wish all our readers a Happy Independence Day!
Sensex Ends Day in Red; Energy Stocks Top Losers
After opening the day in red share markets in India witnessed choppy trading activity and ended the day well below the dotted line. Sectoral indices too ended the day mixed, with stocks in the realty sector and stocks in the FMCG sector leading the gains, while stocks in the oil and gas sector lost the most.
At the closing bell, the BSE Sensex stood lower by 156 points (down 0.4%) and the NSE Nifty closed down by 61 points (down 0.6%). The BSE Mid Cap index ended the day down 0.3%, while the BSE Small Cap index ended the day up by 0.1%.
Asian stock markets finished in red. As of the most recent closing prices, the Hang Seng was down by 0.1% and the Shanghai Composite was down by 0.7%. The Nikkei 225 was down by 0.4%. Meanwhile, European markets, were trading mixed. The FTSE 100 was up by 0.1%, The DAX, was up by 0.2% while the CAC 40 was down by 0.1%.
The rupee was trading at Rs 67.84 against the US$ in the afternoon session. Oil prices were trading at US$ 71.27 at the time of writing.
In news from the auto sector. According to a leading financial daily, the government is set to bring in a host of measures to promote the adaptation of electric vehicles in India.
The government has plans to set up charging stations for electric vehicles every three kilometers in cities with million-plus population and smart cities, and every 50 km on busy national highways.
--- Advertisement ---


Discover the Profits Hidden In Lesser-Known Small Companies

Believe it or not, unusual and lesser-known small companies are capable of generating BIG profits.

But just any small company will not do. You need to invest in the 'right' small companies in order to make BIG returns.

To know how you could do that, just click here…
------------------------------
It is likely to offer fiscal incentives and facilitate land from municipal authorities for those interested in setting up the infrastructure, which is a key requirement for the proliferation of electric vehicles.
The government estimates that 30,000 slow charging and 15,000 fast-charging stations will be required to be put up in a phase-wise manner in the next 3-5 years.
Public sector undertakings in the energy sector such as NTPC, Power Grid Corp and Indian Oil Corp are likely to initiate the process to set up charging stations at several locations in identified cities. The government is considering providing subsidies to the PSUs for the roll out programme.
Currently, electric vehicle sales are low in India, rising 37.5% to 22,000 units in the year ended 31 March 2016 from 16,000 in 2014-15. Only 2,000 of these were cars and other four-wheelers, according to automobile lobby group Society of Indian Automobile Manufacturers (Siam).
The government wants to see 6 million electric and hybrid vehicles on Indian roads by 2020 under the National Electric Mobility Mission Plan 2020.
Is India Prepared to Meet the Ambitious Battery Car Target?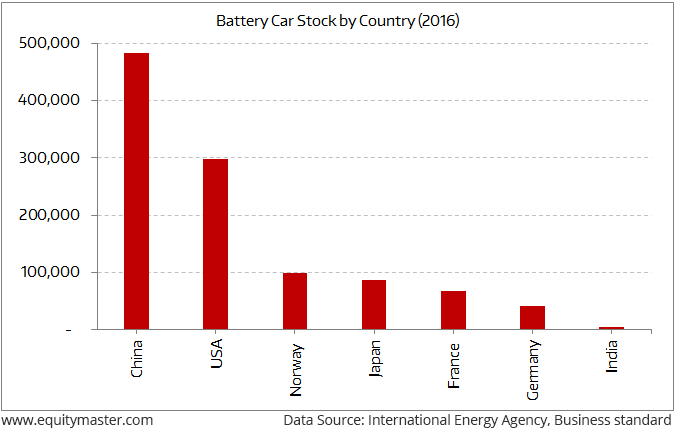 The government is targeting to have all cars propelled by electric engine by 2030. The target is more daunting than in many advanced countries.
According to the industry, the 2030 target would require eight to ten times the global stock of such vehicles. India would need to sell more than 10 million electric cars in 2030, compared to 5,000 electric vehicles India had on the road in 2016.
As you can see from the chart above, India is barely visible compared to other developed countries when it comes to battery cars.
As an article in Business Standard suggests, such a big jump in scale for the auto industry in 13 years seems difficult. The basic infrastructure is missing. There are not enough charging stations. For this massive shift, the charging stations will need to be as ubiquitous as petrol pumps.
Another issue is the price of the lithium ion battery, which constitutes 30% to 40% of the cost of the car. For this plan to succeed, the price of the battery needs to come down.
The auto industry is already facing regulatory headwinds. The shift from BS-IV emission norms to BS-VI has been two years ahead of schedule without an intermediate stage. The government, if it is serious about such ambitious targets, should offer the necessary infrastructure support and do its bit for a smooth transition.
Moving on to news from stocks in the pharma sector. Glenmark Pharma share price was in focus today after the company launched an asthma drug in Denmark.
The pharma major launched a generic version of Seretide Accuhaler, used to treat asthma, in Denmark.
The product was developed by Celon Pharma and Glenmark has marketing and distribution rights for the product across 15 European countries. This is Glenmark's first inhaled respiratory product launch in Europe. Glenmark is the first generic company to receive regulatory approval for substitution in Denmark.
Glenmark Pharma share price ended the day up by 2.3%.
Is this the right time to buy pharma stocks?
There was a time when almost every stock in the pharma sector was considered to be a safe stock. You could just pick the top 5-6 companies from this sector and expect to make decent returns over time.
In fact, it was termed as defensive sector. However, in last two years things have changed a lot. There is enormous uncertainty in the industry.
Uncertainty regarding price erosion in the United States as well as hostile US FDA visits, have changed a once defensive sector into a risky sector.
However, we believe this could be point of consolidation in the industry i.e. with stricter norms, lower margins, and pricing pressure, the industry may see many exits and acquisitions. This could lead to relatively fewer but higher quality players.
We believe, if you can pick a niche company with good financials and strong management, this is a good time to consider pharma stocks.
And here's a note from Profit Hunter:
The Punjab National Bank (PNB) announced its quarterly result yesterday after the market hours and today, the stock opened gap down and plunged 12%.
The massive fraud at the PNB, in conjunction with the diamond merchant Nirav Modi, has put the spotlight on the bank. The quaterly result has put an additional pressure on the stock price.
Last time we saw the stock breaking an important support level of 135. This indicated weakness in the counter. As a result, the stock touched a 52-week low of 91 in March 2018. It traded sideways for about two months before breaking the 91 level last week.
Today, it's nearly 12% lower with strong volumes to touch a new 52-week low of 74.
The stock is now very close to the February 2016 low of 70, which had then acted as a strong support from where it started its uptrend.
So can the stock again find ground at the 70 level or will the negative sentiment drag it even lower? It will be interesting to see how the stock reacts at this level...Keep it on your radar.
PNB Near February 2016 Low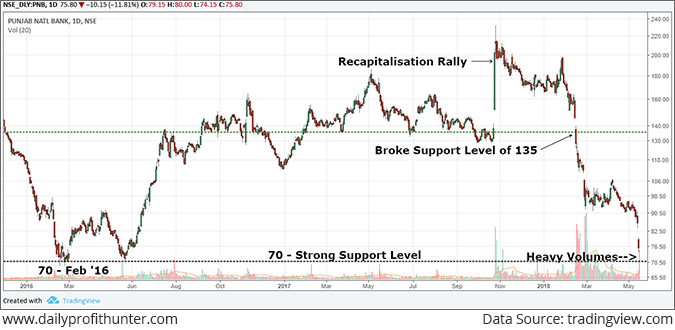 For information on how to pick stocks that have the potential to deliver big returns,
Read the latest Market Commentary
Stock Market Updates
Aug 14, 2018 03:23 PM
CITY UNION BANK share price has surged by 5% and its current market price is Rs 185. The BSE BANKEX is up by 1.0%. The top gainers in the BSE BANKEX Index is CITY UNION BANK (up 5.1%). The top losers are SBI (down 0.1%) and HDFC BANK (down 0.1%).
Aug 14, 2018 03:04 PM
PFIZER share price has hit an all time high at Rs 2,910 (up 1.7%). The BSE HEALTHCARE Index is up by 2.2%. Among the top gainers in the BSE HEALTHCARE Index today are PFIZER (up 1.7%) and SANOFI INDIA (up 0.2%). The top losers include NARAYANA HRUDAYALAYA LTD (down 0.2%) and GLENMARK PHARMA (down 0.3%).
Aug 14, 2018 03:01 PM
NIIT TECHNOLOGIES share price has hit an all time high at Rs 1,334 (up 3.3%). The BSE IT Index is up by 0.8%. Among the top gainers in the BSE IT Index today are NIIT TECHNOLOGIES (up 3.3%) and ORACLE FINANCIAL SERVICES (up 2.3%). The top losers include MPHASIS LTD (down 0.2%) and ZENSAR TECHNOLOGIES (down 0.7%).
Aug 14, 2018 03:01 PM
JSW STEEL share price has hit an all time high at Rs 350 (down 0.2%). The BSE METAL Index is up by 0.2%. Among the top gainers in the BSE METAL Index today are JSW STEEL (down 1.4%) and TATA STEEL (up 1.4%). The top losers include JSW STEEL (down 0.2%) and VEDANTA LTD (down 0.3%).
Aug 14, 2018 03:01 PM
DABUR share price has hit an all time high at Rs 453 (up 2.5%). The BSE FMCG Index is up by 0.7%. Among the top gainers in the BSE FMCG Index today are DABUR (up 2.5%) and NESTLE (up 0.7%). The top losers include BOMBAY BURMAH (down 0.2%) and RADICO KHAITAN (down 0.3%).
Aug 14, 2018 12:30 pm
The BSE Sensex is trading up by 242 points, while the NSE Nifty is trading up by 81 points.
View More Indian Share Market News
Most Popular
Aug 1, 2018
Many stocks are yielding dividends even upwards of 4%-5%. Here are the kinds you should pick, and the ones to avoid.
Aug 3, 2018
In a time when stocks recommended by so-called 'gurus of the market' are crashing, let Kunal Thanvi guide you to the best gurus...and their best stocks.
Aug 3, 2018
To what extent have foreign flows influenced Indian stock markets? How do we see it panning out now?
Aug 1, 2018
PersonalFN explains if NFO: Axis Equity Hybrid Fund, would be a worthy proposition currently.
Aug 2, 2018
Although positioned as a small cap fund, Franklin India Smaller Companies Fund has been investing a significant portion of its assets in mid-caps along with a nominal exposure to large caps.
More