Indian Stock Market News May 23, 2019
Sensex Hits 40,000 as Modi Set to Return for Another Term; Banking and Energy Stocks Witness Buying
Share markets in India are presently trading on a positive note. The BSE Sensex and NSE Nifty opened at record high and went on to touch 40,000 and 12,000 for the first time ever in early trade today as Prime Minister Narendra Modi is set to return for another term as the NDA led in over 300 seats according to the latest trends.
Barring FMCG sector and consumer durables sector, all sectoral indices are trading on a positive note with stocks in the capital goods sector, banking sector and energy sector witnessing maximum buying interest.
The BSE Sensex is trading up by 329 points (up 0.8%), while the NSE Nifty is trading up by 127 points (up 1.1%). The BSE Mid Cap index is trading up by 0.7%, while the BSE Small Cap index is trading up by 0.4%.
The rupee is trading at Rs 69.63 against the US$.
In the news from the Lok Sabha Elections 2019, India began counting hundreds of millions of votes in its general election today, with a coalition led by Prime Minister Narendra Modi's party already preparing to form the next government.
The National Democratic Alliance (NDA), led by Modi's Hindu nationalist Bharatiya Janata Party (BJP), is expected to surpass the 272 seats needed to command a majority in the lower house of parliament, six of seven exit polls showed on Sunday.
---

Advertisement

---

What You Should Know Before Counting Starts Today...

The counting of votes for the national elections begins today...and in all likelihood, we will have the results today.

Now, the exit polls have already predicted a win for Modi...

News of which caused the markets to skyrocket 1,400 points in a day.

But we see a bigger opportunity here.

We see a massive wealth-creating opportunity in a few stocks...that could potentially gain in double or triple digits in the months to come.

You'll find more details on the top 4 stocks to buy here...
------------------------------
Counting of votes began at 8 am in the morning and trends are expected to be known by noon because of the use of computerised voting machines.
Final results in the polls, in which around 900 million Indians were eligible to vote, are due by the evening.
According to latest trends, BJP is near the 290-seat mark and Prime Minister Narendra Modi looks set to return for a second term.
Note that near term reactions to elections aside, stock markets in the longer run have been influenced by the Indian economy and growth in corporate earnings.
Indeed, despite the Congress win in 2004 (something not factored in by the markets), the Sensex has been on a major bull run since then.
This, during years when both the UPA and the NDA have been in power.
Despite governments changing hands in 2004 and 2014, the Sensex gave returns of 44% and 13% in a year respectively.
Even in 2009, when the same government retained power, Sensex was up by 18% in a year.
So, do you think there are good times ahead for Indian stock markets?
We will keep you updated on the developments relating to the Lok Sabha Elections 2019 happening today.
Meanwhile, look out for the stocks that will rise fast when the tide of the market turns up.
In the news from the banking sector, Bank of Baroda reported net loss for the March quarter at Rs 9.9 billion. The lender had reported net loss of Rs 31 billion in the year ago period.
Reports state that the loss was because of higher provisioning for bad loans.
Provisions and contingencies surged 93.2% from Rs 27.9 billion in the December quarter to Rs 54 billion in the three months ended March. Year on year, it was down 19.1% from Rs 66.7 billion.
Gross NPAs fell 33.5% from Rs 234.8 billion in the year-ago period to Rs 156.1 billion as of 31 March, 2019.
Bank of Baroda share price is presently trading up by 6.8%.
In other news, IndusInd bank share price is also in focus today. Shares of the lender surged 8% in early trade today on expectation that the bank would return to normal condition in terms of earnings momentum after the entire exposure to IL&FS was classified as non-performing asset (NPA) in the fourth quarter of fiscal 2018-19 (Q4FY19).
IndusInd bank reported 62% fall in net profit at Rs 3.6 billion for Q4FY19. The loss was reportedly due to higher provisioning for loans extended to IL&FS. It had a profit of Rs 9.5 billion in the year-ago quarter.
As per a leading financial daily, the profitability was impacted on account of high provision which stood at Rs 15.6 billion against Rs 3.4 billion in Q4FY18.
The entire exposure to the IL&FS became NPA and total additional provisions of Rs 11.2 billion were provided on this during the quarter. Also, the management clarified its exposure towards other stressed assets which is at 1.9%.
Speaking of banking sector, if there is any private sector bank that has severely underperformed in the last two years, it has to be Lakshmi Vilas Bank (LVB).
Look at the chart below.
Lakshmi Vilas Bank Down 60% from Its 2017 High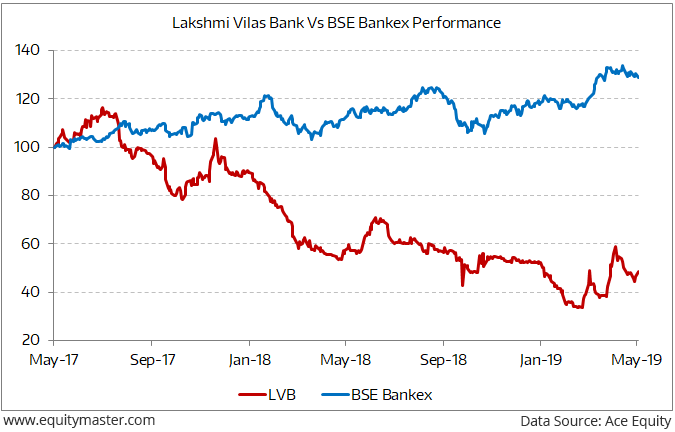 Here's what Sarvajeet Bodas wrote about this in the recent edition of The 5 Minute WrapUp...
LVB declined by more than 50% in the last 2 years compared to the overall BSE Bankex showing gains of about 30%.

Here's another interesting data.

If you look at the shareholding pattern of LVB during this 2-year time frame, retail investors (Individual share capital up to Rs. 2 Lacs) have increased by 15%. The number of shares owned by them increased by 24%.
This is a typical example of retail investors catching a falling knife!
Apart from IndusInd bank, market participants are also tracking TVS Srichakra share price, Sun TV share price, and Eclerx services share price as these companies are set to announce their Q4FY19 results today.
You can also read our recently released Q4FY19 Results: Bajaj Auto, PI Industries, GSK Pharma.
To know more on what moved the Indian stock markets today, you can check out the most recent share market updates here.
For information on how to pick stocks that have the potential to deliver big returns,
Read the latest Market Commentary
What else is happening in the markets today? Dig in...
Stock Market Updates
Jun 3, 2020 Closing
While thWhile the BSE Sensex closed higher by 284 points, NSE Nifty closed higher by 82 points.
Jun 3, 2020 03:33 PM
THE INDIAN HOTELS share price has surged by 10% and its current market price is Rs 93. The BSE 500 is up by 0.8%. The top gainers in the BSE 500 Index are THE INDIAN HOTELS (up 10.2%) and TEAMLEASE SERVICES (up 12.5%). The top losers are MAHINDRA LIFESPACE and ADANI PORTS & SEZ .
Jun 3, 2020 03:31 PM
VIP INDUSTRIES share price has surged by 11% and its current market price is Rs 265. The BSE CONSUMER DURABLES is up by 1.0%. The top gainers in the BSE CONSUMER DURABLES Index is VIP INDUSTRIES (up 10.8%). The top losers are RAJESH EXPORTS and SYMPHONY (down 0.3%).
Jun 3, 2020 03:31 PM
KEC INTERNATIONAL share price has surged by 5% and its current market price is Rs 229. The BSE CAPITAL GOODS is up by 1.6%. The top gainers in the BSE CAPITAL GOODS Index are KEC INTERNATIONAL (up 5.2%) and BHARAT ELECTRONICS (up 6.0%). The top losers are LAKSHMI MACHINE (down 1.1%) and BHEL (down 1.6%).
Jun 3, 2020 03:23 PM
BASF INDIA share price has plunged by 5% and its current market price is Rs 1,188. The BSE 500 is up by 0.6%. The top gainers in the BSE 500 Index are SOUTH IND.BANK (up 20.0%) and INDIAN OVERSEAS BANK (up 17.0%). The top losers are BASF INDIA (down 5.0%) and ADANI POWER (down 6.5%).
Jun 3, 2020 03:05 PM
MAHANAGAR GAS share price has surged by 6% and its current market price is Rs 1,025. The BSE OIL & GAS is up by 2.1%. The top gainers in the BSE OIL & GAS Index is MAHANAGAR GAS (up 6.0%). The top losers is CASTROL INDIA (down 0.4%).
View More Indian Share Market News
Most Popular
May 26, 2020
Six charts showing how Indian financial markets have performed in 2020 so far...
May 28, 2020
Covid-19 has made it a survival of the fittest race for many companies. The ones that can adapt will thrive in a post crisis world.
May 25, 2020
The RBI governor has cut the repo rate to 4%. What does this mean for options traders? Find out in this video.
May 25, 2020
Will the mutlibagger blue chips of the past decade continue to rule the bourses?
More