Indian Stock Market News May 24, 2018
Markets will remain closed on 15th August 2018.
We wish all our readers a Happy Independence Day!
Sensex Surges 320 Points; ONGC Tanks 4.5%
After opening the day in green, share markets in India witnessed positive trading activity throughout the day and ended the day on a positive note. Sectoral indices traded on a mixed note, with stocks in the IT sector and stocks in the banking sector, leading the gains.
At the closing bell, the BSE Sensex stood higher by 318 points (up 0.9%) and the NSE Nifty closed up by 83 points (up 0.8%). The BSE Mid Cap index ended the day down 0.2%, while the BSE Small Cap index ended the day down by 0.1%.
The rupee was trading at Rs 68.38 against the US$ in the afternoon session. Oil prices were trading at US$ 79.21 at the time of writing.
Asian stock markets finished in mixed. As of the most recent closing prices, the Hang Seng was up by 0.3% and the Shanghai Composite was down by 0.5%. The Nikkei 225 was down by 1.2%. Meanwhile, European markets, too were trading mixed. The FTSE 100 was down by 0.1%, The DAX, was flat while the CAC 40 was up by 0.4%
In news from stocks in the oil and gas sector. ONGC share price was among the top losers in a rising market today, amid news that the government may levy a new tax on oil producers.
According to reports, the government plans to levy a windfall tax on oil producers like Oil and Natural Gas Corp. Ltd (ONGC) as part of a permanent solution it is working on for moderating the spiraling retail prices of petrol and diesel. The tax, which may come in form of a cess, will kick in the moment oil prices cross US$ 70 per barrel.
Under the scheme, oil producers, who get paid international rates for the oil they produce from domestic fields, would have to part with any revenue they earn from prices crossing $70 per barrel mark.
--- Advertisement ---


How one could potentially profit from the coming Small Cap Firesale…

We believe we could soon see a Small Cap Firesale, in which several high-quality small companies could be available for dirt-cheap to regular investors.

Why is this firesale happening? And how could one get the maximum out of it?

Click here for full details on this time-sensitive opportunity…
------------------------------
The revenues so collected would be used to pay fuel retailers so that they absorb spikes beyond the threshold levels, they said. This may be accompanied by a minor tinkering with excise duty rates to give immediate relief to consumers.
States too would be asked to cut sales tax or VAT to show a visible impact on retail prices.
Presently, the government levies heavy taxes which account for about half the cost of petrol and 40% of the diesel price. So, one of the possible ways for the government to reduce the rates is change the way in which pump prices are calculated.
The above rise in fuel prices is seen on the back of rising crude oil prices, which shot above US$ 80 per barrel. This is the highest level seen since November 2014. In the past one year alone, oil prices have surged more than 50%.
Also note that rising crude oil prices not only affect fuel prices, but also has many other repercussions for the Indian economy.
They can be a big worry for the Modi government as well.
While having a direct financial impact on foreign reserves. Rising crude prices would put a burden on energy subsidies as well.
Rising Oil Prices Could Burden Energy Subsidies
The country's energy subsidy burden has come down over the past few years. As per a report by the International Institute of Sustainable Development, the value of energy subsidies the central government doled out declined by 38%, from Rs 2.17 trillion to Rs 1.35 trillion between FY 14 - 16.
During this period, India lowered its overall subsidy bill with a steep 70% cut in Oil and Gas subsidies.
The factors that partially made it possible were
Significant slide in global crude prices
The government's reforms such as direct benefit transfer scheme for LPG and targeted kerosene subsidy.
Although subsidies given to the renewable segment have risen four folds, it still constitutes a miniscule 6.9% of the overall energy subsidies. This means that the lion's share of subsidies still favour fossil fuels rather than renewable sources.
However, electricity remains inaccessible to a sizeable population, and fossil fuel still dominates the energy mix in the country.
With rising oil prices, there will be increasing pressure to dole out more subsidies to keep the prices in check.
Moving on to news from stocks in the engineering sector. L&T share price was in focus after the company's construction arm bagged multiple orders.
L&T Construction's buildings and factories business won orders worth Rs 40.3 billion.
L&T said the company has secured an order from a government client for the design and construction of 1,125 residential towers of G+3 floors in Visakhapatnam, Prakasam, Guntur and Krishna districts in Andhra Pradesh.
The company also added that it won another order from a cement manufacturer for the construction of cement plants in Odisha and Andhra Pradesh on design and build model.
In addition, L&T said bagged another turnkey order from a government client in Patna (Bihar) to establish a cancer institute along with the supply, installation and commissioning of medical equipment
L&T share price ended the day up 0.9%.
And here's a note from Daily Profit Hunter:
Mothersons Sumi is among the most active stock in the market today - down 6%.
Yesterday, the company announced its quarterly results and the stock plunged nearly 10% in last two days.
The last time we reviewed the stock, it had formed a head and shoulder pattern (H&S) on the daily chart with neckline at 340. It broke below the neckline and slipped sharply to touch a low of 301 in March 2018.
It then bounced up to 360 but the down move resumed and the stock is now back to 300 level. It is now forming a larger head and shoulder pattern with neckline at 300 level. The volumes in the last two session are quite heavy.
So it will be interesting to see if the stock can break below the neckline and confirm the H&S pattern or will it find support at the 300 level.
Mothersons Sumi at a Crucial Level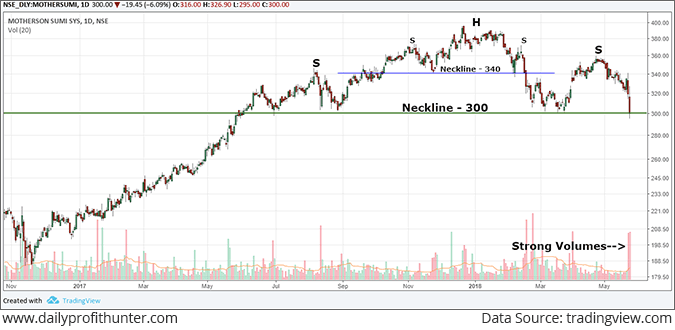 For information on how to pick stocks that have the potential to deliver big returns,
Read the latest Market Commentary
Stock Market Updates
Aug 14, 2018 03:23 PM
CITY UNION BANK share price has surged by 5% and its current market price is Rs 185. The BSE BANKEX is up by 1.0%. The top gainers in the BSE BANKEX Index is CITY UNION BANK (up 5.1%). The top losers are SBI (down 0.1%) and HDFC BANK (down 0.1%).
Aug 14, 2018 03:04 PM
PFIZER share price has hit an all time high at Rs 2,910 (up 1.7%). The BSE HEALTHCARE Index is up by 2.2%. Among the top gainers in the BSE HEALTHCARE Index today are PFIZER (up 1.7%) and SANOFI INDIA (up 0.2%). The top losers include NARAYANA HRUDAYALAYA LTD (down 0.2%) and GLENMARK PHARMA (down 0.3%).
Aug 14, 2018 03:01 PM
NIIT TECHNOLOGIES share price has hit an all time high at Rs 1,334 (up 3.3%). The BSE IT Index is up by 0.8%. Among the top gainers in the BSE IT Index today are NIIT TECHNOLOGIES (up 3.3%) and ORACLE FINANCIAL SERVICES (up 2.3%). The top losers include MPHASIS LTD (down 0.2%) and ZENSAR TECHNOLOGIES (down 0.7%).
Aug 14, 2018 03:01 PM
JSW STEEL share price has hit an all time high at Rs 350 (down 0.2%). The BSE METAL Index is up by 0.2%. Among the top gainers in the BSE METAL Index today are JSW STEEL (down 1.4%) and TATA STEEL (up 1.4%). The top losers include JSW STEEL (down 0.2%) and VEDANTA LTD (down 0.3%).
Aug 14, 2018 03:01 PM
DABUR share price has hit an all time high at Rs 453 (up 2.5%). The BSE FMCG Index is up by 0.7%. Among the top gainers in the BSE FMCG Index today are DABUR (up 2.5%) and NESTLE (up 0.7%). The top losers include BOMBAY BURMAH (down 0.2%) and RADICO KHAITAN (down 0.3%).
Aug 14, 2018 12:30 pm
The BSE Sensex is trading up by 242 points, while the NSE Nifty is trading up by 81 points.
View More Indian Share Market News
Most Popular
Aug 3, 2018
In a time when stocks recommended by so-called 'gurus of the market' are crashing, let Kunal Thanvi guide you to the best gurus...and their best stocks.
Aug 3, 2018
This price pattern can help you identify stocks on the verge of a turnaround.
Aug 3, 2018
To what extent have foreign flows influenced Indian stock markets? How do we see it panning out now?
Aug 2, 2018
Although positioned as a small cap fund, Franklin India Smaller Companies Fund has been investing a significant portion of its assets in mid-caps along with a nominal exposure to large caps.
Aug 9, 2018
Though popular, HDFC Equity Fund is not among the best performers anymore. Here is the reason behind its underperformance that has left investors disappointed.
More