Indian Stock Market News September 7, 2017
Sensex Ends Flat; ITC & Bharti Airtel Top Losers
Share markets in India ended the day on a flat note tracking Asian share markets after US President Donald Trump and congressional leaders agreed to raise the government debt limit until December. At the closing bell, the BSE Sensex closed higher by 1 point. While, the NSE Nifty finished higher by 14 points. Meanwhile, the S&P BSE Midcap Index finished up by 0.8% while the S&P BSE Small Cap Index ended up by 0.5%.
BSE sectoral indices ended the day on a mixed note. Among them, metal index gained the most by 1.4%, followed by automobile sector 0.9%, while energy sector and FMCG sector finished down by 0.4% & 0.2% respectively.
Eicher Motors share price rose by 2.3% today on the reports that the company is set to make a binding takeover bid for Italian motorcycle manufacturer Ducati for US$ 1.8 billion-US$2 billion.
Overseas, Asian equity markets finished mixed as of the most recent closing prices. The Nikkei 225 gained 0.20%, while the Shanghai Composite led the Hang Seng lower. They fell 0.59% and 0.33% respectively. European markets are higher today with shares in Germany leading the region. The DAX is up 0.96% while France's CAC 40 is up 0.28% and London's FTSE 100 is up 0.17%.
The rupee was trading at Rs 64.03 against the US$ in the afternoon session. Oil prices were trading at US$ 49.08 at the time of writing.
The broader market indices S&P BSE Mid-cap and S&P BSE Small-cap indices hit a fresh high today. So far in calendar year 2017 (CY17), both these indices have rallied around 31% and 35% respectively, as compared to 19% gain in the frontline Sensex.
Since their respective low in August, while the small-cap index has recovered 3.8%, the mid-cap index gained 2.8% till today.
The surge comes on the back of strong liquidity flow into the equity markets, especially by mutual funds to the tune of Rs 710.8 billion in CY17, which found its way into the mid-and small-caps. Their investment thus far in CY17 is 5.5-times higher as compared to CY16, when they had invested Rs 128.5 billion.
As per Business Standard, fueled by this rally, more than one-third from the mid-and-small-cap index have outperformed the market by gaining over 35% in first eight months of 2017.
Of these 73 companies - mainly from finance including housing finance, real estate, infrastructure, retail, chemicals and steel sectors - have seen their market value more than double.
Interestingly, many mid and small cap stocks have outperformed the index not only in last one year but have been on the winning streak from last 5 years.
With earnings not improving from quite some time now, the rise in the stock prices has led to unreasonable valuations. In fact, some of them are in a bubble phase right now. We believe, these stocks are vulnerable if there is any correction in the broader market.
Richa Agarwal, Managing Editor at Hidden Treasure is very cautious about the same. She is very skeptical about the current scenario with stock prices shooting up and earnings are near stagnant.
As per her, in times like this, one need to be extremely disciplined about the businesses they are buying. Compromising on the quality of the business could prove fatal in these times.
Moving on to the news from the pharma sector. Cadila Healthcare share price closed higher by 3.4% intraday after getting zero observations from the US health regulator for Moraiya plant.
Reportedly, the US Food and Drug Administration (USFDA) inspected the company's Moraiya facility in Gujarat from 31 August 2017 to 7 September 2017.
Earlier also, when the US health regulator had inspected Moraiya unit during 6 February 2017, it did not get any observations (483). Cadila has been received several approvals from USFDA for drugs filed from Moraiya facility, especially since February inspection with zero observations.
USFDA alerts on Indian pharma companies have increased over the past few years. Regulators used to visit the plants every two years. Now they come every eight months. Increasing inspections have led to a total of 41 import alerts in the past eight years - 33 of them (80%) in just the last four years (2013-16).
This clearly signifies increased USFDA scrutiny on Indian pharma firms. If that wasn't enough, increasing pricing pressure in the generics segment has dented realisations.
Notably, the BSE Healthcare Index is down 24% in two years. This is a mighty fall compared to the benchmark index, which is up 23% during the same period. A downgrade in earnings estimates has led to the selloff in the pharma space.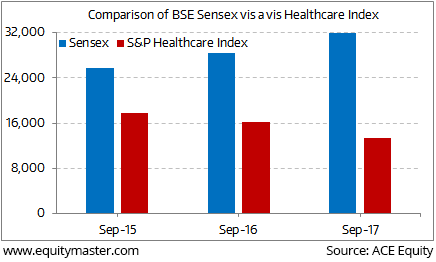 The list of pharma sector woes is long. But, is there light at the end of the tunnel?
Here's what Sarvajeet Bodas, our Research analyst wrote about the sector in the recent edition of The 5 Minute WrapUp:
"While short-term pain is expected, companies with strong R&D capabilities and compliant plants will do well over the long term. The uncertainties make it important to be stock specific in the sector. It is important to look for companies that have the competence and staying power to overcome the challenges."
So, what is key to identifying potential multibagger stocks? How does one pick them at the right time and ride them to their full potential? How many multibaggers do you really need to achieve the big riches that you desire?
Most importantly, are there any stocks right now that could turn out to be multibaggers? Click here to know everything that you need to know right now about multibagger stocks...
And here's a note from Profit Hunter:
Tata Chemicals is the most active stock in the market today - up 6%. Let's have a look at its chart.
The stock bottomed out at Rs 310 with the broader market indices in February 2016. It rallied strongly to a life high of Rs 586 before correcting to Rs 445 during the demonetisation phase. The stock then resumed its up move to hit a new life high of Rs 666.
Thereafter, the stock traded sideways finding strong support from 590 levels without hitting a new life high. Last month, it broke below this support thus opening up lower levels for the stock. The 595 level acted as resistance post the breakout as per the change of polarity principle.
But today, the stock spiked 6% with strong volumes to trade above the 590 resistance level.
Does this mean the stock will soon hit a new life-time high? Let's keep a close watch to see how things pan out.
Tata Chemicals Surged 6% for the Day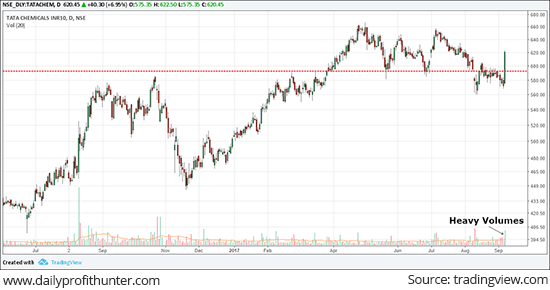 For information on how to pick stocks that have the potential to deliver big returns,
Read the latest Market Commentary