Indian Stock Market News September 12, 2019
Sensex Ends 164 Points Lower; Auto and Telecom Stocks Witness Huge Selling
India share markets witnessed selling pressure during closing hours and ended their day in the red.
At the closing bell, the BSE Sensex stood lower by 164 points (down 0.4%) and the NSE Nifty closed down by 54 points (down 0.5%).
The BSE Mid Cap index ended the day down 0.2%, while the BSE Small Cap index ended the day up 0.1%.
Sectoral indices ended on a mixed note with stocks in the auto sector and telecom sector witnessing most of the selling pressure.
--- Advertisement ---
Ex-Swiss Investment Banker Reveals His Biggest Investment Strategy in 4 Free Video Classes

Rahul Shah, ex-Swiss investment banker and Co-Head of Research at Equitymaster, is hosting a series of 4 free video classes for his readers, where he will reveal the details of something he's been working on for years…

The Double Income Project…

Rahul will show his readers, step-by-step, how to dramatically increase their income, potentially even double it…in what he believes is the earliest amount of time possible. a few short years.

For instance, if you make Rs 50,000 a month…Rahul's goal is to show you how to take it to Rs 100,000 in the long run.

Or if you make Rs 100,000…Rahul will show you how you could potentially increase it to Rs 200,000 in the long run.

This is different from anything Rahul Shah has ever done before – there's nothing to pay, no service to subscribe to and no forms to fill to attend these classes.

Just click here to sign up for the free video classes.
------------------------------
The rupee was trading at 71.32 against the US$.
Asian stock markets finished on a mixed note. As of the most recent closing prices, the Hang Seng was down by 0.26% and the Shanghai Composite was up by 0.75%. The Nikkei 225 was also up 0.75%.
European markets were also trading on a mixed note. The FTSE 100 was down by 0.05%. The DAX was trading up by 0.04%, while the CAC 40 was down by 0.15%.
In the news from the power sector, as per a leading financial daily, finance and power ministries are in advanced talks to merge smaller power companies with NTPC and NHPC.
The news report said that NTPC or NHPC may takeover smaller power companies such as Tehri Hydro Development Corporation (THDC), SJVN and North Eastern Electric Power Corporation (NEEPCO). THDC is a joint venture between the Centre and UP government.
NTPC share price and NHPC share price were in focus today on the back of above news.
How this development pans out remains to be seen. Meanwhile, we will keep you updated on all the news from this space.
In other news, the offer for sale (OFS) for Reliance Nippon Life Asset Management (RNAM) got 24% retail bids while that of SBI Life received 15% institutional bids by noontime today.
SBI Life's institutional quota was subscribed 15% at 47,53,576 shares against the base size of 3,15,00,000 shares.
Moving on to the news from the automobile sector... While Finance minister Nirmala Sitharaman said that millennials preferring taxi aggregators like Ola and Uber could be one of the reasons for the crisis in the auto sector, India's largest carmaker Maruti Suzuki today said that cab aggregators may not be a big factor in the slowdown.
Maruti Suzuki India's Executive Director Shashank Srivastava told news agency that the ownership pattern in India still has not changed and people purchase cars with an "aspirational aspect". The Ola and Uber factor may not be strong to contribute to the current state of slowdown, he said.
The Maruti executive said the auto sector saw one of its best times during the surge of Ola and Uber and other cab aggregators. He said that Ola and Uber came into existence during last 6-7 years and in this period, the auto industry also saw some of its best times.
The Double Income Project: The Lazy Man's Guide to Doubling Your Income in The Long Term
This comment came in contrast with the comment made by Finance Minister Nirmala Sitharaman yesterday where she said the slowdown in the automobile sector was due to many factors like the change in mindset of millennials, who now prefer taxi aggregators like OLA and UBER instead of committing for monthly installments to own a car.
Srivastava further cited the US market which has seen robust auto sector in spite of Uber which is a big player there. He noted that in India, 46% of the car buyers are first time users. It is an aspirational behaviour. People may use public transport like Ola and Uber to go to offices on weekdays, but still they buy a vehicle for the weekend outings with the family, he said.
Note that the Finance Minister yesterday said that the auto sector had been affected by several things and the government is all seized of the problem and will try to solve it.
On August 23, in a bid to address the slowdown in the auto sector, Sitharaman had announced lifting the ban on purchase of vehicles by government departments and allowed an additional 15% depreciation on vehicles acquired from now till March 2020.
Also, the government clarified that BS-IV vehicles purchased up to March 2020 would remain operational for the entire period of registration, while also considering various measures, including scrappage policy to boost demand.
How these decisions pan out in the coming months remains to be seen. Meanwhile, we will keep you updated on all the developments from this space.
Note that multiple factors have affected the auto sector of late.
The liquidity crisis faced by NBFCs, regulatory changes leading to increased costs, new emission norms...they have all taken their toll.
--- Advertisement ---
Watch this Video Now And You Will Stop Worrying About Money...

If you are concerned about money, then you MUST watch this exclusive video right now.

Because in this video, Richa Agarwal, Head of Small Cap Research, talks about stocks that have made a select group of people Crorepatis.

They invested in just one stock and ended up becoming Crorepatis in the long run.

In this video, Richa also reveals her unique formula to identify such potential RARE stocks.

Plus, she also discusses her special report, 'One Stock Crorepati: How to Get Rich With This Little-Known Indian Stock'.

This video is now available for your viewing...

This video could be taken down any time soon. So, hurry…

Click here to watch the video right away…
------------------------------
Automobile sales have fallen every month for almost a year now, except for October when the numbers were flat. In June, nine out of India's 11 main passenger vehicle makers reported a double-digit decline in sales.
Reports state that many dealers who have recently entered the auto industry are finding it difficult to manage their repayment obligations. Banking industry experts estimate the total outstanding loans to automobile dealers to be in the range of Rs 700-800 billion.
However, it is interesting to note that despite the slowdown in the auto sector, the sales volume of electric vehicles (EVs) are growing at a robust pace.
Have a look at the chart below:
Electric Vehicle Sales on a High Growth Trajectory!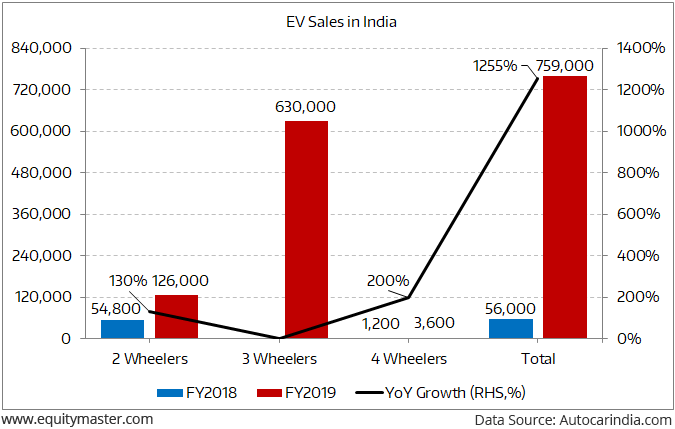 Electric-2 wheelers sales volume registered 130% YoY growth in FY19. 4-wheeler EVs grew by 200% YoY.
Similarly, electric three-wheelers reported the highest sales volume of 630,000 units. It is important to note that the electric three-wheeler industry has been growing without government support.
The base is quite low compared to the internal combustion engine (ICE) vehicle sales. However, you cannot ignore the growing momentum in EV sales.
The recently announced government incentives will give a further boost to EV sales.
The coming one year will be a real test for India's auto companies.
It will also tell us if this slowdown is temporary or if there has been a structural change in the sector.
In our view, companies in the sector adapting their business models to the rapidly changing environment will survive and thrive.
To know what's moving the Indian stock markets today, check out the most recent share market updates here.
For information on how to pick stocks that have the potential to deliver big returns,
Read the latest Market Commentary
Stock Market Updates
Sep 20, 2019 09:23 AM
ASTRAL POLY TECHNICK share price has plunged by 16% and its current market price is Rs 1,164. The BSE CAPITAL GOODS is down by 0.2%. The top gainers in the BSE CAPITAL GOODS Index are DILIP BUILDCON LTD (up 1.2%) and HEG (up 0.7%). The top losers is ASTRAL POLY TECHNICK (down 15.9%)..
Sep 20, 2019 09:23 AM
ZEE ENTERTAINMENT share price has plunged by 6% and its current market price is Rs 309. The BSE 500 is up by 0.1%. The top gainers in the BSE 500 Index are HEIDELBERG CEMENT (up 5.7%) and TATA COMM. (up 5.0%). The top losers are ZEE ENTERTAINMENT (down 5.6%) and ZYDUS WELLNESS (down 5.8%).
Sep 20, 2019 09:19 AM
ZYDUS WELLNESS share price has plunged by 6% and its current market price is Rs 1,766. The BSE 500 is up by 0.3%. The top gainers in the BSE 500 Index are TATA COMM. (up 5.0%) and GUJARAT FLUORO (up 5.0%). The top losers are ZYDUS WELLNESS (down 5.8%) and ENDURANCE TECHNOLOGIES LTD (down 5.0%).
Sep 20, 2019 09:19 AM
TAKE SOLUTIONS share price has plunged by 5% and its current market price is Rs 123. The BSE IT is up by 0.1%. The top gainers in the BSE IT Index are FIRSTSOURCE SOL. (up 1.6%) and PERSISTENT SYSTEMS (up 1.3%). The top losers is TAKE SOLUTIONS (down 5.3%)..
Sep 20, 2019 09:19 AM
ISGEC HEAVY ENG. share price has plunged by 5% and its current market price is Rs 396. The BSE CAPITAL GOODS is up by 0.5%. The top gainers in the BSE CAPITAL GOODS Index are BHARAT ELECTRONICS (up 1.5%) and SUZLON ENERGY (up 1.0%). The top losers is ISGEC HEAVY ENG. (down 5.5%)..
Sep 20, 2019 Pre-Open
Top cues to track in today's stock market session.
View More Indian Share Market News
Most Popular
Sep 12, 2019
News headlines predict gloom and doom for India these days. You should ignore them.
Sep 10, 2019
Usually, the typical horizon period for my smallcap recommendations is 3 to 5 years. But if you ask me, this could be one business that you could own and pass on to future generations.
Sep 16, 2019
The stock market today is throwing up a great opportunity to pile on quality stocks.
Sep 11, 2019
How financial inclusion provides a big runway for this stock recommendation.
Sep 13, 2019
These 10 auto stocks should be in your watchlist for the next 32 months. Paste them on your workstation NOW.
More