Indian Stock Market News October 22, 2018
Indian Indices End Volatile Day in Red; Energy Stocks Drag
After opening the day in green, share markets in India witnessed volatile trading activity throughout the day and ended the day in red. Sectoral indices ended the day in red, with stocks in the energy sector and stocks in the consumer durables sector losing the most.
At the closing bell, the BSE Sensex stood lower by 181 points (down 0.5%) and the NSE Nifty closed down by 58 points (down 0.7%). The BSE Mid Cap index ended the day down 0.7%, while the BSE Small Cap index ended the day down by 2%.
Asian stock markets finished in green. As of the most recent closing prices, the Hang Seng was up by 2.3% and the Shanghai Composite was up by 4.1%. The Nikkei 225 was up by 0.4%. Meanwhile, European markets too were trading on a positive note. The FTSE 100 was up by 0.7%, The DAX, was up by 0.4% while the CAC 40 was up by 0.1%.
The rupee was trading at Rs 73.44 against the US$ in the afternoon session. Oil prices were trading at US$ 79.9 at the time of writing.
In news from stocks in the pharma sector. Unichem Labs was in focus today as the company received an establishment inspection report (EIR) from the US Food and Drug Administration (USFDA).
The company received the establishment inspection report (EIR) for its for its formulation facility in Pithampur and Rohat indicating a closure of inspection.
--- Advertisement ---


How to Survive This Stock Market Crash?

The market has entered a meltdown mode. Many wonder, what happens next?

Today we're going to show you how one could survive this Market Crash and even take advantage of it using our small cap stocks recommendation service.

We must say … this is a perfect time to get rich from this proven strategy.

Click here to learn more.
------------------------------
As per USFDA, after the completion of an inspection of a facility, an EIR is issued to a company detailing inspection findings.
The USFDA inspected the Pithampur unit during July 23-27 and Roha from July 30 to August 3, 2018.
Unichem Labs share price ended the day up 3%.
Indian pharma companies catering to international markets, and especially the US markets are breathing a sigh of relief. After being adversely affected by import bans and the suspension of new drug approvals from manufacturing facilities in the past three years, there has been a sharp pick-up in new drug approvals in FY17.
However, note that USFDA alerts on Indian pharma companies have increased over the past few years. Regulators used to visit the plants every two years. Now they come every eight months. Increasing inspections have led to a total of 41 import alerts in the past eight years - 33 of them (80%) in just the last four years (2013-16). This clearly signifies increased USFDA scrutiny on Indian pharma firms. If that wasn't enough, increasing pricing pressure in the generics segment has dented realisations.
However, the recent development of USFDA expediting the drug approval process can bring some respite for Indian pharma companies. This comes as drug approvals for Indian companies have gone up 50% in the period from January to June 2017 compared to the same period last year, as can be seen from the chart below:
Expediting Drug Approval Process to be a Positive for Industry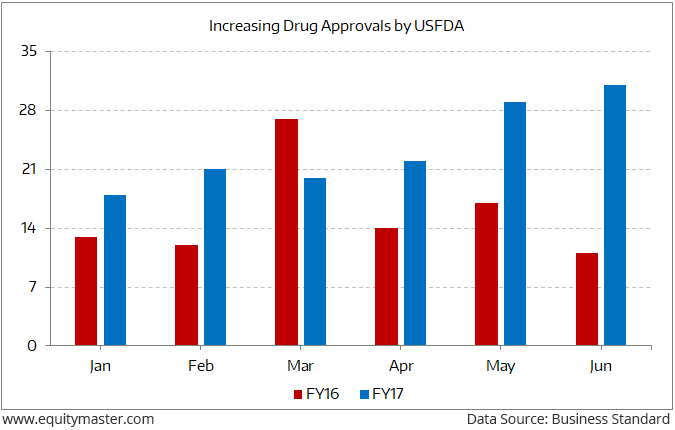 While short-term pain is expected, companies with strong R&D capabilities and compliant plants will do well over the long term. The uncertainties make it important to be stock specific in the sector. It is important to look for companies that have the competence and staying power to overcome the challenges.
Moving on to news from stocks in the financial services sector. According to a leading financial daily, the government may have to bail out cash-strapped IL&FS group.
This has been necessitated following failed attempts by the company to raise Rs 45 billion through a rights issue. If the government does heed the appeal from IL&FS, this would be its second intervention in the company after having recently superseded the board.
The IL&FS board, chaired by Kotak Mahindra Bank Ltd's managing director, Uday Kotak, is likely to pitch the centre for a government bailout.
Recently, IL&FS and its subsidiaries were downgraded directly from the highest credit rating "AAA" to "Junk". This has led to nervousness about the credit profile of other private issuers, especially NBFCs. Many investors are now rushing to sell debt securities of various housing finance companies which are heavily dependent on debt refinancing.
It must be noted that IL&FS has missed payment on more than five of its obligations since August 2018. It has total debt of US$ 12.6 billion, of which 61% is in the form of loans from banks and other financial systems.
According to Moody's Investor Services, IL&FS's outstanding debentures and commercial paper accounted for 1% and 2%, respectively, of India's domestic corporate debt market as of 31 March 2018. Its bank loans made up about 0.5% to 0.7% of banking system loans.
There are concerns that the defaults by IL&FS could cause a contagion in the Indian financial sector.
For information on how to pick stocks that have the potential to deliver big returns,
Read the latest Market Commentary
Stock Market Updates
Jan 22, 2019 04:28 PM
Here's a list of 5 stocks that gained the most in the BSE Mid-Cap Index today. It also includes information on BSE Mid-Cap index and the broader benchmark indices.
Jan 22, 2019 03:34 PM
MINDTREE LTD share price has surged by 5% and its current market price is Rs 928. The BSE IT is up by 0.1%. The top gainers in the BSE IT Index is MINDTREE LTD (up 5.0%). The top losers are ECLERX SERVICES and TCS (down 0.4%).
Jan 22, 2019 03:34 PM
HEG LTD share price has plunged by 5% and its current market price is Rs 3,379. The BSE CAPITAL GOODS is down by 0.5%. The top gainers in the BSE CAPITAL GOODS Index are HAVELLS IND (up 5.0%) and THERMAX LTD (up 3.6%). The top losers is HEG LTD (down 5.1%).
Jan 22, 2019 03:34 PM
WIPRO share price has hit a 52-week high. It is presently trading at Rs 350. BSE 500 Index is down by 0.2% at 14,524. Within the BSE 500, WIPRO (up 3.4%) and PHILLIPS CARBON BLACK (up 5.9%) are among the top gainers, while top losers are ITI LTD and DEEPAK FERTILISERS.
Jan 22, 2019 03:20 PM
INFO EDGE share price has surged by 5% and its current market price is Rs 1,639. The BSE IT is down by 0.0%. The top gainers in the BSE IT Index is INFO EDGE (up 5.3%). The top losers are TCS (down 0.3%) and ECLERX SERVICES (down 0.5%).
Jan 22, 2019 12:30 pm
The BSE Sensex is trading down by 261 points, while the NSE Nifty is trading down by 83 points.
View More Indian Share Market News
Most Popular
Jan 9, 2019
For the first time, we have recommended a bluechip stock in Smart Money Secrets.
Jan 11, 2019
The reasons that make these six stocks in Sumeet Nagar's portfolio so compelling
Jan 15, 2019
Unlike his habit of pouring out stock wisdom in his annual letters to shareholders, Buffett spoke of this trend only once every few decades.
Jan 10, 2019
My first trading recommendation for 2019 is a bluechip auto stock. Find out everything about it right away.
Jan 14, 2019
With a strong debt free balance sheet in its favour, attractive dividends and trading at almost lifetime lows, this investing idea is almost a no brainer.
More