Indian Stock Market News November 18, 2019
Sensex Turns Negative; Yes Bank and Bajaj Auto Top Losers
Stock markets in India are presently trading on a negative note. The BSE Sensex is trading down by 116 points and the NSE Nifty is trading down by 22 points. The BSE Mid Cap index is trading up by 0.1%, while the BSE Small Cap index are trading up by 0.2%.
Among the sectoral indices, automobiles and FMCG stocks are witnessing selling pressure. Telecom stocks and metal stocks are trading in green.
In the news from the currencies space. The rupee today opened 12 paise higher at 71.66 against the American currency, extending its gains for the third session on the back of a positive trend in equity markets and weakness in the greenback against its major crosses.
The local currency on Friday appreciated 18 paise to settle at 71.78 against the US dollar.
--- Advertisement ---
[Virtually Free Book] Get your copy now… You have only 4 days left

Vijay Bhambwani has launched a new book that covers everything he's learnt over his 30-year career.

And you're eligible to receive a hardbound copy of his book – virtually free of cost.

- The simple trick that could help you find 10-bagger stocks with near-perfect precision. [Hint: it has something to do with the sugar you put in your tea] (page 54)

- How you can make a fortune trading FMCG and liquor stocks during elections (page 45)

- How the Saudi royal family can help you make money (page 39)

…and more.

You have only 4 days left to claim your copy, so don't waste another minute.

Go here to claim your virtually free copy.
------------------------------
Last week, the rupee was weighed down by weaker-than-expected economic numbers. Industrial production as well as inflation numbers were a little disappointing, weighing on overall market sentiment.
FIIs also continued to bring in funds in November and until now have poured funds worth US$2.7 billion, including both equity and debt segment.
Foreign money once again made its way into Indian equities. For one, the tax on the super-rich was not applicable on domestic and foreign investors. The Finance Minister clarified this.
More importantly, they responded positively to the cut in corporate tax rates. The new rates now, makes India globally competitive. This strengthens the case for investing in India.
Foreign Money Returns to India Again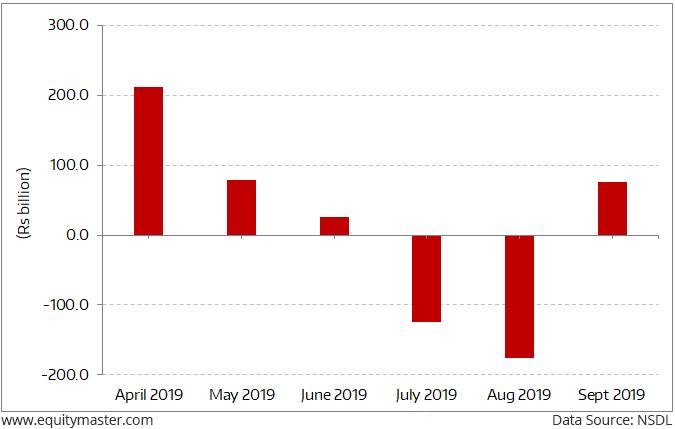 Therefore, foreign money flowed back into the Indian markets last month. They bought Indian equities to the tune of Rs 75 billion.
Essentially, there is no clear indicator that the slowdown is structural. So far, it appears cyclical.
Hence, when the cycle turns, the stock markets will move up too.
--- Advertisement ---
Important Announcement: Our MEGA Summit on How to Become a One Stock Crorepati

Imagine making Rs 1 crore…from just one stock.

A single investment that takes less than 5 minutes to make, yet has the potential to hand one an eight-figure fortune over the long term.

After more than two decades worth of experience in stock market research, We can tell you that making that much money from a single stock is entirely possible.

The secret, of course, is buying the right stock at the right time – before anyone else hears about it.

So, how to find that one stock that could make one a crorepati?

Join our 'One Stock Crorepati' MEGA summit on 20th December for full details…

At this MEGA Summit not only will we tell you how to pick a stock that has the potential to make one a Crorepati over a period of time…We will also reveal details of what we call a 'crorepati' stock…

You just cannot afford to miss this summit for anything.

We expect this to be the largest ever public event in the history of Equitymaster…

Register NOW and Block Your 'Crorepati' Seat…
------------------------------
Moving on to the news from the economy. With sustained slowdown in almost all the sectors, economic think-tank National Council of Applied Economic Research (NCAER) has said that India's economic growth is likely to decline to 4.9% in the second quarter of this fiscal (Q2FY20).
Earlier, the country's economy grew at 5% in the first quarter of 2019-20 - the slowest pace in over six years.
Besides, the think-tank has pegged Gross Domestic Product (GDP) growth at 4.9% as for the full fiscal 2019-20 against 6.8% in 2018-19.
NCAER further said the monetary policy measures are unlikely to revive growth at this juncture and suggested providing fiscal stimulus, which too can be challenging unless it can be financed through better revenue generation.
It said 'whether the growth deceleration may be bottoming out or not, we will know in next two weeks based on the Q2 growth figures of the government. However, the current poor growth is mainly due to a demand problem. It can be addressed through fiscal measures.'
Stressing that the focus should be on fiscal measures, it said there is a need to pump up expenditure without pushing up the fiscal deficit. It said that there are ways of doing it and added that there is a huge fiscal space which has not been used.
Now, what's in store for the Indian economy going forward remains to be seen.
Volatile markets and some recent economic numbers have confused investors.
In the video, Tanushree Banerjee decodes a few economic myths and reveals three big trends of Rebirth of India.
Tune in...
To know what's moving the Indian stock markets today, check out the most recent share market updates here.
For information on how to pick stocks that have the potential to deliver big returns,
Read the latest Market Commentary
Stock Market Updates
Dec 6, 2019 Closing
The BSE Sensex ended the day down by 334 points, while the NSE Nifty stood down by 96 points.
Dec 6, 2019 03:34 PM
SBI share price has plunged by 5% and its current market price is Rs 338. The BSE BANKEX is down by 1.1%. The top gainers in the BSE BANKEX Index are KOTAK MAHINDRA BANK (up 1.5%) and CITY UNION BANK (up 0.3%). The top losers are SBI (down 5.1%) and BANK OF BARODA (down 5.2%).
Dec 6, 2019 03:30 PM
YES BANK share price has plunged by 10% and its current market price is Rs 61. The BSE BANKEX is down by 1.1%. The top gainers in the BSE BANKEX Index are KOTAK MAHINDRA BANK (up 1.4%) and CITY UNION BANK (up 0.3%). The top losers is YES BANK (down 10.5%).
Dec 6, 2019 03:22 PM
JAMNA AUTO share price has plunged by 5% and its current market price is Rs 43. The BSE 500 is down by 0.8%. The top gainers in the BSE 500 Index are MMTC LTD (up 11.4%) and ERIS LIFESCIENCES LIMITED (up 8.9%). The top losers are JAMNA AUTO (down 5.0%) and LIC HOUSING (down 5.2%).
Dec 6, 2019 03:22 PM
GUJARAT GAS share price has hit a 52-week high. It is presently trading at Rs 228. BSE 500 Index is down by 0.8% at 15,533. Within the BSE 500, GUJARAT GAS (up 2.0%) and MMTC LTD (up 11.4%) are among the top gainers, while top losers are OMAXE LTD and DISH TV.
Dec 6, 2019 02:54 PM
The BSE REALTY Index Down at 2,205 (down 2.0%). Among the top losers in the BSE REALTY Index today are OMAXE LTD, PRESTIGE ESTATES and INDIABULLS REAL EST. Meanwhile, the BSE Sensex has plunged 0.9% to 40,952.
View More Indian Share Market News
Most Popular
Nov 27, 2019
A single stock - Coca Cola, made Buffett billions. Here's your chance to break into the crorepati club with a single smallcap stock investment.
Nov 25, 2019
This one trade had my subscribers laughing all the way to the bank.
Nov 28, 2019
Should you invest in growth stocks or value stocks to make strong returns in this market?
Nov 26, 2019
The two trends that are playing out as Sensex touches new record high.
Nov 29, 2019
Vijay and I have decided to team up and bring you a unique offering never seen before in the Indian stock markets.
More