Momentum Profits
Momentum Profits is a service in which Rahul Shah will recommend fundamentally strong stocks that are displaying positive price momentum using a 'Momentum + Fundamentals' investing strategy.
---
Who is the editor of Momentum Profits?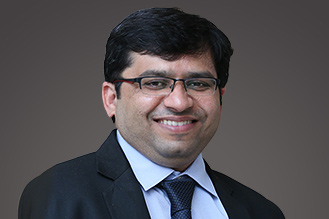 Rahul Shah, co-head of research at Equitymaster is the editor of Momentum Profits.
Rahul has 18 years of experience in financial markets as an analyst and editor.
Rahul first joined Equitymaster as a Research Analyst, fresh out of university in 2003 but left shortly after to pursue his dream job with a Swiss investment bank.
However, he quickly became disillusioned working for the 'financial establishment'.
He learned first-hand the greedy stereotype of an investment banker is true and became uncomfortable working for a company that put profit above everything else.
In 2006, Rahul re-joined Equitymaster to serve honest, hardworking Indians like his father, who want to take control of their financial future - and not leave it in the hands of greedy money managers.
Following the investment principles of Benjamin Graham (the bestselling author of The Intelligent Investor) and Warren Buffet (considered the world's greatest living investor), Rahul has recommended some of the biggest winners in Equitymaster's history.
---
What is the goal of Momentum Profits?
The goal of Momentum Profits is to guide subscribers to potentially beat the broader market by a wide margin over a 2-3 year period, by recommending fundamentally strong momentum stocks.
With the market environment in its favour, the strategy has even gone on to multiply investor wealth by 2x over a period of 2-3 years.
---
What does Momentum Profits offer?
Momentum Profits offers subscribers a strategy to potentially generate returns from investments in momentum stocks. The intention is to focus on stocks that are moving up in price.
---
What does Momentum Profits not offer?
Rahul will recommend stocks in Momentum Profits which meet his strict fundamental quality parameters.
Thus, the service will not offer recommendations in…
Stocks with weak fundamentals as determined by Rahul's analysis.
Short term trading recommendations as it's not a trading service.
Stocks that conform to traditional value investing parameters.
---
What will be the frequency of recommendation reports?
Once every 3 months, subscribers will receive a research report with detailed updates on the trends in momentum in the stock market and the opportunities based on the same .
In this report Rahul may make buy or sell recommendations as well as rebalance the previously recommended stocks. It will also contain updates on the stocks previously recommended.
---
What are the expected returns from this service?
Rahul Shah aims to recommend stocks that deliver gains well in excess of the benchmark.
Historically, the strategy has been seen to even double one's investment in 2.5-3 years.
Historically, momentum stocks have been very profitable, delivering multibagger returns over the envisaged time horizon.
---
What is the tenure i.e. holding period of the recommended stocks?
The holding period for each stock could be between 3 months to 1 year.
The exceptions could be stocks that continue to have strong momentum for an extended period.
---
Are Equitymaster Research Analysts allowed to trade in the recommended securities?
Equitymaster is an honest, completely transparent, and a professionally run organisation. We have a strict compliance system, internal policies and Code of Conduct for Insider Trading in place.
Please note all securities trading of our employees are tracked and monitored to ensure that our subscriber gets the first right to our paid research.
We follow the SEBI (Research Analysts) Regulations and give full disclosures with respect to each recommendation. We further request our subscribers to go through our Code of Conduct for Insider Trading.
---
How should I contact the customer service team to get answers to my queries?
You can write to us with all your queries and we will be delighted to assist you. Alternatively, you can call us on +91-22-61434055 between 10 am to 6 pm from Monday to Friday.
---
What is the suggested allocation for Momentum Profits?
Momentum stocks are inherently riskier compared to other conservative investment strategies.
On the brighter side, they present a huge growth potential. It is not unusual for a good momentum stock to turn a multi bagger in a matter of months.
But on the flipside, there is a high risk attached.
Subscribers should note that not all Momentum Profits stocks tend to be outperformers. In fact, we have seen momentum stocks plunging 50-60% when things turn sour.
While we have a risk management system to minimise losses, stocks to be recommended in Momentum Profits are not recommendable to those having a low risk profile.
According to us, in a scenario of ideal allocation of funds, Momentum Profits stocks could be considered to comprise of not more than 5-10% of one's total equity allocation.
Further, we believe that a single momentum profits stock should ideally not form more than 4-5% of the total Momentum Profits corpus.
However, please note that this allocation will vary from person to person. For something that works best for you, we recommend you talk to your investment advisor.

Or Give Us a Call: +91-9136015013