A Small Guide on Cigar Butt Investing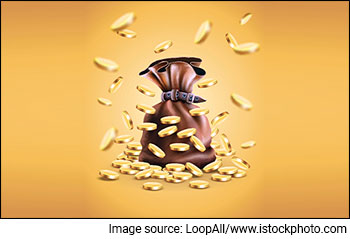 Imagine you find a bag full of cash in a house that you moved into recently.
You count the money in the bag, you do the math, and you almost faint with joy.
Turns out, the bag has Rs 30 m in hard cash in a house that you bought for Rs 20 m.
You are thanking your lucky stars because only recently you had borrowed Rs 15 m from bank and put down your own Rs 5 m to buy the house.
Now, even if you pay off the Rs 15 m loan that you took to buy the house, you still have a whopping Rs 15 m left that belong entirely to you.
That's like making 3x on your investment of Rs 5 m that you have invested out of your own pocket.
Besides, you are getting the house worth Rs 20 m absolutely free of cost. Now, that's what we call a once-in-a-lifetime deal.
Of course, this is a made up story that's as far from real life as it can be.
However, you'd be surprised to know that businesses with these kinds of odds are often found in the stock market.
Take Titagarh Wagons for example.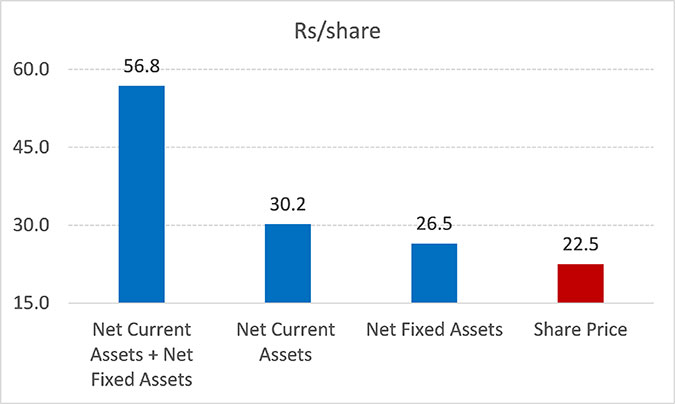 Titagarh Wagons: The Net-Net that Turned into a 3-Bagger
Back in December 2013, the stock was trading at a market cap of Rs 2.3 bn (Rs 22.5 per share) whereas its current assets less all liabilities and loans was itself a little over Rs 3 bn (Rs 30 per share).
This means its entire fixed assets base of Rs 2.7 bn (Rs 26 per share) was being given zero valuation by Mr Market.
Think of it as the house and the bag of cash example I gave above.
You bought a house by borrowing some money from a bank and investing Rs 2.3 bn of your own money (current market cap of the company).
You find a big bag of cash (current assets of the company) with which you pay off all your loans but still have Rs 3 bn left after it.
Thus, you are not only earning Rs 3 bn on your Rs 2.3 bn investment but you also got the house that's worth Rs 2.7 bn (fixed assets of the company) absolutely free of cost.
Well, in investing parlance, such investments are called cigar-butt investments and the type of investing as cigar-butt investing.
It was Warren Buffett who gave the strategy its name. He had in turn learned it from his mentor Ben Graham, the pioneer of this strategy.
Buffett likened the strategy to cigar butts that you find strewn on the street and where they have those one or two puffs left in them.
Therefore, if one invests in such businesses, you take those last couple of puffs i.e. make those quick 50%-60% returns and then sell the stock. These are not your buy and hold forever kind of stocks.
Titagarh Wagon was a classic cigar-butt stock and investors investing in the stock in December 2013 would have been rewarded with an almost 3x gain over the next 12 months. In other words, 180% returns in one year.
I believe that people are justified in being scared of such businesses. Most of the times, such they are dud businesses.
However, there are times when some decent quality businesses like Titagarh Wagons are also beaten down to such low valuations.
Who are able to identify and get into them at these impossibly attractive valuations, end up making a killing.
Back in 2013, I came across 35 such stocks. These were so beaten down, their market cap had gone below the current assets less all liabilities and you were getting the fixed and other assets absolutely free of cost.
Cumulatively, these stocks went up 105% over the next one year, more than 3x better than the returns given by the benchmark index.
Of course, there were stocks in the group that were down as much as 80% and also stocks that went up almost 9x in one year.
Which is why you should always invest in such stocks taking a group-based approach i.e. invest in at least 8-10 such stocks at a time.
This way, even if 3-4 of them end up disappointing, the winners will more than compensate for the losers.
Cigar butt investments are a rarity these days. Thanks to the advances in computing and the awareness levels amongst investors, these investments only surface in large numbers whenever there is a big crash in the stock market.
As I mentioned earlier, 2013 was one such period. Also, 2020 right after the Coronavirus crash.
Therefore, if you have the patience and the temperament to capitalise on these opportunities when they arise, cigar-butt investing can prove to be quite remunerative, especially if you are operating with small sums.
Jun 1, 2023
Despite scaling a new peak, these stocks remain undervalued and are in a sweet spot. Continue reading to know more about them...
May 30, 2023
If you're interested in momentum investing...read this.
May 19, 2023
This Strategy is doing well in this market.
May 16, 2023
I do not hesitate to pass on this lesson every time I am asked if I recommended a sell too early.
May 15, 2023
Is the recent buying interest in Tata Motors justified?
May 10, 2023
The traditional approach of stock selection may not work for lithium stocks just as they don't for EV stocks.
May 8, 2023
Even a genius mathematician had once been a victim of such market volatility.
May 5, 2023
Megatrends do not always lead to a wealth making opportunities for the front runners. You have to dig deeper to find the real beneficiaries.
May 1, 2023
Is it time to move out of the high-flying railway stocks?
Apr 25, 2023
Every domestic pharma stock in India must contend with these woes.
May 31, 2023
While Indian tech stocks have staged a recovery, their global peers are soaring to new highs.
May 22, 2023
The lesser-known stocks in the market deserve your attention.
May 17, 2023
Investors looking to buy fancy AI stocks may have to shell out a fortune in terms of valuations.
May 15, 2023
Is the risk-reward of investing in Tata Motors not in favour of investor anymore?
May 11, 2023
Is Shankar Sharma's investment strategy well suited for the average investor?
May 8, 2023
What happened at Berkshire Hathaway's AGM? Find out here...
May 8, 2023
Why Shankar Sharma's 4 A.M. strategy may not be for everyone.
May 4, 2023
Have valuations in rail stocks run ahead of the fundamentals?
Apr 26, 2023
Is Infosys still a good bet for the long term?
Apr 21, 2023
Here's why the ace investor raised his stake in a finance company that has eroded over 65% since his initial investment.