Best FMCG Stocks in India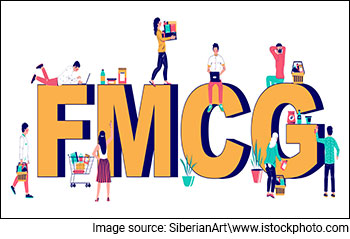 The FMCG sector is an evergreen sector (though it is subject to inflationary pressures). It co-relates with India's consumption theme.
You rely on FMCG products every day, be it daily essentials such as food and beverages, or household and home care products such as paper goods and cosmetics.
Even when the country's economy is suffering, you do not stop buying these essential products.
History is proof that even during the most volatile periods, when majority of stocks are beaten down, the FMCG sector has experienced little disruption.
Companies in the FMCG sector have a good track record to tide over recessions, reward shareholders with dividends, and deliver incremental growth.
Take a look at the charts below to see how the FMCG sector has performed during various market crashes.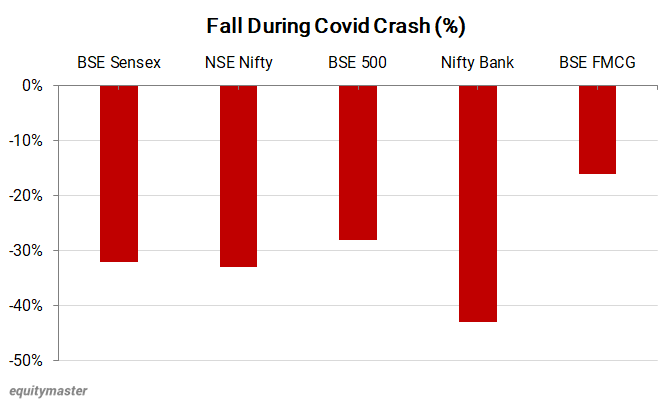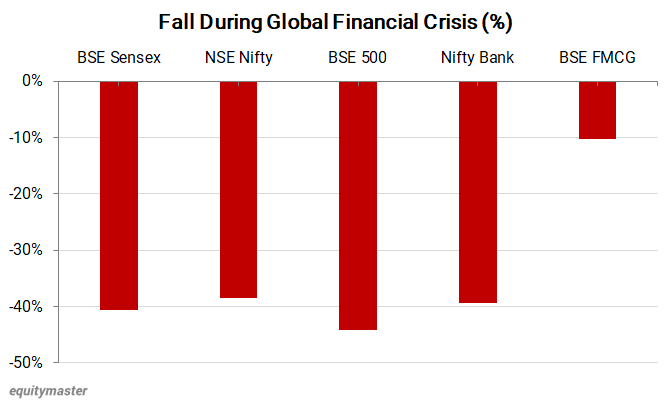 For this reason, FMCG (and pharma) are considered to be defensive bets.
Now, where does India fit in when it comes to the FMCG sector?
India has always been a consumption economy due to the huge demographic dividend we have in terms of our population.
If Taiwan is known for making semiconductors and Brazil is known for its commodities, then India has a unique selling proposition (USP) in the FMCG or consumption space.
The Indian FMCG sector is the fourth largest sector in the Indian economy.
The urban segment accounts for 55% of the overall revenue generated by the FMCG sector. On the other hand, the rural segment contributes 45% and is growing at a faster pace compared to the urban segment.
Demand for quality goods and services have been going up in rural areas, on the back of improved distribution channels of FMCG companies.
Needless to say, a rising middle class with more disposable income and a shift towards incremental spending are key factors in the steady growth of FMCG sector in India, over the years.
No wonder India has gone from importing packaged goods to exporting them in the past few decades.
According to IBEF, Indian FMCG market is expected to increase at a CAGR of 14.9% to reach US$220 bn by 2025, from US$110 bn in 2020.
Porter's Five Forces Analysis of the FMCG Sector in India
Porter's Five Forces is a model that identifies and analyzes five competitive forces that shape every industry.
These are barriers to entry, bargaining power of suppliers, bargaining power of customers, threat of substitutes and competition within the industry.
A change in any of the forces normally requires a company to re-assess the marketplace.
Let us have a look at how these five forces shape the FMCG sector -
#1 Barriers to Entry
The most attractive segment is one in which barriers to entry are high as they restrict the threat of new entrants.
Conversely if the barriers are low, the risk of new companies venturing into a given market is high.
In the FMCG sector, barriers to entry are low. This is because companies looking to enter need to make huge investments in establishing brand identity and setting up distribution networks.
#2 Bargaining Power of Suppliers
The bargaining power of suppliers is the ability of suppliers to put the firm under pressure. Suppliers may refuse to work with the firm or charge excessively high prices for unique resources.
For the FMCG sector, the bargaining power of suppliers is moderate. Small and fragmented suppliers have limited bargaining power.
However, larger FMCG companies can negotiate better rates during times of high input cost inflation. These companies have integrated backwards and have their own supply chains.
#3 Bargaining Power of Customers
The bargaining power of customers is the ability of customers to put the firm under pressure. It is high if buyers have many alternatives and low if they have few choices.
In the FMCG sector, the bargaining power of customers is low on account of a large number of buyers and limited number of suppliers.
Rising competition and the onslaught of the e-commerce boom does provide good bargain opportunities for customers.
#4 Competition
For most industries, having an understanding of the competition is vital to successfully marketing a product.
The competition in the FMCG industry is high. With more MNCs entering the country, the FMCG industry has become highly fragmented. Domestic players feel the competitive pressure from large well established MNCs.
Spending on advertisements continues to grow and marketing budgets, as well as strategies, are becoming more aggressive.
#5 Threat of Substitutes
A substitute product uses a different technology to try to solve the same economic need.
This is high for the FMCG sector. With multiple brands in the FMCG market, consumers switch from one product to another given the pricing of the product.
Porters Five Forces Analysis of the Steel Sector in India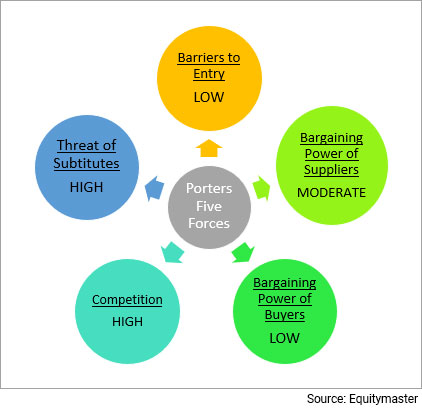 How and When to Invest in FMCG Stocks
As there is a constant demand for FMCG products, stocks from the FMCG sector provide consistent dividends and stable earnings regardless of the state of the overall stock market.
For this reason, they are often called defensive stocks and can protect your portfolio during bad times.
Many investors consider FMCG stocks as a must have in their portfolio...just like salt in food. Be it a high inflationary period or the pandemic, you will reduce spending on luxuries, but you will not cut down on general intake of milk, bread, toothpaste, or even detergent.
However, in a sustained bull run, FMCG stocks will underperform the market.
The best time to buy FMCG stocks is when there is a gloomy picture on earnings for manufacturing sectors, lower crude prices and higher interest rates.
Since defensive sectors are less prone to the above-mentioned risks, they offer lot of value in uncertain times.
If you are looking to invest in FMCG stocks, check for the sector's valuations. For a sector that stands tall even during the dark market days, FMCG stocks usually have high valuations which might not be sustainable in the near future.
Another thing to look for before investing in FMCG stocks is input cost.
Lower raw material prices may lead to increased competition from unorganized FMCG companies. This is because as raw material prices rise, companies in the unorganized space are unable to control costs due to lack of scale. When prices fall, they make a comeback.
Finally, a well-run FMCG company usually has a strong balance sheet with low or zero debt.
Apart from these things, here are a few things to keep in mind while investing in FMCG stocks.
Key Points to Keep in Mind While Investing in FMCG Stocks
#1 Inflation
This is an important factor one must keep in mind while investing in FMCG stocks.
When inflationary pressures build in, it may seem to be a favorable ground for the FMCG sector as it would allow the top FMCG companies to raise prices.
However, high inflation and slowing demand makes it difficult for them to pass on any increases in costs to consumers.
Increases in the cost of raw materials, fuel, and high labour costs, all increase production costs. This diminishes operating margins and eventually reduce profits.
This is when FMCG companies resort to shrinkflation to maintain market share.
FMCG companies usually resort to the time-tested method of shrinkflation in both rural and urban markets to mitigate the unprecedented input cost rise.
#2 Crude oil prices
Soaring crude oil price is bad news for FMCG companies and vice versa.
FMCG companies stand to gain from falling crude oil prices as many companies use oil and its derivatives in their products. A fall in input prices will mean that they can pass on some of the gains to consumers.
Rising crude oil prices also translate into higher freight costs.
#3 Company's products
For a FMCG company to succeed, it has to come up with new products. FMCG companies usually introduce new products at regular intervals as the industry is highly competitive. If they won't do it, someone else probably will.
Constant innovation is what separates a good FMCG stock from a bad one. The companies who innovate gain market share and tend to be in the industry for the long haul.
#4 Profitability of the company
If you are looking for attractive FMCG stocks, sales and profit growth is what you look for.
You also need to see the return on capital employed (ROCE) and operating margins. This will help you analyze how much the company is spending to generate sales.
Before you compare the performance of two FMCG companies, say for instance, HUL vs P&G Hygiene, do factor in the operating margins.
Profit margins for FMCG companies can be uniquely high because they don't have a lot of debt on their books.
Here's a list of top FMCG companies in India based on their consolidated net profit.
| Rs m, consolidated | Net Sales | Operating Profit | Net Profit | ROCE (%) | Operating Margin (%) | PATM (%) |
| --- | --- | --- | --- | --- | --- | --- |
| ITC | 606,681 | 225,154 | 152,427 | 33.8 | 34.5 | 23.7 |
| HUL | 524,460 | 131,150 | 88,790 | 24.8 | 22.5 | 15.3 |
| Godrej Consumer | 122,765 | 24,969 | 17,834 | 18.7 | 18.7 | 13.4 |
| Dabur | 108,887 | 26,470 | 17,392 | 26.8 | 21.8 | 14.4 |
| Britannia | 141,363 | 24,243 | 15,248 | 41.6 | 16.4 | 10.3 |
| Marico | 95,120 | 17,790 | 12,250 | 45.0 | 16.9 | 11.9 |
| Tata Consumer | 124,254 | 18,588 | 9,358 | 9.6 | 15.0 | 8.7 |
| Emami | 31,920 | 10,476 | 8,390 | 33.7 | 32.8 | 26.7 |
| Varun Beverages | 88,232 | 17,452 | 6,941 | 17.1 | 18.7 | 8.0 |
| Godrej Industries | 141,302 | 19,780 | 6,537 | 8.3 | 13.7 | 4.9 |
Data Source: Ace Equity
#5 Inventory turnover ratio
Inventory turnover ratio is a useful indicator of a company's ability to convert inventory into sales. The ratio also indicates whether management is effectively controlling inventory expenditures i.e. how many times it has sold and replaced inventory in a given period.
For FMCG companies, the inventory turnover ratio is important because total turnover depends on stock purchase and sales. The inventory turnover ratio will measure how fast the FMCG company is selling its inventory compared with the industry average.
A low turnover ratio implies weak sales and excess inventory.
#6 Valuations
Two commonly used financial ratios used in the valuation of stocks are -
Price to Earnings Ratio (P/E) - It compares the company's stock price with its earnings per share. The higher the P/E ratio, the more expensive the stock.
To find stocks with favorable P/E Ratios, check out our list of stocks according to their P/E Ratios.
Price to Book Value Ratio (P/BV) - It compares a firm's market capitalization to its book value. A high P/BV indicates markets believe the company's assets to be undervalued and vice versa.
To find stocks with favorable P/BV Ratios, check out our list of stocks according to their P/BV Ratios.
#7 Dividend yields
FMCG stocks in general have consistent and stable dividend paying track records owing to the asset light business models, low capex requirements, consistency in earnings and strong cash flows.
With an impressive dividend payout history, investors can expect to earn steady returns on their investments from these stocks.
Here's a list of top FMCG companies in India that score well on dividend yield and dividend payout.
| Company Name | Dividend (%) | Dividend Yield % | Dividend Payout % |
| --- | --- | --- | --- |
| Bajaj Consumer Care Ltd. | 800 | 4.9 | 67.6 |
| ITC Ltd. | 1,150 | 4.6 | 94.1 |
| VST Industries Ltd. | 1,400 | 4.6 | 67.5 |
| Godfrey Phillips India Ltd. | 1,400 | 2.8 | 33.7 |
| Colgate-Palmolive (India) Ltd. | 4,000 | 2.6 | 100.9 |
| Godrej Agrovet Ltd. | 95 | 2.1 | 50.7 |
| Marico Ltd. | 925 | 1.8 | 102.6 |
| Emami Ltd. | 800 | 1.8 | 41.5 |
| Britannia Industries Ltd. | 5,650 | 1.8 | 84.9 |
| Jyothy Labs Ltd. | 250 | 1.7 | 58.8 |
| Hindustan Unilever Ltd. | 3,400 | 1.7 | 90.6 |
Data Source: Ace Equity
For more details, check out our list of top FMCG stocks offering high dividend yields.
Top FMCG Stocks in India
FMCG companies are usually well established, have loyal customer bases, are cash rich, and have low debt levels, making them worthy investment opportunities.
Here are the top FMCG stocks in India which score well on crucial parameters.
| Company | P/E (x) | RoE (Latest, %) | D/E (Curr FY, x) | Sales CAGR (3 yrs, %) | Profit CAGR (3 yrs, %) |
| --- | --- | --- | --- | --- | --- |
| HUL | 66.4 | 18.1% | 0.0 | 10.1% | 13.6% |
| DABUR | 59.3 | 21.2% | 0.1 | 8.6% | 6.5% |
| GODREJ CONSUMER | 53.8 | 15.4% | 0.1 | 6.0% | NM |
| TATA CONSUMER | 66.4 | 7.1% | 0.1 | 19.7% | 31.6% |
| MARICO | 53.4 | 37.8% | 0.1 | 9.1% | 3.5% |
| P&G HYGIENE | 80.0 | 95.2% | 0.0 | 13.3% | 20.3% |
| COLGATE | 40.9 | 62.2% | 0.0 | 4.6% | 11.6% |
| BATA INDIA | 81.9 | 5.7% | 0.0 | NM | NM |
| EMAMI | 26.1 | 41.0% | 0.1 | 5.8% | 40.8% |
| GILLETTE INDIA | 60.9 | 39.8% | 0.0 | 6.2% | 10.7% |
Source: Equitymaster Stock Screener
For more details, check out Equitymaster's Powerful Indian stock screener for filtering the best FMCG stocks in India.
List of FMCG Stocks in India
The details of listed FMCG companies can be found on the NSE and BSE website. However, the overload of financial information on these websites can be overwhelming.
For a more direct and concise view of this information, you can check out our list of FMCG stocks.
You can also read our FMCG sector report and check the latest FMCG sector results.
Best Sources for Information on the FMCG Sector
All India Consumer Products Distributors Federation - https://aicpdf.com/
CII Fast Moving Consumer Goods (FMCG) - https://www.cii.in/
Federation of Indian Chambers of Commerce & Industry - https://ficci.in/sector.asp?sectorid=73
Indian Brand Equity Foundation FMCG Sector Report - https://www.ibef.org/industry/fmcg
So there you go. Equitymaster's detailed guide on the best FMCG stocks in India is simple and easy to understand. At the same time, it offers detailed analysis of both the sector and the top stocks in the sector.
Here's a list of articles and videos on the FMCG sector and top FMCG stocks in India. This is a great starting point for anyone who is looking to explore more about FMCG stocks and the FMCG sector.
Disclaimer: This article is for information purposes only. It is not a stock recommendation and should not be treated as such. Learn more about our recommendation services here...
Jan 31, 2023
Shares of Patanjali Foods tumbled 14% in five days. Find out why.
Jan 17, 2023
New year has brought new hope for FMCG companies. What do technical charts point at?
Dec 19, 2022
This footwear company is trading 4% away from its 52-week low. Here's why.
Oct 31, 2022
Here's why the stock is down even after the company posted robust results for the September 2022 quarter.
Oct 8, 2022
Godrej Consumer shares under pressure after company warns about declining volume and EBITDA in Q2 update.
Sep 9, 2022
The ace investor sold stake in this company which has gained 65% in a month.
Aug 4, 2022
FMCG has been a bright sector in turbulent times of 2022. Read on to know about the shining stars of 2022 from the FMCG space.
Jul 28, 2022
This is why I think FMCG stocks are a safe bet.
Jun 23, 2022
Everything we are buying is getting expensive. We are just not noticing it. Welcome to the world of 'shrinkflation'.
May 19, 2022
ITC's agri-business registered strong growth, driven by wheat, rice, leaf tobacco exports.
Jan 25, 2023
After delivering 106% return so far in 2022, this stock plunged 6% in a day. Here's why.
Jan 16, 2023
After rallying over 120% in 2022, Varun Beverages plunged over 13% in a month. Here's why.
Nov 17, 2022
Is the bullish trend in FMCG stocks coming to an end? Find out...
Oct 27, 2022
Dabur enters spice masala segment with Badshah Masala acquisition.
Sep 13, 2022
The share price of ITC has surged 50% in 2022 so far. The street is very excited about the stock. But is it too much hype too soon?
Aug 23, 2022
The company's shares were down over 5% intraday yesterday. Here is why...
Jul 29, 2022
If the RBI follows the Fed in raising interest rates, how will the market react. Find out...
Jul 28, 2022
Why advertising budgets are the key to finding the best FMCG stocks.
May 23, 2022
Ruchi Soya is on an upward trend post acquisition announcement. Find out other reasons why it could be rallying...
May 9, 2022
The ratio chart of FMCG index to the Nifty suggests the FMCG index will outperform.