Best IT Stocks in India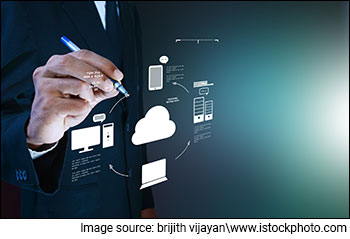 The Indian IT sector is vast.
Filled with behemoths such as TCS, Infosys and Wipro, the IT industry can be divided into four main segments - IT services, Business Process Management, Software Products and Engineering Services, and Hardware.
The sector contributes 7.4% to India's GDP as of 2022 and comes with massive tailwinds. It is expected to contribute 10% to India's GDP by 2025.
Post the pandemic, the growth prospects of the sector largely changed. It can be said that the sector is at an inflection point post pandemic.
When Covid struck, work dynamics changed, and the IT sector was back with a bang. The sector was perhaps one of the few sectors whose growth had an inverse relation with the pandemic.
As the pandemic got worse, the IT sector's fortunes got better. Physical proximity became a strict no-no, and the digital world came to the rescue.
Offices, schools, banks, administrative work, everything started going online, providing a massive tailwind to the sector.
While the Covid wave has now subsided, the tech revolution across industries has just begun.
The demand for IT services has increased because of the convergence of digitalisation, automation, and the success of innumerable technology platforms and apps.
Concepts like cloud storage, IoT (Internet of things), artificial intelligence (AI), and machine learning (ML) have now come of age.
As the world becomes more connected, the role of Indian IT companies has evolved from outsourcing to becoming a partner in innovation.
While the world focuses on big tech stocks like Google, Netflix and Apple among others, keep in mind that India is not far behind on innovation and in the future, there will be a separate category of stocks filtered as India's big tech stocks.
Porter's Five Forces Analysis of the IT Sector in India
Porter's Five Forces is a model that identifies and analyzes five competitive forces that shape every industry.
These are barriers to entry, bargaining power of suppliers, bargaining power of customers, threat of substitutes and competition within the industry.
A change in any of the forces normally requires a company to re-assess the marketplace.
Let us have a look at how these five forces shape the Indian IT sector -
#1 Barriers to Entry
The most attractive segment is one in which barriers to entry are high as they restrict the threat of new entrants.
Conversely if the barriers are low, the risk of new companies venturing into a given market is high.
In the IT sector, barriers to entry are low, because the setup cost is almost negligible. However, it is high in value-added services where in-domain expertise can create a barrier.
The size of a particular company and brand-image also creates barriers to entry, as such firms have built long-term relationships with major clients.
#2 Bargaining Power of Suppliers
The bargaining power of customers is the ability of suppliers to put the firm under pressure. Suppliers may refuse to work with the firm or charge excessively high prices for unique resources.
This is low in the IT industry as a large supply of human resource is available at low cost from around the world.
#3 Bargaining Power of Customers
The bargaining power of customers is the ability of customers to put the firm under pressure. It is high if buyers have many alternatives and low if they have few choices.
In the IT sector, the bargaining power of customers is moderate.
Top IT companies in India enjoy the advantage of high switching costs. Once a client selects a particular IT company as its partner, it becomes dependent on the company for all its upgrades and technology requirements making it difficult to switch.
#4 Competition
For most industries, having an understanding of the competition is vital to successfully marketing a product.
The competition in the IT industry is high. The competition is global in nature and stretches across boundaries and geographies.
In recent years, startups have started to receive increased attention and the number of startups has also increased rapidly.
It is expected to intensify due to the attempted replication of the Indian offshoring model by MNC IT majors as well as small startups.
#5 Threat of Substitutes
A substitute product uses a different technology to try to solve the same economic need.
This is moderate for IT companies in India.
Certain countries like China, Taiwan and Korea have started to develop an environment required for growth of the IT sector. Indian companies need to innovate to have an edge over the others.
Porters Five Forces Analysis of the Banking Sector in India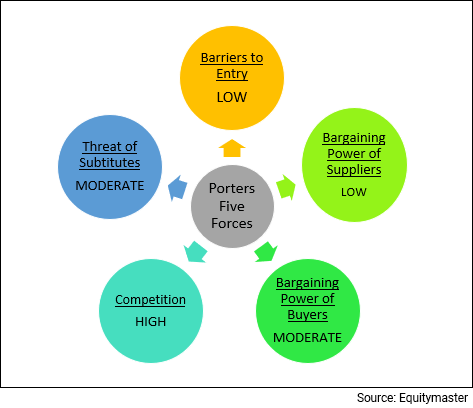 When to Invest in IT Stocks
The IT sector has been one of the sectors that has driven the stock market rally in the past decade.
As revenue for the IT sector is mainly export oriented, it is largely impacted by the depreciation of the rupee versus the US dollar.
A depreciating rupee is beneficial for the IT sector and vice versa and Indian IT companies have various hedging policies that help them benefit from it.
Therefore, a good time to invest in the IT sector would be when the rupee is depreciating.
Here are some points you need to keep in mind before investing in IT stocks.
Key Points to Keep in Mind while Investing in IT Stocks in India
#1 USD/INR Exchange Rate
As revenue for the IT sector is mainly export oriented, it is largely impacted by the value of the rupee versus the US dollar.
A depreciating rupee is beneficial for the IT sector as most IT companies earn their revenue in US dollars and vice versa.
A weak rupee increases the net asset position in rupee terms for Indian IT companies. This strengthens their balance sheet.
However, the fall or rise in the rupee tends to have a short-term effect since Indian IT companies have various hedging policies.
Any kind of impact, large or small, is usually for a limited duration only. Over the longer term, the impact fades away.
#2 Attrition rate
Attrition is an inevitable part of any business, but most importantly, this is a bigger problem for the people-intensive IT industry.
A huge number of employees leaving their jobs remains a big concern for IT firms even today.
Hiring a new employee is always a costlier affair. It incurs recruitment expense and training cost coupled with a temporary loss of productivity.
Before investing in an IT company, check the company's attrition rate spanning multiple quarters.
#3 Focusing on new age technologies and acquisitions
The pandemic and lockdown accelerated the shift to digital transformation for businesses and virtual way of working.
It fast forwarded ecommerce boom, integration of tools and technologies across different industries, work from remote, and the rise in automation.
As the disruptive shift happens, IT companies will need to evolve with the world. Companies focusing on new age technologies and cater to client needs with tools such as automation, etc. will be in demand.
So, before you invest in an IT company, check its growth prospects and see whether it has exposure to unlisted startups which are chasing opportunities in new areas.
Usually, IT companies have stakes in multiple unlisted startups, which can in the future, turn out to be their x-factor.
#4 Profitability of the company
Profitability is the primary goal of all business ventures. Without profitability the business will not survive in the long run.
That is why IT stocks offering decent return on equity (ROE), sales growth and profit growth appeal to many.
Also, before you compare the performance of two IT companies, say for instance, Infosys vs TCS, do factor in the operating margins.
Here's a list of top IT companies in India based on their consolidated net profit.
| Rs m | Net Sales | Operating Profit | Net Profit | ROE (%) | ROCE (%) |
| --- | --- | --- | --- | --- | --- |
| Tata Consultancy Services Ltd. | 1,603,410 | 537,310 | 381,870 | 50.8 | 66.7 |
| Infosys Ltd. | 1,039,400 | 310,520 | 212,350 | 30.4 | 40.6 |
| Wipro Ltd. | 595,744 | 171,173 | 121,353 | 24.6 | 27.6 |
| HCL Technologies Ltd. | 406,380 | 159,920 | 108,740 | 25.3 | 30.9 |
| Info Edge (India) Ltd. | 15,625 | 6,407 | 89,225 | 97.4 | 109.5 |
| Tech Mahindra Ltd. | 347,261 | 70,081 | 49,131 | 19.7 | 23.8 |
| Larsen & Toubro Infotech Ltd. | 144,064 | 33,666 | 22,609 | 29.7 | 40.1 |
| Oracle Financial Services Software Ltd. | 38,961 | 24,474 | 18,112 | 32.5 | 41.6 |
| Mindtree Ltd. | 105,253 | 25,028 | 16,528 | 33.9 | 46.2 |
| Mphasis Ltd. | 73,896 | 18,283 | 12,353 | 28.8 | 36.1 |
Data Source: Ace Equity
Data as of March 2022
#5 Dividend yields
IT companies generally have huge cash reserves, as they do not require very high capital expenditure for growth.
As dividends are mostly paid from the remaining share of profits once essential expenses are met, companies from the IT sector are some of the highest dividend paying companies.
Here's a list of top IT companies in India that score well on dividend yield and dividend payout.
| Company Name | Dividend Payout ratio (%) | Dividend Yield (%) |
| --- | --- | --- |
| Allsec Technologies Ltd. | 70.3 | 8.6 |
| Oracle Financial Services Software Ltd. | 90.5 | 5.3 |
| HCL Technologies Ltd. | 104.9 | 3.6 |
| Tech Mahindra Ltd. | 89 | 3 |
| Sonata Software Ltd. | 92.8 | 2.8 |
| Firstsource Solutions Ltd. | 62.9 | 2.8 |
| Sasken Technologies Ltd. | 29.3 | 2.7 |
| Cyient Ltd. | 46.6 | 2.6 |
| Quick Heal Technologies Ltd. | 33.4 | 2.5 |
| WEP Solutions Ltd. | 69.9 | 2.3 |
Data Source: Ace Equity
#6 Valuations
Two commonly used financial ratios used in the valuation of stocks are -
Price to Earnings Ratio (P/E) - It compares the company's stock price with its earnings per share. The higher the P/E ratio, the more expensive the stock.
To find stocks with favorable P/E Ratios, check out our list of stocks according to their P/E Ratios.
Price to Book Value Ratio (P/BV) - It compares a firm's market capitalization to its book value. A high P/BV indicates markets believe the company's assets to be undervalued and vice versa.
To find stocks with favorable P/BV Ratios, check out our list of stocks according to their P/BV Ratios.
Top IT Stocks in India
Well established IT companies with healthy relationship with clients and long-term contracts stand to immensely benefit, with so many factors positively affecting the industry.
Here are the top IT stocks in India which score well on crucial parameters.
#1 TCS
#2 Infosys
#3 Wipro
#4 Info Edge
#5 Mphasis
#7 NIIT
For more details, check out Equitymaster's stock screener for filtering the best IT stocks in India.
List of IT Stocks in India
The details of listed IT companies can be found on the NSE and BSE website. However, the overload of financial information on these websites can be overwhelming.
For a more direct and concise view of this information, you can check out our list of IT (large) stocks and IT (others) stocks.
You can also read our IT sector report and check the latest IT sector results.
Best Sources for Information on the IT Sector
Indian Brand Equity Foundation IT Sector Report - https://www.ibef.org/industry/information-technology-india
Ministry of Electronics and Information Technology - https://www.meity.gov.in/
So there you go. Equitymaster's detailed guide on the best IT stocks in India is simple and easy to understand. At the same time, it offers detailed analysis of both the sector and the top stocks in the sector.
Here's a list of articles and videos on the IT sector and top IT stocks in India. This is a great starting point for anyone who is looking to explore more about IT stocks and the IT sector.
Disclaimer: This article is for information purposes only. It is not a stock recommendation and should not be treated as such. Learn more about our recommendation services here...
May 10, 2023
This is why the recent fall in OFSS share price looks like a temporary blip.
Apr 27, 2023
Here's why shares of this digital transformation solution provider hit an all-time high, surging 17% in a day.
Apr 19, 2023
Infosys posts biggest fall since Covid. How long before the fallen angel finds its mojo back?
Apr 14, 2023
Infosys share price is once again under pressure after the company reported weak quarterly results. How long before it recovers?
Apr 12, 2023
Before Indian IT stocks declare their Q4 earnings, take a look at the probable reasons why they're under pressure and what lies ahead...
Mar 30, 2023
Brightcom shares crash 20% in a day; hit 52-week low. Here's why.
Mar 27, 2023
Shares of the company are down even as it signed clients worth US$ 302 m during the September 2022 quarter.
Mar 21, 2023
The company's market cap has nosedived Rs 556 bn in the past week. What's dragging stock down?
Mar 18, 2023
While IT stocks continue to underperform, a stable macro-economic outlook boosts confidence.
Mar 2, 2023
Find out why timing the market is equally important as time in the market.
May 2, 2023
India's fourth REIT is about to get listed on the bourses soon. Have a look at the company's financials, GMP and more.
Apr 19, 2023
The recent crash in IT stocks has created an interesting opportunity for investors. Read on to know how...
Apr 18, 2023
Tech Mahindra shares shed 7% in a day, fall the most in three years. Here's why.
Apr 13, 2023
Shares of Route Mobile tumble 4% in five days. Here's why
Apr 5, 2023
This multibagger stock tumbled 17% in a day. Here's why.
Mar 30, 2023
One of the leading IT firms, Wipro has witnessed a sharp sell-off following the global banking crisis. Find out other reasons why Wipro is falling and how the banking crisis impacts its revenue.
Mar 22, 2023
IT stocks have stumbled upto 20% in the last month, near their yearly lows. Here's what is dragging them down.
Mar 19, 2023
With interest rates still on the rise, the Indian rupee is expected to fall against the US dollar, which could possibly benefit Indian IT stocks.
Mar 16, 2023
Midcap IT stocks are under pressure following the collapse of SVB. Continue reading to find out how the events are connected.
Feb 16, 2023
This is why I believe Indian IT stocks could move upward in the near term.