Rakesh Jhunjhunwala & Associates Increase Stake in This Private Bank Stock. Do You Own?
Feb 1, 2023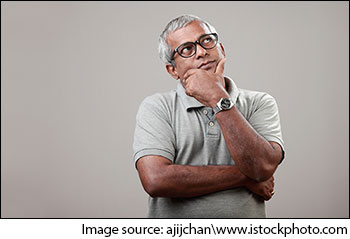 The year 2022 was filled with a lot of ups and downs for the Indian share markets. Beginning from incessant bloodbath in even the bluest of bluechip stocks to benchmark indices touching their lifetime highs in the next couple of months, 2022 saw it all.
Out of so many events that transpired 2022, a memorable one was the Nifty bank index hitting lifetime highs multiple times.
Those who invested in the best banking stocks were rolling in money in 2022. Axis Bank, HDFC Bank, ICICI Bank drove the index to record highs as credit growth picked up pace.
As far as 2023 is concerned, banking stocks have not raised eyebrows with red flags. Instead, their latest quarterly results show improvement and suggest the momentum could continue.
A relatively smaller banking stock Karur Vyasa Bank also showed decent growth in 2022 and is in focus lately.
That's because Rekha Jhunjhunwala, wife of ace investor, late Rakesh Jhunjhunwala, has picked up additional stake in the private bank.
A word about Rakesh Jhunjhunwala
Rakesh Jhunjhunwala was an Indian billionaire stock trader and investor.
He used to manage his portfolio as a partner in his asset management firm, Rare Enterprises. He invested in both his own and his wife's name, Rekha Jhunjhunwala. He held the designation of Chartered Accountant.
Rakesh Jhunjhunwala was known as "India's Warren Buffett." According to Forbes, Jhunjhunwala was the 36th richest man in the country. He was worth Rs 460 bn when he passed away on 14 August 2022.
He was a director on the boards of several companies, including Viceroy Hotels, Concord Biotech, Provogue India, and Geojit Financial Services.
Investor often track Rakesh Jhunjhunwala & associates portfolio to know the secrets to create a Jhunjhunwala like portfolio.
Why did Rekha Jhunjhunwala increase stake in Karur Vyasa Bank?
During the October 2022 - December 2022 quarter, Rekha Jhunjhunwala via Rakesh Jhunjhunwala and Associates, increased stake in Karur Vysya Bank.
As of September 2022, the stake in the company stood at 4.37%. In the quarter ended December 2022, the stake increased to 4.74%.
While we don't know why they bought more shares of Karur Vysya Bank, there are some reasons we can guess...
The bank was under the limelight in September 2022, after its net profit saw a sharp rise. Karur Vyasa Bank continued the same momentum in the following quarter, i.e. December 2022.
That's not all. The bank's profit has increased for the last eight quarters. Talk about consistency!
Revenues too have shown growth in the past six quarters.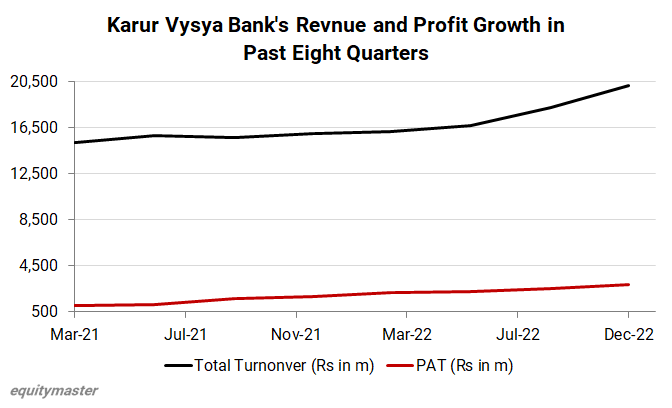 The bank has also shown improvement in asset quality. Its gross non-performing assets (NPA) ratio declined to 2.7% in current quarter from 6.9% in the year-ago period. The net NPA ratio also dropped to 0.9% from 2.6% reported in the year ago period.
The bank has taken an aggressive approach to cleaning up its balance sheet, as reflected in loan write-offs.
No wonder Rakesh Jhunjhunwala & Associates are bullish on the stock.
How shares of Karur Vysya Bank have performed recently
Over the last one month, share price of Karur Vysya Bank is down 5%.
In the past three years, the bank has rallied 134%.
The company touched its 52-week high of Rs 116 on 15 December 2022 and its 52-week low of Rs 41.8 on 16 May 2022.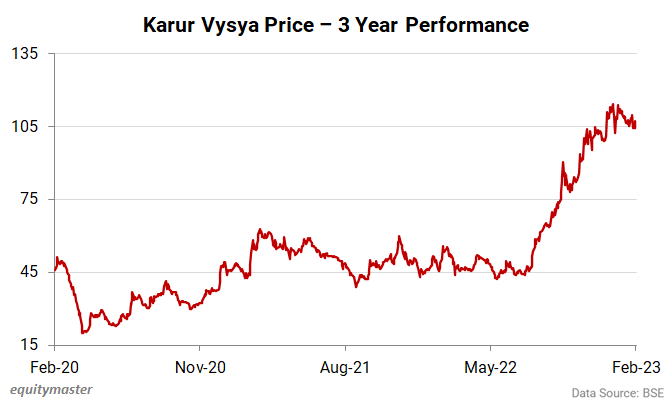 About Karur Vysya Bank
Karur Vysya Bank is a Scheduled Commercial Bank (SCB), headquartered in Karur in Tamil Nadu, India. It was founded in 1916 by M. A. Venkatarama Chettiar and Athi Krishna Chettiar.
The bank primarily operates in the treasury, corporate/wholesale banking, and retail banking segments.
To know more about the company, check out its factsheet and quarterly results.
You can also compare the company with its peers:
Karur Vysya Bank vs City Union Bank
Karur Vysya Bank vs Bandhan Bank
Now Before You Go, This is Something You Need to Know...
Equitymaster's co-head of research, Tanushree Banerjee, believes that one of the fastest growing sectors this decade will be defence.
In fact, within defence there are segments with 33x growth potential by 2030. Yes, it's a massive opportunity.
Tanushree has already identified 3 next-generation defence stocks to ride this mega opportunity.
Now, these are not ordinary defence stocks.
Very few people know about the real potential of these companies.
Because these companies are working silently on developing next-generation warfare technologies.
Our research says that these 3 defence stocks could potentially provide you some of the biggest gains of your lifetime.
* 2 out of these 3 stocks have already run up. Act fast or you might completely miss out on this big opportunity.
Disclaimer: This article is for information purposes only. It is not a stock recommendation and should not be treated as such. Learn more about our recommendation services here...