HDFC Ltd Merges with HDFC Bank. What Does it Mean for Investors?
Apr 7, 2022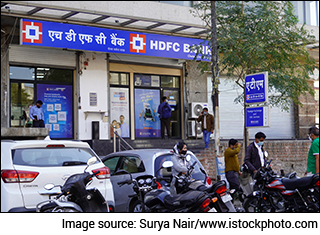 Recently, India's largest private housing finance company, HDFC ltd, announced its merger into its subsidiary HDFC Bank, the country's largest private sector bank.
HDFC Bank's marketcap stands at Rs 8.4 tn while that of HDFC stands at Rs 4.5 tn. The merger is likely to create the third-largest company in India in terms of market capitalisation at Rs 14.1 tn.
HDFC will acquire 41% stake in HDFC Bank through the merger, in addition to the 21% stake it already owns. Under the proposed deal, shareholders of HDFC will receive 42 shares of the bank for 25 shares held.
Post the merger, HDFC Bank will be entirely owned (100%) by public shareholders.
The merger is subject to regulatory approvals and is expected to be completed in the second or third quarter of the financial year 2024.
Why have the companies decided to merge?
While discussions regarding the merger of both financial giants have been going on for the last couple of years, HDFC Bank's CEO, Sashidhar Jagdishan said the bank did not see value on a combined basis earlier.
In 2015, HDFC Chairman Deepak Parekh had said his firm could consider a merger with HDFC Bank provided circumstances are in favour, especially the regulatory environment.
Fast forward to 2022, the interest rate regime has now come down and there is no more a drag on reserve requirements.
The regulatory approach of the banking regulator to NBFCs has also changed. The benefit of continuing as an NBFC is nearly absent now compared with the older times.
Who will benefit from the merger - HDFC or HDFC Bank?
The merger is a win-win for both companies.
It benefits parent HDFC given the rising costs of funds for non-banking finance companies in India as compared to banks.
The current interest rate that HDFC offers for its 5-year regular fixed deposit is 6.6% whereas the interest rate offered by HDFC Bank for its savings account is only 3% (less than Rs 50 lakh).
The merger will allow HDFC to have access to HDFC Bank's large base of savings and current account deposits that are acquired at a much lower interest rate. With interest rates expected to rise going ahead, the merger reduces the cost of funding for HDFC.
The transaction will also enable HDFC Bank to build its housing loan portfolio and enhance its existing customer base.
The proposed entity will have a loan portfolio of Rs 18 tn, only second to State Bank of India, the country's largest bank which has a loan portfolio of Rs 26 tn. Currently, HDFC Bank sells the home loans of HDFC Ltd and earns a fee.
Besides this, the proposed merger will result in reducing the bank's exposure to unsecured loans.
While the exposure was not high, the bank was growing its credit card and personal loans in an aggressively for a higher yield. The merged entity will not only reduce the unsecured loan exposure but also provide headroom to underwrite more loans.
Cross-selling of products is another benefit.
HDFC ltd has 445 offices of service centres across the country, which will be used to cross-sell the entire suite of banking products.
That said, there are key regulatory costs here that both the companies will need to carefully assess. The most critical are cash reserve ratio, statutory liquidity ratio, and priority sector lending norms.
How did the markets react to the news
Prior to the merger, the stock of HDFC was trading near its 52-week low while HDFC Bank's stock was up by only 4% in the past year.
However, the announcement triggered a rally in both companies. Shares of both HDFC and HDFC Bank soared over 15% at one point before losing a third of those gains.
Profit booking was seen in HDFC Bank's stock after investors realised that even after the merger the bank may not become part of the MSCI indices. These indices are tracked widely by foreign exchange-traded funds.
Shares of HDFC bank closed the day higher by 9.8% while shares of HDFC closed higher by 9.2%.
Equitymaster's view on the merger
We reached out to Co-head of Research at Equitymaster and banking sector expert, Tanushree Banerjee for her view on the merger. Here's what she had to say...
Since both HDFC and HDFC Bank are known to be conservative lenders, the merger could be value accretive once credit demand takes off.
Rahul Shah, Editor of the service Microcap Millionaires was also of the similar opinion. In a detailed post on his Telegram channel, he said...
Over the last 10 years, HDFC Bank Ltd has traded at a premium of 55% to the market cap of HDFC Ltd.

This is in perfect sync with the swap ratio decided by the management of both the companies. HDFC Bank Ltd will have to dilute 55% of its equity in order to merge HDFC with itself.

Thus, the deal seems to be value neutral if one considers the market prices for the last 10 years.

However, over the last 3 and 5 years, the gap between the two has widened. Mr Market has given an 80% premium to HDFC Bank over HDFC Ltd on an average.

If one considers this premium of 80% then HDFC Ltd shareholders should have gotten only 36 shares of HDFC Bank versus the 42 that they will get for their 25 shares on account of the merger.

This difference of 16% could also be because of the increased synergies between the two companies post the merger and the management wanted to reward HDFC Ltd shareholders in advance for it.

So, is the deal value accretive to HDFC Bank shareholders? Will the benefits of merging HDFC Ltd with itself be significantly higher than the slightly greater dilution it has agreed to?

I do think so.
To conclude...
Mergers and acquisitions are a way for companies to combine their individual strengths.
When companies merge, the newly formed company gains a larger market share and gets ahead in the competition. It can also lead to economies of scale.
However, a merger can also result in monopoly and an increase the prices products and services. Besides, it may result in a clash in cultures and affect the performance of the employees.
While HDFC and HDFC Bank have had stellar financials and corporate governance in the past, one can only wait and watch how the merger pans out.
How it affects the stock prices of both companies also remains to be seen.
Disclaimer: This article is for information purposes only. It is not a stock recommendation and should not be treated as such.
Ayesha Shetty is a financial writer with the StockSelect team at Equitymaster. An engineer by qualification, she uses her analytical skills to decode the latest developments in financial markets. This reflects in her well-researched and insightful articles. When she is not busy separating financial fact from fiction, she can be found reading about new trends in technology and international politics.