India's Top 5 Monopoly Stocks to Watch Out for
Jul 7, 2022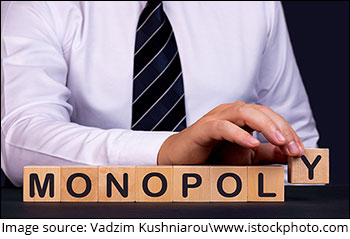 Editor's note: As I was scouring the internet for some interesting story to cover today, an article on monopoly stocks caught my attention.
The article was about how monopoly stocks like Multi Commodity Exchange (MCX), CDSL, among others, are trading at cheap valuations and are knocked down by the recent fall in Indian share markets.
Be it a fundamentally strong stock or India's top renewable energy company, Mr Market has spared no one.
So, is this an opportunity to build a quality portfolio? Should you make the most of this opportunity in times of adversity?
If you're looking to build a quality portfolio, you can start by analyzing monopoly stocks.
In a monopoly, there is no competition whatsoever. With the absence of intense competition in an industry, a company is poised to do better and generate profits with strong cash flows.
Back in July 2021, we wrote to you about the top 4 companies that are strong monopolies.
The article pointed out IRCTC, IEX, CAMS, and CDSL.
Later in November 2021, we were back again with another set of companies and discussed about other 5 monopolies you should watch out.
These companies dominate their sectors with a huge piece of the pie.
If you thought these could be the fastest growing stocks of 2022, you couldn't be more wrong.
The market correction has brought most of the monopoly stocks down from their recent high.
Read on to know more about India's top monopoly stocks to watch out for...
#1 Power Grid
Power Grid was formed in 1992 and is one of the largest public-sector undertakings (PSUs). From humble beginnings, it has grown at an extraordinary pace to quench India's power thirst.
The company operates under the Ministry of Power and acts as a connecting factor between power-generating companies, like NTPC, and power-trading companies by carrying electricity through its nationwide grid network.
Power Grid is India's largest power transmission company with a market share of over 36%. When it comes to getting renewable energy to the home of every Indian, it has a pivotal role to play in the coming decades.
It owns and operates the inter-state transmission network. Thanks to its efficiency, the company consistently maintains the availability of its transmission system at over 99%. This is at par with international utilities.
As creating a nationwide grid requires significant capital, which can only be provided by the government, it makes Power Grid a strong monopoly player.
What's more is that Power Grid enjoys massive tailwinds from the growth in renewable energy capacity, EV charging network, and 5G telecom.
On top of this, it is a dividend rich stock. The dividend yield at the current price is well over 5%.
Over the last one year, shares of the company have gained 44% as compared to 29% gains of BSE Sensex.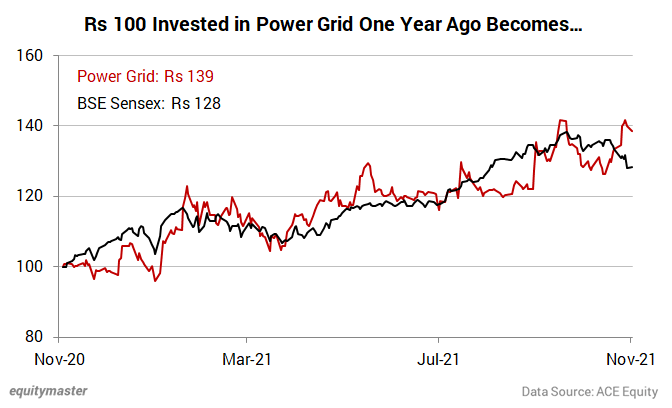 Update: Along with having a status of a good monopoly stock, the company has rewarded its shareholders with hefty dividends over the years.
For the year 2022, the company declared two interim dividends in December 2021 and February 2022 worth Rs 4 per share and 5.5 per share, respectively.
In December 2021, Power Grid also announced a special dividend of Rs 3 per share.
In addition to this, the company has announced a final dividend of Rs 2.25 per share or 22.50%.
If we combine all this, it amounts to Rs 14.75 per share. At today's price, this results in a yield of almost 7%.
#2 Nestle
Nestle India has a 96.5% market share in infant cereals (Cerelac) and 66.6% market share in infant formula (lactogen NAN).
That's massive!
Cerelac is an instant cereal for infants above the age of 5 months as a supplement to breast milk.
So what makes Nestle a strong monopoly player?
Infant food in India is a prescription drug which means it cannot be advertised in the country. The world health organisation (WHO) prescribes mother's breast milk to be the best source of nutrition. Thus the government would be skeptical to grant fresh licenses for manufacturing infant food in India.
Hence, Nestle has a check mark against barriers to entry in the infant food market.
Nestle is also a market leader for other products including Maggi Noodles, Milkmaid, Nescafe, among others.
The company has zero debt on its balance sheet, paid dividends consistently, and is a consistent wealth creator.
Have a look at the chart below to see Nestle India's 10 Year Stock Performance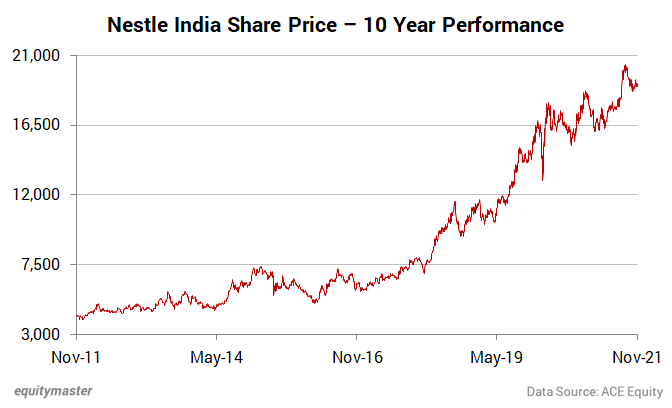 #3 Hindustan Aeronautics
Hindustan Aeronautics (HAL) is the largest defence PSU and holds 100% dominance in aerospace and defence manufacturing.
The company is a dominant supplier of aircrafts, helicopters, engines, avionics and accessories as well as main provider of maintenance, repair and overhaul services to the Indian defence forces.
It faces limited competition from the private sector due to the high capital intensity and long gestation periods for developing manufacturing capabilities in the sector.
The government's increased focus on indigenisation with the 'Make in India' and 'Atmanirbhar Bharat' policies have improved company's future growth outlook.
Also, after years of research and development (R&D), the company won a big order in February 2021 which reversed its declining order book. At present, HAL has a robust order book of around Rs 806.4 bn.
Most recently, HAL signed a US$716 m deal with GE Aviation for supply of engines.
It was also reported today that the state-run company will manufacture four light utility helicopters (LUHs) under limited series production by 2022-23.
Over the past one year, shares of the company have gained 56%.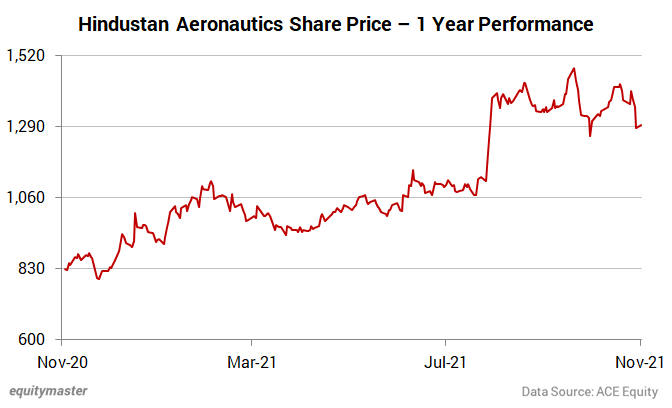 Since we are speaking of the defence sector, Co-head of Research at Equitymaster, Tanushree Banerjee keeps a close watch on stocks in the defence space.
As per Tanushree, defence will be a big wealth-creating opportunity. Back in July 2021, she recorded a video about India's best drone stocks.
You can watch the video here: India's Best Drone Stocks.
Update: Hindustan Aeronautics is one stock which has defied the market trend in 2022 and rallied.
Many things are working for the company at present. Like a health order book and government's increased focus on defence sector with a higher capital outlay.
Along with that, HAL is also one of the Indian companies in the exploding drone market.
#4 Multi Commodity Exchange (MCX)
Multi Commodity Exchange (MCX) is the largest commodity futures exchange in India with a market share over 95%.
It has a near monopoly position in bullion metals, base metals, and crude oil trading in India.
MCX facilitates the online trading of commodity derivative transactions. Through an MCX trading account, one can trade in a wide range of commodities.
The company has consistently remained India's leading exchange in commodity derivatives and enjoys a strong brand equity since it provides a reliable trading platform for commodity derivatives through transparent price discovery.
For the quarter ended September 2021, MCX reported weak bottomline and topline due to the impact of weak volumes in the light of the return of the pandemic as well as the commodity volumes getting adversely impacted by the restrictions on economic activity.
Surprisingly, shares of MCX are currently trading where they were trading a year ago.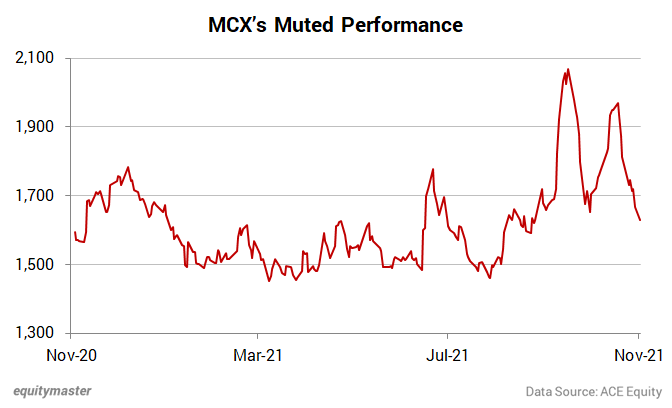 In the previous quarter ended June 2021, Rakesh Jhunjhunwala held 2,500,000 shares, or 4.90% stake in MCX. He offloaded his entire stake in the September 2021 quarter.
Meanwhile, mutual funds increased their stake by a substantial 3.8%.
To know more, check out Multi Commodity Exchange's latest shareholding pattern.
#5 Zydus Wellness
Zydus Wellness has over 90% market share in sugar free products. Its product 'Sugar Free' has a strong presence in India with a 94% market share of the sugar substitute category.
The company has various other brands as well like Complan, EverYuth, Nycil, Glucon-D, Sugarlite, and Nutralite.
In May this year, the company had said five of its brands, Glucon-D, Sugar Free, EverYuth Scrub, Peel Off, Face Mask, and Nycil maintained leadership positions in their respective categories as of March 2021.
What makes Zydus a strong monopoly player? Well it has access to solid research facility owned by Cadila Healthcare, its parent pharma company which owns 57.6% stake in Zydus. With the help of Cadila, Zydus conducts research on the product and ensure that all products are thoroughly tested and have no side-effect for the consumers.
If we are to go by estimates, the artificial sweeteners market in India is worth Rs 1.5 bn and is expected to grow in double digits. The segment is fueled by the rising prevalence of diabetes, obesity, and cardiac diseases due to the high consumption of sugar-based products.
In the wake of Covid-19, Zydus' 'Sugar Free' product witnessed double-digit growth as consumers opted for a healthier lifestyle. The company is now planning to push the product further and is ramping up distribution as well and launching marketing campaigns.
For the quarter ended September 2021, Zydus Wellness posted weak numbers. It reported a standalone net loss of Rs 20 m as compared to a net loss of Rs 218 m in the same quarter last year.
Revenues, on the other hand grew by 12.3% to Rs 3,837 m.
Like MCX, shares of Zydus Wellness too have traded rangebound throughout the year.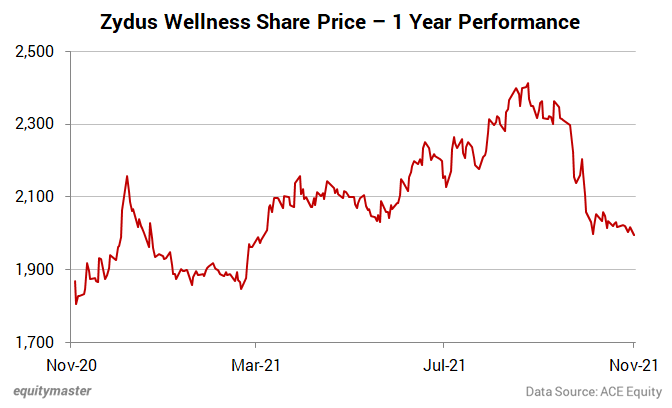 To know more about the company, check out Zydus Wellness financial factsheet and quarterly results.
Investing in monopolies
While much has been said about investing in monopoly businesses, you must investigate if the company can remain profitable for the future.
For example, in our previous article on monopoly stocks, we had listed IRCTC, CAMS, IEX and CDSL, companies with good financials.
However, unlike the previous set of companies, the financials of few of the companies listed in this article are questionable.
Also, without the absence of government support, monopolies are difficult to establish and maintain.
Read our editorial on MTNL, the monopoly player back in 2002, and how it went from being debt-free to heavily indebted, and also lost 88% of its marketcap.
Legendary investor Warren Buffett has always discussed the idea of investing in companies with moats.
A moat in general is a deep, wide ditch surrounding a castle, fort, or town, typically filled with water and intended as a defence against attack.
In investing, it refers to a business's ability to maintain its competitive advantage over its peers to protect market share and ensure sustained profits.
The wider the moat, the stronger the business. If the moat is weak, ultimately, competition will spoil the game, erode returns, and take away market share and profits overtime.
Hence, a smart way to invest is to pick companies with strong moats.
Of course, one must also examine the company's valuations as well as its intrinsic value and margin of safety.
Before signing off, we recommend you watch the below video where Co-head of Research at Equitymaster Tanushree Banerjee discusses the best monopoly stocks in India to own in 2022.
Happy Investing!
Disclaimer: This article is for information purposes only. It is not a stock recommendation and should not be treated as such. Learn more about our recommendation services here...
Yash Vora is a financial writer with the Microcap Millionaires team at Equitymaster. He has followed the stock markets right from his early college days. So, Yash has a keen eye for the big market movers. His clear and crisp writeups offer sharp insights on market moving stocks, fund flows, economic data and IPOs. When not looking at stocks, Yash loves a game of table tennis or chess.