Tech Mahindra Shares Fall After Q4 Results. What Should Investors Do?
Apr 27, 2021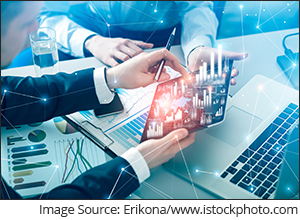 Tech Mahindra share price edged lower today after the software services company reported a 17.4% decline in consolidated profit for the quarter ended March 2021.
Tech Mahindra reported a 17.4% slide in consolidated profit to Rs 10.8 bn for the quarter ended March 2021. The profit in the previous quarter was Rs 13.1 bn.
Many analysts had expected the company to report a consolidated net profit of Rs 13 bn.
Consolidated revenue for the quarter stood at Rs 97.3 bn, a growth of 0.9% over Rs 96.5 bn in the December quarter.
The company's consolidated operating profit in the quarter rose 2.8% sequentially to Rs 19.5 bn in the reported quarter.
Much like its peers Infosys and Wipro, Tech Mahindra also saw an increase in attrition rate during the quarter to 13% from 12% in the previous quarter.
The company's IT services business registered a 1% sequential growth in revenue, while the BPO segment revenues were almost flat at Rs 10.6 bn.
Here's a table comparing Tech Mahindra's quarterly performance on key parameters on a Year-on-Year (YoY) and a Quarter-on-Quarter (QoQ) basis.
Tech Mahindra Financial Performance
| (Rs m) | Q4FY21 | Q4FY20 | Q3FY21 | YoY (%) | QoQ (%) |
| --- | --- | --- | --- | --- | --- |
| Net Sales | 97,299 | 94,902 | 96,471 | 2.50% | 0.90% |
| Total Expenses | 82,186 | 88,113 | 81,521 | -6.70% | 0.80% |
| Profit before tax | 15,441 | 9,656 | 17,164 | 59.90% | -10.00% |
| Tax | 4,998 | 2,392 | 4,263 | 108.90% | 17.20% |
| Profit after tax | 10,814 | 8,039 | 13,098 | 34.50% | -17.40% |
Data Source: Company Presentation
Strong TCV; Management Guides for Double Digit Growth
Tech Mahindra has forecast double-digit growth for the ongoing fiscal year, in line with bigger peers Tata Consultancy Services (TCS), Infosys, and HCL Technologies, on strong demand from clients.
Net new total contract value (TCV) signings showed a strong improvement at US$ 1 bn while trailing twelve months TCV were down 40% at US$ 2.2 bn.
The company's management guided for double digit growth in FY22 which is led by improved deal win momentum and recovery in retail, manufacturing, and telecom verticals.
The company is expecting the strong TCV performance to continue given investments in sales over FY21.
In Q4, TCV has delivered strong growth in both telecom and enterprise and in last quarter. It delivered one of the largest deals of legacy modernisations in telecom vertical.
Within telecom, Tech Mahindra is expecting improved demand across legacy deals, network spends, cloud as well as 5G led deals in its Next.Now model.
"Our continued focus on cutting-edge technologies has expanded client engagement with large deal wins this quarter. We are witnessing a strong demand acceleration and are committed towards delivering a next-level human-centred experience of the future, now," said CP Gurnani, managing director and CEO.
Highlights from Tech Mahindra's Earnings Call
Here are some of the key operational highlights from Tech Mahindra's earnings call.
Revenue: Revenue grew by 0.7% in constant currency (CC) terms led by 0.2% CC growth in telecom revenue and 1.1% CC growth in enterprise vertical. The BPO Segment (10.9% of revenues) was flat after 2 quarters of strong growth.
Outlook: The company has guided for double digit growth and EBIT margins of 15%. It expects continued improvement in deal signings.
New Deals: Net new deal wins stood at US$ 1,043 m with telecom deal worth US$ 518 m and enterprise deals worth US$ 525 m.
Acquisitions: The company has announced acquisition of Eventus Solutions Group, a US based business process services player, for US$ 44 m in cash. The transaction is expected to complete by 15th June.
Salary Hikes: Tech Mahindra has started rolling out salary hikes from 1st April and expects to offset the impact from operating efficiency.
Consistent Dividend Payout: The company's board also approved a final dividend of Rs 30 per share including a special dividend of Rs 15 per share.
Equitymaster's View on Investing in the IT Sector Right Now...
We reached out to Richa Agarwal, senior research analyst and editor of the smallcap stock recommendation service, Hidden Treasure, for her view on the IT sector.
Here's what she has to say about investing in companies in the IT sector right now -
"Post pandemic, amid liquidity in the global markets and broad-based growth momentum, the IT sector and the stocks listed in it have had a dream run.

The BSE IT index is at a ten year high, up 63% from the pre-Covid highs.

While picking stocks in the industry, one should be mindful of relative growth and valuation of companies in the sector."
How Stock Markets Reacted to Tech Mahindra's Q4 Numbers...
Shares of Tech Mahindra witnessed selling pressure in intraday trade today and the stock of is presently trading lower at Rs 947 (down 1.7%).
IT stocks are trading on a mixed note today with shares of NIIT and Oracle Financial Services witnessing most of the buying interest.
Tech Mahindra share price has touched a 52-week high of Rs 1,081 and a 52-week low of Rs 490.
On a year to date basis, share price of Tech Mahindra is down 1% and over the past one year, it has gained a whopping 88% as can be seen from the chart below.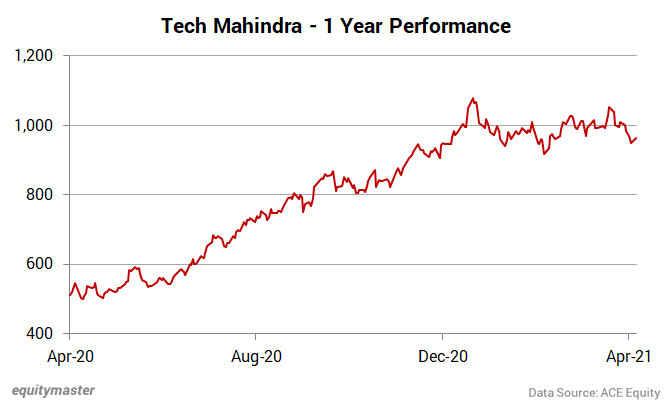 At the current price of Rs 947, the P/E ratio for Tech Mahindra stands at 22.9 times.
About Tech Mahindra
Tech Mahindra is a mid-size Indian IT services company providing software solutions to the global telecommunication industry.
The company was formed as a joint venture between Mahindra & Mahindra, India's leading tractor and utility vehicle manufacturer, and British Telecommunications Plc. (BT), a leading global telecom services company.
Tech Mahindra provides services like application development and maintenance, solution integration, product engineering and lifecycle management, testing, consulting, and managed services to global telecom companies.
The company's major focus areas are telecom service providers and telecom equipment manufacturers. BT is one of TM's largest clients and has a long-standing relationship of over 20 years with the company.
The company is a part of the Mahindra Group. It enjoys a leadership position in utility vehicles, information technology, financial services, and vacation ownership in India.
It also enjoys a strong presence in renewable energy, agribusiness, logistics, and real estate development. Headquartered in India, Mahindra employs over 2,56,000 people across 100 countries.
For more details about the company, you can have a look at Tech Mahindra's fact sheet and Tech Mahindra's quarterly results on our website.
For a sector overview, you can read our IT sector report.
You can also compare Tech Mahindra with its peers on our website:
To know what's moving the Indian stock markets today, check out the most recent share market updates here.