Tata Steel Shares Surge to Record High Post Q4 Results. Here's What Investors Need to Know
May 6, 2021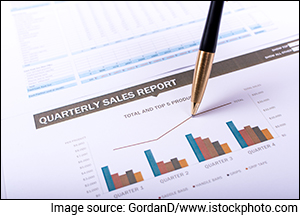 The world's second-most geographically diversified steel producer, Tata Steel on Wednesday reported a net profit of Rs 65.9 bn for the quarter ended March as against a net loss of Rs 4.4 bn in the year-ago quarter.
Most analysts had expected the company to report a net profit of Rs 67.8 bn for the quarter.
The Tata Group company's net sales in the quarter surged 49% year-on-year (YoY) to Rs 212 bn aided by strong demand and price hikes.
Sequentially, revenue rose 18%, driven by rising domestic sales and higher prices of hot-rolled coil steel. Hot-rolled coil prices rose 16.7% to Rs 54,856 per tonne in the fourth quarter.
On a consolidated basis, Tata Steel reported a net profit of Rs 66.4 bn as against a net loss of Rs 14.8 bn.
The company's revenue from operations climbed 39% YoY to Rs 499.8 bn.
The company reported a near 150% YoY growth in operating profit at Rs 92.1 bn, the highest on record.
The strong operating profit translated to operating profit per tonne of Rs 27,828, which was sharply higher than analysts' estimates of Rs 26,678.
Here's a table comparing Tata Steel's quarterly performance on key parameters, on a standalone basis.
Tata Steel Financial Performance
| (Rs m) | Q4FY21 | Q4FY20 | Q3FY21 | YoY (%) | QoQ (%) |
| --- | --- | --- | --- | --- | --- |
| Revenue | 212,026 | 142,114 | 179,657 | 49.2% | 18.0% |
| Total expenses | 138,855 | 123,690 | 130,349 | 12.3% | 6.5% |
| Profit before tax | 84,561 | -957 | 48,455 | 8,936.1% | 74.5% |
| Tax | 18,626 | 3,411 | 12,306 | 446.1% | 51.4% |
| Profit after tax | 65,935 | -4,368 | 36,149 | 1,609.5% | 82.4% |
Data Source: Company Presentation
Strong Debt Reduction and Free Cashflow
During the quarter, the company reduced its gross debt by over Rs 200 bn. The full-year de-leveraging was about Rs 280 bn, resulting in a 28% drop in net debt at Rs 753.9 bn.
Free cash flow during the financial year was about Rs 240 bn.
Commenting on the results, Koushik Chatterjee, executive director and CFO said, the fourth quarter performance has been a standout in terms of both earnings and cash flows. It has helped the company report one of the best full year performances. This in spite of the pandemic related disruptions during the first half of the financial year.
"In the current financial year, we will reduce the debt levels by more than a billion dollars and also enhance the capital allocation to our strategic capex program in India to complete the 5 metric tonnes per annum (mtpa) expansion in Kalinganagar."
Meanwhile, T V Narendran, CEO & Managing Director said, despite a slow start in the first quarter, the company delivered a strong performance in India with broad-based, market-leading volume growth supported by an agile business model.
--- Advertisement ---
These 3 Stocks are the Dark Horses of the Stock Market

The mainstream media mostly ignores them.

Mutual funds and hedge funds can't buy them in bulk.

Stock brokers rarely cover them.

These stocks are the dark horses of the stock market.

They only come in limelight after they have rallied by hundreds or even thousands of percent.

Our head of smallcap research, Richa Agarwal, has a knack for identifying such stocks before they begin their rally.

Over the years, she has spotted such stocks which have gone on to offer triple and even quadruple digit gains for investors. (* Past performance is no guarantee of future results)

Today, when the markets are near all-time high... and some investors are thinking of booking profits... Richa has spotted 3 such stocks which are set for a massive rally.

She will reveal the details of these 3 stocks on 28th June at her free online summit.

Click here to sign-up. It's free.
------------------------------
Narendran added that all segments, especially automotive, have performed extremely well and the company is making good progress on various initiatives to de-risk the business.
The second wave of Covid-19 in India still remains a risk, Narendran said at a post-earnings briefing, adding the diversion of oxygen for medical purposes won't significantly impact production.
He added, demand from steel-consuming industries may be more impacted by the ban on the use of industrial oxygen.
Indian mills can step up exports if domestic demand slows and the company will look to ship 10% to 15% of its production overseas this year.
Highest Quarterly Crude Steel Production
In India, Tata Steel achieved the highest ever quarterly crude steel production of 4.75 million tonnes (MT), while sales were up 16% at 4.67 MT on the lower base.
Steel sales in Europe grew 3% to 2.47 MT with EBITDA of 125 m euros.
Shareholders Approve Merger of Tata Steel BSL
The company's shareholders have approved the merger of Tata Steel BSL with Tata Steel. A scheme petition has been filed with the NCLT to sanction the scheme with effect from 1 April 2019.
The merger of Tata Metaliks and Indian Steel and Wire Products with Tata Steel Long Products is also underway.
The company's board also announced a final dividend of Rs 25 per share for the financial year ended March 2021.
BREAKING: It's Good Time to Invest in Gold, but Just Don't Go Blindfolded
Outlook on India's Steel Industry
In the investor presentation, the company mentioned that most of the steel consuming sectors in India have witnessed broad based pick up.
In Q4FY21, steel consumption jumped by 19.5% YoY, partly due to the low base of last year.
Indian steel prices continued to improve amid robust demand and iron ore cost pressures.
The company said that global steel demand is expected to expand by 5.8% in CY21 due to the recovering economy and progressive Covid-19 vaccination across regions.
Tata Steel said steel prices in Asia are expected to remain buoyant amid strong demand recovery, pollution control driven production curbs in China and elevated raw material prices.
Indian and European steel prices will also remain resilient, supported by strong international prices, robust steel demand, supply tightness and high iron ore prices.
Equitymaster's Technical View on the Steel Sector...
We reached out to Brijesh Bhatia, Ace Technical Analyst at Equitymaster, and editor of the premium monthly recommendation service Fast Profits Report, for his technical view on the steel sector.
Here's what he has to say...
COMEX Copper prices is approaching all-time high of US$ 4.65 hit in 2011 (CMP-US$ 4.55) which is beneficial for metals company.

While Metal Index to Nifty 50 ratio chart has triggered fresh breakout, which means an outperformance of Metals Index will prolong.

Metals stocks can continue to rally further, and every dip should be an opportunity to invest considering the risk-reward.
Brijesh had also made a video at the start of this year on the steel sector. As per Brijesh, steel is the one sector where he thinks 2021 could see a huge uptick.
In case you haven't seen the video, you can access it below:
How the Stock Markets Reacted to Tata Steel's Results...
Shares of Tata Steel surged 5% in early trade today to hit a new all-time high of Rs 1,129.
Ahead of the results yesterday, shares of Tata Steel had hit a 52-week high of Rs 1,088.35.
The stocks has given 151% returns over the last six months and has risen 292% over the last 12 months.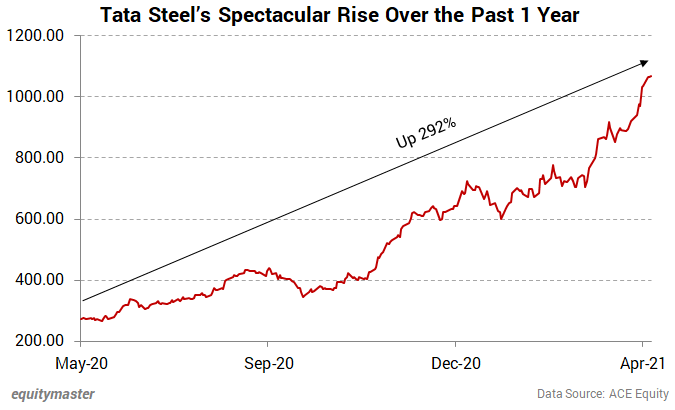 That's not all. Apart from Tata Steel's stock price, its market capitalisation also continues to break new ground.
Earlier this week on Monday, the company overtook Titan Company to become the second biggest in terms of market cap among Tata Group companies, after Tata Consultancy Services (TCS).
At the end of September 2020, Tata Steel was ranked fifth in market cap among group companies, after TCS, Titan, Tata Consumer, and Tata Motors.
At its current price, it is trading at a P/BV ratio of 1.8.
About Tata Steel
Tata Steel was established in India as Asia's first integrated private steel company in 1907. With this, it also developed India's first industrial city at Jamshedpur.
Today, the company is among the leading global steel companies. The company's steel-making and finishing facilities have the capacity to produce nearly 20.6 million tons of crude steel a year.
Tata Steel's products include hot and cold rolled coils and sheets, tubes, wire rods, rings and bearings.
Its domestic facilities are located in Jamshedpur in eastern India, and Tata Steel's international operations include UK-based subsidiary Tata Steel Europe, Singapore's NatSteel, and Tata Steel Thailand.
The company also owns interests in coal and iron projects that supply the steel maker with raw materials. More than half of the company's total revenue comes from domestic operations.
For more details about the company, you can have a look at Tata Steel's fact sheet and Tata Steel's quarterly results on our website.
For a sector overview, you can read our steel sector report.
You can also compare Tata Steel with its peers on our website:
Tata Steel vs Hindustan Copper
To know what's moving the Indian stock markets today, check out the most recent share market updates here.