Surprise Profit Boosts BPCL Stock
May 27, 2021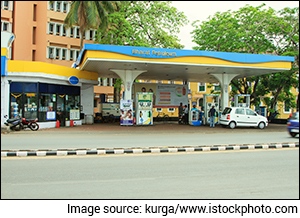 State-owned refiner, Bharat Petroleum Corporation (BPCL) on Wednesday reported a net profit of Rs 119.4 bn for the quarter ended March 2021 (Q4FY21).
This compared with a net loss of Rs 13.6 bn in the year-ago quarter.
This was because in the year-ago period, BPCL had suffered a one-time loss worth Rs 10.8 bn due to write-down of inventory in lieu of the crash in crude oil prices in March 2020.
The profit came as a surprise as analysts had expected the company to report a net profit of Rs 18.6 bn for the quarter.
However, it must be noted that BPCL's bottomline was boosted by a one-time gain of Rs 69.9 bn.
During the quarter under review, the company made gains of Rs 94.2 bn from sale of stake in subsidiary Numaligarh Refinery, took an impairment of assets worth Rs 20.3 bn related to subsidiary Bharat PetroResources and took a one-time hit on employee share-based expenses.
The company's revenue from operations rose 21.5% on a year-on-year (YoY) basis to Rs 987.6 bn for the quarter.
This was also sharply higher than estimates.
--- Advertisement ---
Replay Available: The Great Indian Wealth Project

Watch Tanushree Banerjee reveal the details of first stock to potentially accumulate Rs 7 crore long-term wealth.




Watch Now
------------------------------
Record Profit in FY21
Just like Indian Oil Corporation (IOC) and Hindustan Petroleum Corporation (HPCL), BPCL too followed cues and reported an all-time high profit for the year.
For FY21, BPCL reported net profit of Rs 173.2 bn on a consolidated basis, 372.5% higher than the profit posted a year ago.
Revenue fell 7.7% YoY to Rs 3.04 lakh crore.
Meanwhile, expenses comprising mostly crude oil purchase fell at a sharper rate of 11.8% to Rs 2.89 lakh crore.
BPCL's director, N Vijayagopal said as the number of Covid-19 cases went down in January-March 2021 quarter, the company witnessed good growth in fuel sales and other petrochemical products following recovery in economy.
Commenting on the fourth quarter earnings, he said,
We witnessed a V-shaped recovery in the second half of the financial year resulting in robust growth in fuel sales.

In an unprecedented year that began with a lockdown across the country and subdued business and economic activities, the fourth quarter was a stand-out quarter that helped the company to report its highest ever growth in bottomline.
BPCL added 2,444 new fuel stations in FY21, taking the divestment-bound oil refining and marketing company's network strength to 18,637.
BPCL has the second-highest retailing network in India.
Record Dividend
BPCL's stellar results were not the only thing that surprised investors.
BPCL recommended a final dividend of Rs 58 per equity share, which includes one-time special dividend of Rs 35 per equity share of Rs 10 each.
This totals to a record Rs 125.8 bn dividend ahead of the privatisation of the company.
This is also in addition to the interim dividend of Rs 21 per share paid earlier in the fiscal.
More than half of this amount will go to the government, which holds 52.98% stake in the company.
Watch the Replay: The Smallcap Revival Summit
The government, which is selling its entire 52.98% stake in BPCL, will get Rs 66.7 bn plus dividend distribution tax.
BPCL didn't mention any reason for paying this dividend but the firm had received Rs 98.8 bn from sale of its 61.5% stake in Numaligarh refinery in Assam to a consortium of Oil India, Engineers India, and the Government of Assam in March.
The firm had also bought 36.62% of the equity held by OQ S.A.O.C (formerly known as Oman Oil Company S.A.O.C) in Bina refinery for Rs 24 bn.
The net gain made by BPCL after the two deals was Rs 74.8 bn, which is almost the same amount as the special dividend declared.
Note that BPCL has a consistent track record of rewarding shareholders by paying dividends consistently, as can be seen from the chart below.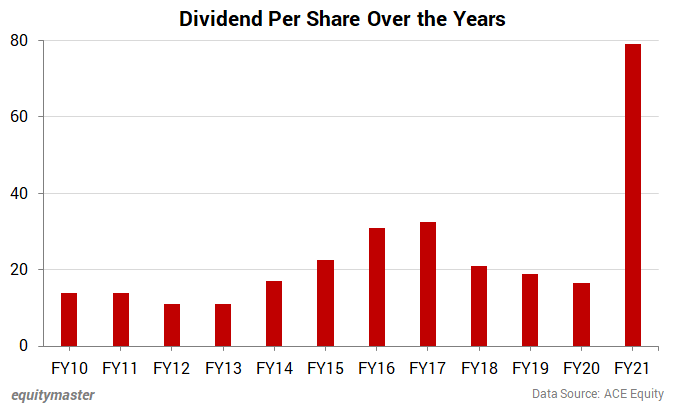 Rising GRM and Crude Oil Prices
During the quarter, benchmark Singapore gross refining margin (GRM) rose to US$1.8 a barrel in the from US$1.2 in the preceding three months.
Rising benchmark GRM and improved petrol spreads supported BPCL's refining margin.
Brent crude oil prices rose 36.1% sequentially to US$60.7 per barrel in the quarter under review.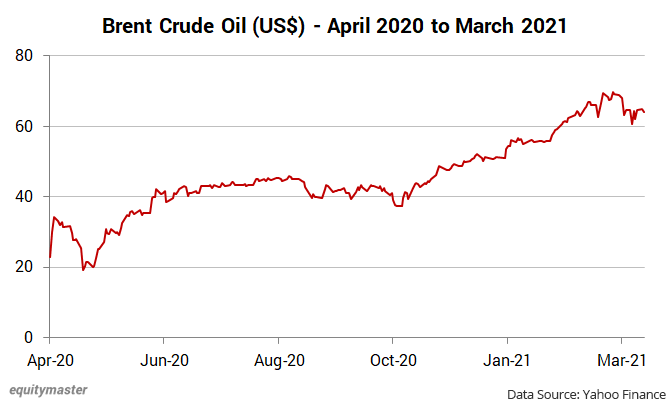 BPCL's marketing margin - what it earns by selling every litre of fuel - remained under pressure as retail fuel prices were left unchanged ahead of the recent state elections.
Speaking of crude oil, note that recently, Goldman Sachs has come out with a report wherein they are now opining that crude oil might just be able to scale the US$80 a barrel mark.
India's #1 trader Vijay Bhambwani has recorded a video on this explaining why he thinks the bull market in crude oil is not sustainable.
Tune in here...
Reports Revolving Stake Sale
Earlier this week, it was reported that BPCL may sell a part of its stake Petronet LNG and Indraprastha Gas (IGL) to remove its promoter status to avert the need for its new owner to make open offers for the two gas companies.
BPCL holds 12.5% of shareholding in India's largest liquefied natural gas importer, Petronet LNG, and a 22.5% stake in IGL. It is a promoter of both the listed companies and holds board positions.
Mining company Vedanta and private equity firms Apollo Global and I Squared Capital's arm Think Gas are in the race to buy government stake in BPCL.
How the Stock Markets Reacted to BPCL's Q4FY21 Numbers Today
BPCL share price rose over 3% in early trade today and touched a 52-week high of Rs 488, a day after it reported an over four times increase in profits.
BPCL has a 52-week high quote of Rs 488 touched today and a 52-week low quote of Rs 313 touched on 26 May 2020.
Over the past one year, BPCL shares have gained 50% and they are up 80% from their March 2020 lows.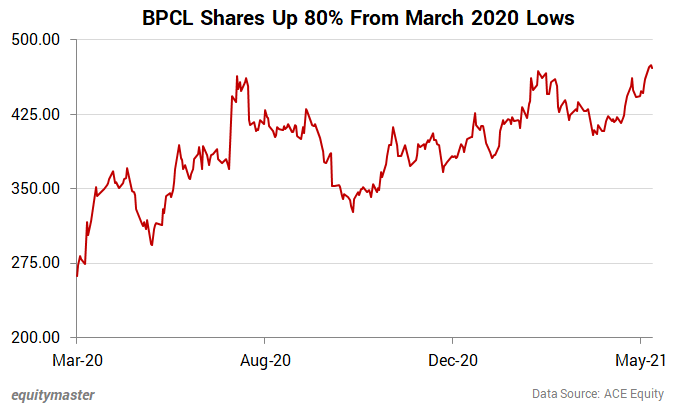 At the current price of Rs 480, the company commands a market cap of Rs 1,040 bn.
About Bharat Petroleum Corporation (BPCL)
BPCL, a government undertaking (52.98% ownership as on 31 March 2020), was set up as Bharat Refineries (BRL) in 1976 by merging Burmah Shell Oil Storage and Distribution Company of India with Burmah Shell Refineries. In 1977, BRL was renamed BPCL.
BPCL is an integrated refining and marketing company. It is India's second-largest oil marketing and the third-largest refining company, with a consolidated refining capacity of 38.3 MTPA, representing 15% of India's total installed capacity.
The company operates two refineries, both along the west coast: a 12-MTPA refinery in Mumbai, and a 15.5-MTPA refinery in Kochi.
The oil refining and marketing activity is strategic for India's economic development. Oil marketing companies (OMCs) dominate the domestic market for key petroleum products such as motor spirits, high-speed diesel, superior kerosene oil (SKO), and liquefied petroleum gas (LPG).
For more details about the company, you can have a look at BPCL company fact sheet and BPCL quarterly results on our website.
For a sector overview, you can read our energy sector report.
You can also compare BPCL with its peers on our website.
To know what's moving the Indian stock markets today, check out the most recent share market updates here.