Why Did PNB Housing Finance Hit an Upper Circuit Today?
May 31, 2021
PNB Housing Finance share price spiked over 20% to hit an upper circuit of Rs 525.2 on the BSE.
This after the company said its board has approved a capital raise of up to Rs 40 bn, led by entities affiliated to the Carlyle Group.
PNB Housing will raise Rs 32 bn through preferential equity shares and Rs 8 bn through warrants. The issue price of equity shares and warrants is fixed at Rs 390 each.
Pluto Investments, an affiliated entity of Carlyle Asia Partners IV and Carlyle Asia Partners V, (together, "Carlyle") has agreed to invest up to Rs 31.9 bn through a preferential allotment of equity shares and warrants, at a price of Rs 390 per share.
Existing shareholders of the company, funds managed by Ares SSG and General Atlantic, are also participating in the capital raise.
PNB will continue to be the promoter and a key stakeholder in the company.
The proposed transaction has triggered a mandatory open offer by Pluto Investments for the purchase of up to 26% equity shares of PNB Housing Finance from public shareholders.
The open offer is for acquisition of up to 70.7 m fully paid-up equity shares of PNB Housing Finance, representing 26% of the expanded voting share by Pluto Investments.
The open offer is being made at a price of Rs 403.2 per share.
--- Advertisement ---
This is a Powerful Mega Trend Playing Out in India

We have uncovered a powerful mega trend that is playing out in India right now.

It could potentially generate immense wealth for early movers.

Our co-head of research Tanushree Banerjee has also zeroed in on one specific stock riding this mega trend.

It's her #1 stock pick right now.

And she believes, this could be one of the top stocks to get to potential Rs 7 crore wealth over the long term.

Tanushree will reveal all the details about this mega trend and her #1 stock at her special online event on July 29.

At the event Tanushree will also show you, how to potentially accumulate Rs 7 crore in wealth over the long term.

What you learn at the event could possibly change your financial fortunes forever.

Click here to reserve your FREE seat.
------------------------------
As part of this transaction, Salisbury Investments, the family investment vehicle of Aditya Puri, senior advisor for Carlyle in Asia and the former CEO & managing director of HDFC Bank, will also invest in the capital raise.
Aditya Puri is expected to be nominated to the PNB Housing Finance board as a Carlyle nominee director in due course.
PNB Housing Finance said that the key objective of raising capital is to augment capital adequacy, reduce gearing, and accelerate growth with a focus on retail housing, including self-employed and affordable housing loans such as the Unnati segment.
Assuming full capital infusion (including warrants) and no other change to the 31 March 2021 financials, the capital adequacy ratio would increase from 18.7% to over 28%. Gearing as of 31 March 2021 will decline from 6.7x to less than 5x.
Fundraising Has Been Long Overdue
The fundraising announcement is long overdue for the company.
Back in November 2020, the company had announced a fundraise of Rs 18 bn via a preferential issue of shares.
However, its plans were derailed as its parent Punjab National Bank was not permitted by the Reserve Bank of India to pour in the capital into its lending subsidiary.
Later, in an analyst call in April 2021, PNB Housing Finance's CEO and MD, Hardayal Prasad, said that the company is evaluating its options.
As you are aware that we were waiting for the capital raise with participation of PNB and Rs 6 bn was earmarked since then.

But after, the permission was not given. So, we have initiated the process of evaluating all options and modes for the fundraise.
Free Signup: The Smallcap Revival Summit
An Overview on PNB Housing Finance Quarter Four Performance
PNB Housing Finance reported a consolidated net profit of Rs 1.3 bn for the March 2021 quarter.
The company had posted a net loss of Rs 2.4 bn in same quarter a year ago.
For the full year, the net profit jumped by 44% to Rs 9.3 bn. Income, however, fell by 10% to Rs 76 bn.
Sequentially, the profit was down from Rs 2.3 bn in the December 2021 quarter.
Total income during January-March was down at Rs 18.3 bn from Rs 19.5 bn in the same period last year.
Interest income dropped over 7% at Rs 16.7 bn during the quarter against Rs 18 bn a year ago.
The company's asset quality witnessed deterioration, with the gross non-performing assets (NPAs) spiking to 4.4% of the gross loans at end of March, from 2.8% in the same period last year.
Likewise, the net NPAs moved up to 2.4% from 1.8%.
Assets under management (AUM) registered an 11% decline to Rs 744.7 bn as of March 2021 from Rs 833.5 bn reported in the previous year.
PNB Housing Finance said its board of directors has not recommended any dividend for 2020-21 considering the current economic scenario.
Growth of India's Home Loan Market
India home loan market is anticipated to grow at a brisk rate of around 22% during 2021 - 2026 on account of increasing urbanisation and affordable mortgage rates.
Housing loan rate is low in India when compared with developing economies, presenting opportunities for the growth of home loan market in the country.
Moreover, government push towards affordable housing coupled with acute shortage of housing is further expected to drive India home loan over the next five years.
Free Signup: The Smallcap Revival Summit
India's Housing Finance Sector
According to the India housing finance report, the industry has been on the fast lane. It has been growing at 18% in the last seven years.
The home loan-to-gross domestic product (GDP) ratio in India is currently at 9%.
The Indian housing finance sector may consist of more than 80-plus players, but the industry is dominated by a select few.
They are: HDFC, Dewan Housing Finance, Indiabulls Housing Finance, PNB Housing Finance, and LIC Housing Finance. Together, they command a 78% market share.
Equitymaster's View on Housing Finance Sector
We reached out to Tanushree Banerjee, Co-Head of Research at Equitymaster, and Editor of the premium stock recommendation service, StockSelect, for her view on the sector.
Here's what she has to say...
Housing finance companies are expected to see a rise in gross NPAs in the coming quarters due to the second wave of Covid, as individual borrowers face strained cash flows.

Nevertheless, healthy provision coverage maintained by most of the entities, is expected to provide cushion and protect the profitability of most entities in FY22.

Investors should look for entities with a track record of good asset quality across cycles.
How the Stock Markets Reacted to PNB Housing Finance March Quarter Numbers Today
Shares of PNB Housing Finance opened the day at Rs 440 on the BSE and Rs 442 on the NSE.
PNB Housing Finance share price closed at Rs 525 (up 20%) on the BSE and the NSE.
At its current price, it is trading at a P/E of 9.5.
The share touched its 52-week high of Rs 525.2 and 52-week low of Rs 165.3 on 31 May 2021 and 29 May 2020, respectively.
Over the last 30 days, the PNB Housing Finance share price is up 39.3%. Over the last one year, the company's share price is up 207.8%.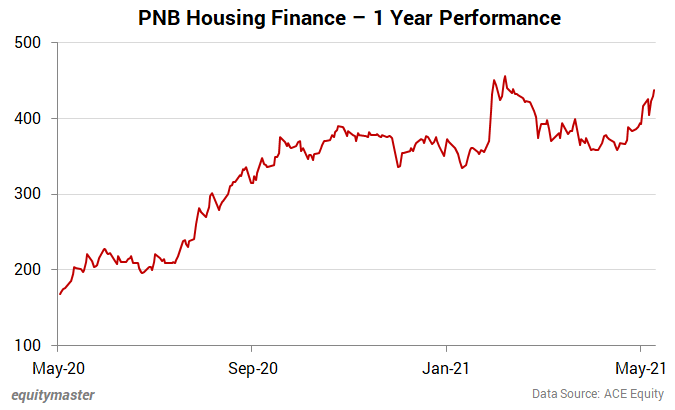 About PNB Housing Finance
PNB Housing Finance (PNB Housing) is a registered housing finance company with National Housing Bank (NHB) incorporated under the companies act 1956 and commenced its operations on 11 November 1988.
PNB Housing Finance is a deposit-accepting housing finance company, with second largest deposits outstanding within housing finance companies.
The company offers its retail customers housing and non-housing loans.
It provides housing loans to individuals for purchase, construction, repair, and upgrade of houses.
The company is also into construction finance loans to real estate developers for residential housing.
It is promoted by Punjab National Bank (PNB) which holds 32.8% of share capital in the company.
The company has a robust network of branches spread across the country which help its customers avail financial services (loans and deposits) seamlessly.
For more details about the sector, you can have a look at the finance sector report on our website.
To know what's moving the Indian stock markets today, check out the most recent share market updates here.