Bharat Forge Soars 8% After Returning to Profit in March Quarter
Jun 5, 2021
Shares of Bharat Forge moved higher by 8%, also touched its 52-week high on the BSE yesterday after the company reported a consolidated profit after tax (PAT) of Rs 2.1 bn for the March quarter, on healthy sales income.
The auto ancillary company had posted a loss of Rs 686 m in the same quarter last year. The stock had hit a record high of Rs 800 on 1 March 2018.
The company's revenue from operations grew 19.6% to Rs 20.8 bn in the fourth quarter, against Rs 17.4 bn in the year-ago quarter.
Despite cost inflationary pressures, earnings before interest, taxes, depreciation, and amortization (EBITDA) has increased by 310 basis points (bps).
During the quarter, the company has been declared as the successful bidder for Sanghvi Forgings based in Vadodara.
This enhances the company's footprint in India and builds upon industrial product manufacturing capabilities.
The company recently also secured an order from the government for development and supply of components and products and the same shall be executed by end of September 2021.
--- Advertisement ---
[Alert] Sell These 3 Stocks Immediately

These 3 stocks are ticking time bombs in your portfolio.

It is very likely that you could be owning these 3 overvalued...

fundamentally weak... ready to crash stocks... in your portfolio today.

Because many stock brokers have painted rosy pictures of these stocks. But the reality is starkly different.

If the market crashes, then these stocks could wipe out your wealth.

You should get rid of these stocks as soon as possible.

We are going to reveal details of these 3 landmines at our upcoming special event at 5 pm on September 24.

You can click here to sign-up. It's free
------------------------------
The company's management expects robust demand to continue in major segment in the export business.
The lockdown in India to curtail the spread of Covid has clearly had an impact on demand and production in the automotive sector, said the company in a statement.
Uncertainties surrounding the Covid impact still prevail. This is evident as major auto companies posted a fall in their May 2021 sales.
You can check out the latest sales numbers here: Auto Sales Dampened in the Month of May. Will it Bounce Back?
However, the management is optimistic that this weakness is temporary in nature and will witness growth in India as business activities normalize.
Commenting on the results, B.N. Kalyani, chairman and managing director of Bharat Forge said,
The balance sheet at end of the financial year 2020-21, continues to be robust with a significant level of liquidity.

Operating cash flows were strong in FY21 and will improve further in FY22. Return ratio will normalize towards the 20% range with improvement in asset utilisation in the coming years.
Equity dividend
The company's board has recommended a final dividend of Rs 2 per equity share of the face value of Rs 2 each (at the rate of 100%) for the financial year ended 31 March 2021.
The final dividend for the financial year will be paid on or after 20 August 2021, if approved by members.
--- Advertisement ---
INSIDER SECRET: An Astonishingly Easy Way to Pile Up Potentially 40-60% Gains in Just 1 Year

India's most well-connected trader with over 35 years of experience just confessed...

"This Lucrative Market Segment Could Leapfrog Over Nifty in The Next 12-16 Months"

... thanks to a massive and irreversible mega-trend fueling its growth!

In fact, he and his partner have already identified 2 spectacular stocks from this segment... which are ready to rake in potentially 40-60% gains in just 1 year... and make you big, fat profits!

The best part of them all...

Their Details Are Packed in This Special Report (Discover How to Claim it for Free)
------------------------------
Robust growth in global markets
The global automotive industry picked up smartly post the Covid-19 lockdown and all segments witnessed sharp rebound across geographies.
Its main addressable segment, class 8 heavy trucks in North America and 16T and above heavy-duty trucks in Europe have seen sharp increases in demand.
The company's said the demand outlook provided by the original equipment manufacturer (OEM) is quite robust going ahead.
Market size of Indian auto-components industry
The Indian auto-components industry has experienced healthy growth over the last few years.
The auto-components industry expanded by compound annual growth rate (CAGR) of 6% over financial year 2016 to financial year 2020 to reach US$ 49.3 bn in 2020.
Auto-components industry account for 2.3% of India's gross domestic product (GDP) and employs as many as 1.5 m people directly and indirectly.
The industry can be broadly classified into organised and unorganised sectors.
The organised sector caters to OEMs and consist of high-value precision instruments while the unorganised sector comprises low-valued products and caters mostly to the aftermarket category.
Automobile component industry's revenue stood at US$ 49.3 bn in the financial year 2020, up from US$ 39.1 bn in 2016.
Export of auto components grew at a CAGR of 7.6% to reach Rs 1 tn during the same time.
As per automobile component manufacturers association (ACMA), automobile components export from India is expected to reach US$ 80 bn by 2026.
The Indian auto components industry is expected to reach US$ 200 bn in revenue by 2026.
RESPONSE PENDING: Your Invitation to Attend the Super Smallcaps Summit
Equitymaster's view on the automobiles sector
We reached out to Brijesh Bhatia, Research Analyst at Equitymaster, and Editor of the premium monthly recommendation service Fast Profits Report, for his view on the automobile sector.
Here's what he has to say...
Auto Index is trading at 13-weeks high of 10,600 levels after breaking out of bullish head and shoulder pattern.

After testing the high of 11,093 in February 2021, index retraced by 27.6% of the move from March 2020 low of 4,452 to 11,093 high at 9,345 and resumed it bullish journey.

The medium to long term trend for auto sector looks bullish but stock selection would be the key for investors.

I believe the lockdown pain is temporary impact but the company which has proven record of coming back strongly from bad times should be on investors watchlist.
Financial Writer at Equitymaster, Aditya Vora also wrote about the automobile sector in a recent editorial.
Here's an excerpt:
After four years of underperformance, I expect the auto cycle to change for the better.

Also, valuations of auto stocks are fairly reasonable compared to certain pockets of market euphoria.

When market leaders are available at 30-35% discount from their all time highs, it certainly merits a look.

I do agree, the sector is down and is likely to stay that way for a few quarters mainly due to the softness in demand.

But it's during such tough times, the best companies can be found with reasonable valuations.
Aditya believes along with auto stocks, a bigger opportunity for investors would be in the auto ancillary space.
You can read his entire editorial here: Time to Press the Accelerator on Auto Stocks?
How the Bharat Forge stock has performed
The stock is up over 21.9% in the last month and over 124.6% in the last year.
Yesterday, shares of Bharat Forge closed at Rs 751 (up 7.9%) on the BSE and the NSE.
At its current price, it is trading at a P/E of 510.9.
The share touched its 52-week high of Rs 758.4 and 52-week low of Rs 306.5 on 4 June 2021 and 30 June 2020, respectively.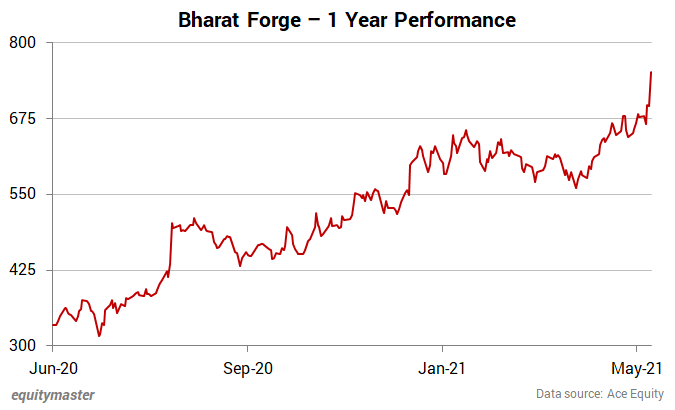 About Bharat Forge
Bharat Forge, the Pune based Indian multinational is a global provider of high-performance, innovative, safety & critical components and solutions to various industrial sectors including automotive, railways, power, defence, construction & mining, aerospace, marine and oil & gas.
The company is a part of Kalyani Group, which is a US$ 2.5 bn conglomerate with a 10,000-personnel strength global work force.
It has the largest repository of metallurgical knowledge in the region and offers complete service supply capability to their geographically dispersed marquee customers from concept to product design engineering manufacturing testing and validation.
The company has its manufacturing facilities spread across India, Germany, Sweden, France and North America.
It is the country's largest manufacturer and exporter of automotive components and leading chassis component manufacturer.
For more details about the company, you can have a look at Bharat Forge factsheet and quarterly results on our website.
You can also compare Bharat Forge with its peers.
Bharat Forge vs Motherson Sumi Systems
Bharat Forge vs Amara Raja Batteries
Bharat Forge vs Exide Industries
And to know what's moving the Indian stock markets today, check out the most recent share market updates here.