Why Hindalco Share Price is Falling
Jun 15, 2022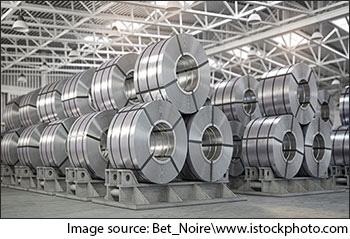 Indian stock markets have experienced immense volatility this year.
The Sensex on Monday, 13 June 2022 crashed over 1,700 points taking down various stocks with it.
Persistent selling by foreign portfolio investors (FPIs) dampened investors' sentiment which led to the market crash.
FPIs have been net sellers for the eight consecutive month, offloading Rs 138.9 bn worth of equities so far in June 2022. With this, the FPIs have sold Rs 1.8 tn worth of equities so far this year.
Amid the sell off, many stocks felt the heat.
One of them was Hindalco. The company's shares fell 5.9% and hit a one year low of Rs 366.7.
You see, over the last month, stocks of the metal sector have seen a fall with broader BSE Metal Index down by 7%.
Other aluminium companies have also seen their share price decline, as a result.
Hindalco's competitor NALCO has seen its share price fall 9.5% in the last month. The stock recently hit a one month low of Rs 82.
Stock under pressure despite positive Q4 results
Hindalco's share price has fallen over 8% in the last month despite the company posting strong results for the March 2022 quarter.
The company reported a 38% YoY increase at Rs 557.6 bn in revenue due to higher aluminium prices and local market premium.
Due to the increase in revenue, the operating profit also rose 30% YoY to Rs 76 bn.
Hindalco reported an all-time high quarterly operating profit for the India business at Rs 40.5 bn, up 123% YoY. Margins for the India business stood at 41% during the quarter, amongst the best in the industry.
Overall, the company's net profit doubled year-on-year (YoY) to Rs 38.5 bn for the quarter, the highest number for any quarter.
The board of directors announced a dividend of Rs 3 per share.
How shares of Hindalco have performed recently
Shares of Hindalco are down 10.5% over the last five days and over 8% in the last one month.
The stock touched its 52-week high of Rs 636 on 29 March 2022 and a 52-week low of Rs 357 on 14 July 2022.
Hindalco shares are currently trading at a PE ratio of 14.6 and a PBV ratio of 1.5.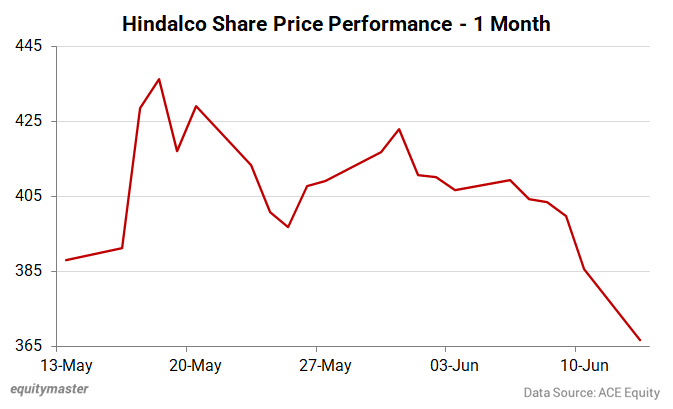 About Company
Hindalco Industries is an Indian aluminium and copper manufacturing company.
The company is a subsidiary of the Aditya Birla Group.
Hindalco is the largest aluminium rolling and recycling corporation in the world, as well as a major copper player. It is also one of Asia's top primary aluminium producers.
Building and construction, auto-motives, packaging, electrical, consumer durables, refractories, and ceramics are some of the industries it serves.
Along with its global subsidiary Novelis Inc., Hindalco has a presence in 12 countries.
From bauxite mining to alumina refinement, aluminium smelting, rolling, and extrusions, the company engages in a wide range of operations.
For more details about the company, you can have a look at Hindalco's Fact sheet and its quarterly result
You can also compare Hindalco with its peers.
To know what's moving the Indian stock markets today, check out the most recent share market updates here.
Disclaimer: This article is for information purposes only. It is not a stock recommendation and should not be treated as such. Learn more about our recommendation services here...