Here's Why IRCTC Shares Were Under Pressure Today
Jun 30, 2021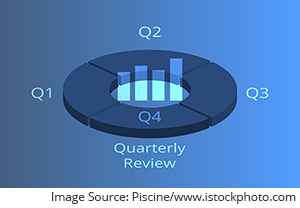 State-run Indian Railway Catering and Tourism Corporation (IRCTC) on Tuesday reported a 23.2% year-on-year (YoY) decline in its net profit to Rs 1 bn for the quarter ended March 2021.
This was below the street's expectations. Investors were expecting the company to post good results.
The company's board recommended a final dividend of Rs 5 per share for the financial year ended March 2021.
Since its listing on the exchanges, the stock has multiplied over six times.
Key financials
The 23% fall in IRCTC's bottomline was largely a factor of the muted demand for rail travel during the March 2021 quarter due to the Covid-19 pandemic.
Sequentially, there was a 33% jump in net profit as against Rs 780 m reported in the December 2020 quarter.
IRCTC's revenues also dipped 41.2% YoY to Rs 3.4 bn.
Here's a table comparing IRCTC's performance on key parameters.
Financial Snapshot
| (Rs m) | Q4FY21 | Q4FY20 | Q3FY21 | YoY (%) | QoQ (%) |
| --- | --- | --- | --- | --- | --- |
| Revenues | 3,388 | 5,757 | 2,244 | -41% | 51% |
| Total Expenses | 2,162 | 4,029 | 1,407 | -46% | 54% |
| Profit before tax | 1,392 | 1,932 | 1,044 | -28% | 33% |
| Tax | 354 | 581 | 263 | -39% | 35% |
| Profit after tax | 1,038 | 1,351 | 781 | -23% | 33% |
Data Source: Company Filings
IRCTC's revenue mainly took a toll owing to the weak performance in the catering and tourism business, given government restrictions on serving of food during travel.
--- Advertisement ---
Automobile Sector's Colossal Disruption Could Make You a Fortune

During any major disruption in a sector, fortunes are created.

And now, we are at the cusp of a major disruption that the automotive sector will experience.

It is the electric vehicles gold rush.

At Equitymaster, we have unearthed a hidden way to ride the 15x EV opportunity so that you could take home potentially life-changing gains in the long run.

You can get all details of the hidden way in our upcoming special online event.

YES, Register Me for FREE
------------------------------
In an exchange filing, the company said,
'The company has considered the possible effects that may result from Covid-19 preparation of financial results including carrying amount of assets and liabilities. The reduction in operating turnover is mainly due to COVID-19 pandemic.

However, the company does not expect any material impact on the carrying amount of assets and liabilities.'
IRCTC's catering revenues plunged 70% YoY to Rs 673.8 m whereas its tourism sales declined 69% to Rs 316 m.
On the other hand, the railway internet ticketing business held up during the quarter as revenues grew 9.5% YoY to Rs 2.1 bn.
Segment Revenues
| (Rs m) | Q4FY21 | Q4FY20 | Q3FY21 |
| --- | --- | --- | --- |
| Catering | 674 | 2,254 | 490 |
| Rail neer | 278 | 510 | 169 |
| Internet Ticketing | 2,120 | 1,936 | 1,430 |
| Tourism | 316 | 1,020 | 155 |
| State Teertha | - | 37 | - |
Data Source: Company Filings
Indian railways on a mission mode
Indian Railways is on its way to deliver 58 super critical as well as 68 critical projects worth more than Rs 1,150 bn in the next few years.
According to the railway ministry, as many as 29 super critical projects of total length 1,044 kilometers costing Rs 115.9 bn got commissioned in the past year.
According to the ministry, the key capacity building projects have been delivered by Indian Railways in states like West Bengal, Assam, Uttarakhand, and Maharashtra.
Moreover, the limited train services due to pandemic with no subsidies or concessions have led to the Indian railways improve its operating ratio to 97.5% in the financial year 2021 from 98.4% in the previous fiscal.
Operating ratio is the amount spent to earn every Rs 100.
--- Advertisement ---
The Rebirth of India

India's leading research analyst, Tanushree Banerjee, will show our readers how an upcoming mega shift would drastically change the state of the Indian economy...

And how investing in three high-potential stocks at the heart of this rebirth...

...could potentially hand them 100%, 300%, 500%, even 1,000% or more in the long run.

Since you are one of our valued readers, we sincerely urge you to head over here for more details
------------------------------
Equitymaster's view on IRCTC
We reached out to Tanushree Banerjee, Co-head of Research at Equitymaster, and editor of the premium recommendation service Forever Stocks, for her view on the company.
Here's what she has to say...
'Despite being a PSU, IRCTC has a wide moat that few other travel and tourism companies can claim to have.

E-tickets booked online through IRCTC's website and app accounted for 72.25% of the total reserved tickets over Indian Railways in financial year 2020. On an average, about 0.8 m tickets were booked daily through IRCTC's website and app during that year.

Also, the growth of the catering business seems on a strong footing. During the year, IRCTC managed on-board catering services in 19 Rajdhanis, 2 Tejas, 1 Gatiman, 1 Vande Bharat, 22 Shatabdis, 19 Durontos, and 296 Mail Express trains.'
Join Today: Equitymaster is on Telegram. Join FREE Today for Exclusive market Updates
How the stock markets reacted to IRCTC's results
IRCTC share price fell 1% in early trade today. Shares of the company extended losses as the session progressed and fell as much as 2.5%.
Yesterday, before announcing its results, IRCTC shares jumped as much as 2.3% to Rs 2,125.65.
Earlier this month on 8 June, shares of the company had scaled new 52-week high of Rs 2,184.15.
Over the past one year, IRCTC shares have gained a 53%.
IRCTC made its debut in October 2019 and was listed at Rs 644 against its issue price of Rs 320 per share.
Its Rs 6.4-bn IPO was subscribed a whopping 112 times.
Since its listing, IRCTC shares have zoomed 186%.
If compared from its issue price of Rs 320, shares have soared more than six times or 550%.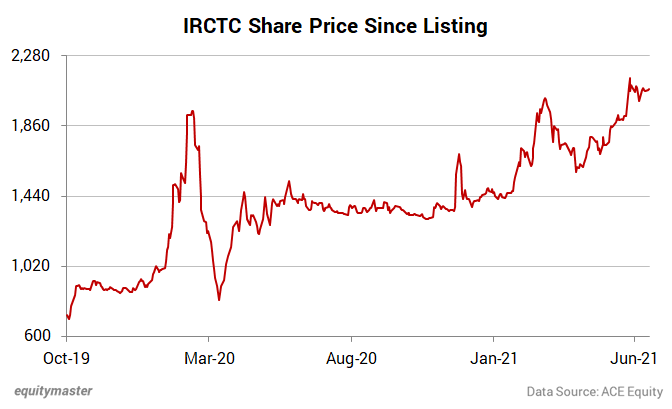 At its current price, the company commands a marketcap of Rs 326.6 bn.
It remains to be seen how IRCTC shares perform in the coming months as rail services open gradually.
About IRCTC
Indian Railway Catering and Tourism Corporation (IRCTC) was incorporated as a public limited company on 27 September 1999 and was granted a certificate of incorporation by the deputy registrar of companies NCT of Delhi and Haryana.
It's a central public sector enterprise (CPSE) wholly owned by the government of India and under the administrative control of the ministry of railways.
IRCTC is the only entity authorised by Indian Railways to provide catering services to railways online railway tickets and packaged drinking water at railway stations and trains in India.
The company was incorporated with the objective to upgrade modernise and professionalise catering and hospitality services managing hospitality services at railway stations on trains and other locations.
It also to promotes international and domestic tourism in India through public-private participation.
To know more about the company, check out IRCTC's company fact sheet and IRCTC's quarterly results.
You can also compare IRCTC with its peers on our website.
To know what's moving the Indian stock markets today, check out the most recent share market updates here.
Disclaimer: This article is for information purposes only. It is not a stock recommendation and should not be treated as such. Learn more about our recommendation services here...