Bajaj Finserv's Marketcap Crosses Rs 2 Trillion! Is it Worth a Look?
Jul 10, 2021
Bajaj Finserv entered the elite club of companies having a market capitalisation (marketcap) of Rs 2 tn after its stock price hit a new high of Rs 12,910, up 4.7% in Friday's otherwise range-bound market.
The stock of the Bajaj group's holding company surpassed its previous high of Rs 12,529.2, touched on 28 June 2021.
Currently, Bajaj Finserv holds the 20th position in terms of overall marketcap ranking among companies having a marketcap of over Rs 2 tn.
Bajaj Finance, another group company, is at number 9 with a marketcap of Rs 3.7 tn.
Reason behind the current rally
The stock of Bajaj Finserv surged amid expectations of better earnings after a recent report said that private insurers have done exceedingly well in getting their business back on track by adapting to the changing needs of customers.
According to market experts, the company's June quarter is expected to remain steady at Rs 138.5 bn, led by a pickup in all business such as lending life, general insurance, though absence of elevated investment gains in the first quarter may keep optical revenue stable.
Finance business may see a 7% year on year increase in topline at Rs 71 bn led by traction in assets under management.
Focus on individual regular business and improvement in renewals would aid life insurance premium growth at 50% YoY.
Healthy auto volumes and health insurance are expected to support general insurance business with premium growth at 9% YoY.
However, higher provision in lending business, absence of elevated investment gains in the first quarter of the current financial year, are expected to keep consolidated earnings at Rs 10.4 bn, down 14% YoY.
In June, the private life insurance companies collected a new business premium of Rs 82.1 bn, up 33.9% YoY and 32.2% over June 2019 (pre-pandemic) period, the company said in a report.
Strong financials helped the company to hit record highs
Bajaj Finserv reported over four-fold jump in its consolidated net profit to Rs 9.8 bn for the fourth quarter ended in March 2021, driven by its insurance business.
The company had posted a net profit of Rs 1.9 bn during the corresponding January-March period of 2019-20.
The total consolidated income during the March 2021 quarter increased to Rs 153.9 bn against Rs 1329 bn in the corresponding period of the previous financial year.
For the full year 2021, Bajaj Finserv's consolidated total income was at a record of Rs 605.9 bn compared to Rs 543.5 bn in 2019-20.
The company's subsidiary Bajaj Allianz General Insurance Company recorded an all-time high annual profit and continued to deliver robust improvement in its underwriting result.
During the year, the general insurance arm posted a profit of Rs 13.3 bn against Rs 10 bn in the previous year.
Similarly, life insurance arm registered an all-time high annual gross written premium in 2021 at Rs 120.3 bn.
Its assets under management reached an all-time high level of Rs 737.7 bn at the end of the financial year.
The company's board recommended a dividend of Rs 3 per share or 60% on the face value of Rs 5 per unit for the financial year 2021.
Looking forward
According to a leading financial daily, pandemic led incremental focus on product mix and business growth in life insurance business provides confidence.
Product selection with profitability is seen to propel earnings in general insurance business.
While asset quality issues are still not out of woods, Bajaj Finance has emerged stronger with a leaner and focused operating model.
Growth guidance of 25% for fiscal 2022 has resulted in renewed interest of investors in the stock.
How the stock of Bajaj Finserv has performed recently
Yesterday, shares of Bajaj Finserv opened the day at Rs 12,350 on the BSE and Rs 12,351 on the NSE.
Its share price closed at Rs 12,769.4 (up 3.6%) on the BSE and Rs 12,854.8 (up 4.2%) on the NSE.
At its current price, it is trading at a P/E of 27.8.
The share touched its 52-week high of Rs 12,910 and 52-week low of Rs 5,401 on 9 July 2021 and 24 September 2020, respectively.
In the past three months, the stock of Bajaj Finserv has outperformed the market by surging 31% compared to a 6% rise in the BSE Sensex.
Over the last 30 days, the Bajaj Finserv share price is up 9.6%. Over the last one year, the company's share price is up 100.7%.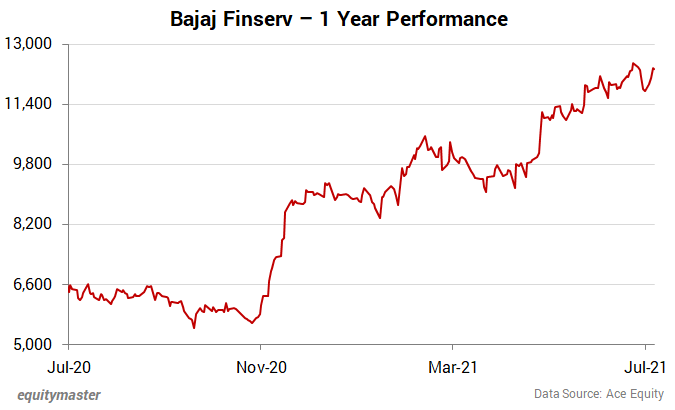 About Bajaj Finserv
Bajaj Finserv is the holding company for the various financial services businesses under the Bajaj group.
It serves millions of customers in the financial services space by providing solutions for asset acquisition through financing asset protection through general insurance family protection, and income protection in the form of life & health insurance as well as retirement & savings solutions.
The company holds 55.13% stake in Bajaj Finance and 74% stake each in Bajaj Allianz General Insurance Company (BAGIC) and Bajaj Allianz Life Insurance Company (BALIC).
Apart from financial services Bajaj Finserv is also active in wind energy generation and has investments in renewable energy in the form of 138 windmills situated in Maharashtra with an aggregate installed capacity of 65.2 megawatts (MW).
For more details about the company, you can have a look at Bajaj Finserv factsheet and quarterly results on our website.
You can also compare Bajaj Finserv with its peers.
Bajaj Finserv vs Cholamandalam Financial Holdings
To know what's moving the Indian stock markets today, check out the most recent share market updates here.
Disclaimer: This article is for information purposes only. It is not a stock recommendation and should not be treated as such. Learn more about our recommendation services here...