Jul 23, 2021 - Hindustan Unilever's Quarterly Results Fail to Impress. Stock Dips
Hindustan Unilever's Quarterly Results Fail to Impress. Stock Dips
Jul 23, 2021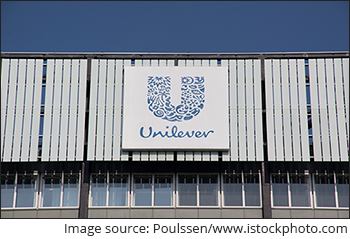 FMCG major Hindustan Unilever (HUL) reported an increase of 10.7% in its consolidated net profit at Rs 21 bn for the first quarter ended June 2021.
The company had posted a net profit of Rs 19 bn in the April-June quarter of the previous fiscal.
Its net sales during the quarter under review stood at Rs 119.7 bn, up 13.2%, as against Rs 105.7 bn in the same period a year ago.
HUL's total expenses was at Rs 95.5 bn, up 14.7% in the first quarter of the financial year 2022, as against Rs 83.2 bn a year ago.
Its earnings before interest, taxes, depreciation, and amortisation (EBITDA) margin stood at 24% during the quarter.
FMCG major HUL spent Rs 10.2 bn on advertising and promotions in the June quarter. This was a substantial increase from Rs 8 bn crore in the same quarter last year, according to its standalone results.
HUL brands achieved double digit growth during the quarter
In terms of its categories, HUL's management said all its key brands grew in high double digits despite a strong base, led by its premium brands.
Health, hygiene, and nutrition which makes up 85% of HUL's business grew at 8%, the company said.
The home care category grew at 12% on the back of its fabric wash products.
The company said it has taken calibrated price increase across fabric wash and household care portfolio to partly offset the high inflation in input costs.
However, HUL's hand hygiene portfolio, which includes sanitisers, declined against an exceptionally high base. This is because the demand for sanitisers went through the roof in the same quarter last year.
Despite people being at home during the second wave, HUL's beauty & personal care category grew 13% led by hair care and skincare, both growing in high double-digits.
With discretionary categories being relatively less impacted, ice-creams saw a recovery compared to a complete washout last year but was still impacted by limited mobility.
Rural demand resilient but inflation concerns remain
Despite the second Covid-19 wave ravaging rural areas, the management of Hindustan Unilever (HUL) said FMCG demand was significantly impacted in May. However, it rebounded in June 2021, back up to March 2021 levels, led by rural demand.
The FMCG major said rural markets have remained resilient and are now recovering ahead of urban markets. Urban markets were impacted in the quarter on the back of restricted timings for stores, which impacted footfalls.
Ritesh Tiwari, the chief financial officer of HUL said the company continued to see unprecedented inflation in key input materials with some commodity prices being at 20 year highs.
This, he added, led to the company taking calibrated price increases during the quarter in its tea, skin cleansing, and laundry products.
Overview on company's quarter performance
HUL reported its April-June quarter earnings on Thursday clocking a 9% volume growth, a domestic consumer growth of 12% and 10% growth in its profit after tax over the same quarter last year.
The company's growth comes despite a strong base in the April-June quarter of last year where HUL saw significant growth on the back of consumer stocking amid the first wave of Covid-19.
While the first quarter this year saw the second Covid-19 wave at its peak, the company said it was better prepared in terms of its supply chain. Also, discretionary and out-of-home (OOH) categories were relatively less impacted this time compared to last year, clocking high double-digit growth.
However, even as the market growth is returning to March 2021 levels, HUL said any surge in infection rates may cause uncertainty in demand.
Sanjiv Mehta, chairman and managing director of HUL said,
Looking forward, we remain cautiously optimistic about the demand recovery. Our focus firmly remains behind delivering volume-led competitive growth and margins in a healthy range.
Speaking of the FMCG sector, have a look at the chart below which shows the performance of BSE Sensex and BSE FMCG index since 2009.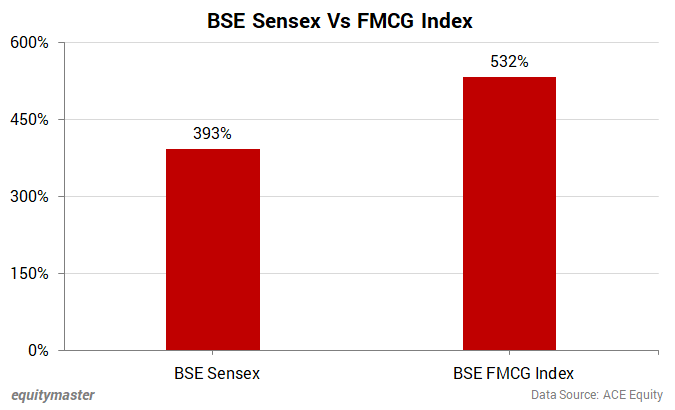 While the Sensex has offered 393% returns since 2009, the BSE FMCG index has gone up a staggering 532% returns over the same period.
Richa Agarwal, senior research analyst at Equitymaster, and editor of the smallcap service, Hidden Treasure, believes this outperformance could continue for many years.
She said that with a rising population and standards of living, Indian's consumption demand for FMCG products will skyrocket over the coming years.
How the stock markets reacted to Hindustan Unilever
Shares of Hindustan Unilever opened the day at Rs 2,385 on the BSE and Rs 2,382 on the NSE.
At the time of writing, the company's shares were trading down by 0.4% on the BSE.
At its current price, it is trading at a P/E of 69.9.
The share touched its 52-week high of Rs 2,531.5 and 52-week low of Rs 2,001 on 21 June 2021 and 21 September 2020, respectively.
Over the last 30 days, the Hindustan Unilever share price is down 6%. Over the last one year, the company's share price is up 1.5%.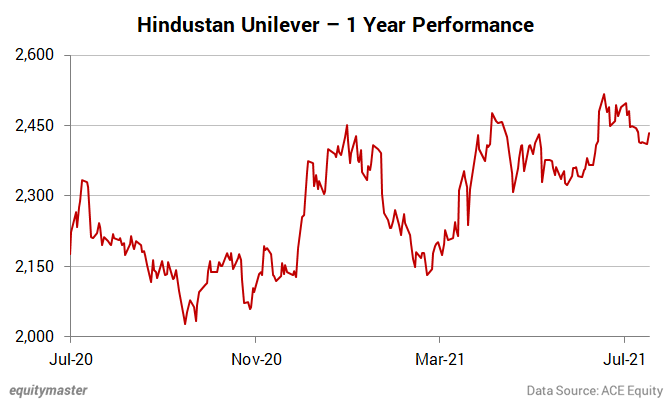 About Hindustan Unilever
Hindustan Unilever (HUL) is an Indian consumer goods company headquartered in Mumbai, India.
It's a subsidiary of Unilever, a British company. Its products include foods, beverages, cleaning agents, personal care products, water purifiers, and other fast-moving consumer goods.
HUL was established in 1931 as Hindustan Vanaspati Manufacturing Co. and following a merger of constituent groups in 1956, it was renamed Hindustan Lever. The company was renamed in June 2007 as Hindustan Unilever Limited.
As of 2019 Hindustan Unilever's portfolio had 35 product brands in 20 categories. The company has more than 18,000 employees.
In December 2018, HUL announced its acquisition of GlaxoSmithKline's India business for US$3.8 bn in an all-equity merger deal with a 1:4.39 ratio.
In April 2020, HUL completed its merger with GlaxoSmithKline Consumer Healthcare (GSKCH India) after completing all legal procedures.
For more details about the company, you can have a look at HUL factsheet and quarterly results on our website.
You can also compare HUL with its peers.
To know what's moving the Indian stock markets today, check out the most recent share market updates here.
Disclaimer: This article is for information purposes only. It is not a stock recommendation and should not be treated as such. Learn more about our recommendation services here...