Why Trent Share Price is Rising
Aug 11, 2023
In the Indian market, one group that has always managed to stand out and capture the attention of investors is Tata Group.
With a consistent track record of delivering favourable returns, this group has always been a focal point of interest.
Among its portfolio of companies, one particular gem has recently been shining brightly: Trent.
Trent, the retail arm of Tata Group, has emerged as a standout performer. Amid a subdued market on Thursday, Trent shares surged nearly 6%, hitting their all-time high, showcasing its resilience and appeal.
This remarkable upswing underscores Trent's strategic strength and its ability to thrive even in a muted market.
Here's why the shares of this Tata Group stock have been on a roll.
The shares of the company climbed after the company reported a strong set of numbers in the June 2023 quarter.
During this quarter, the total revenue amounted to Rs 26.3 bn, showing a 45.8% increase compared to Rs 18 bn in the same period of the previous fiscal year.
At the operational level, EBITDA saw a notable rise of 26.2% to Rs 3.6 bn in the first quarter of this fiscal year, surpassing the Rs 2.9 bn recorded in the corresponding period of the prior fiscal year.
The EBITDA margin stood at 14% for the reporting quarter, down from the 16.1% achieved in the corresponding period of the previous fiscal year. EBITDA represents earnings before interest, tax, depreciation, and amortisation.
The net profit for the quarter reached Rs 1.5 bn, marking a significant 45.1% increase. In the same quarter of the previous year, Trent had reported a net profit of Rs 1 bn.
The adjustments in the revenue distribution across different formats remain consistent with our expansion strategy.
As of 30 June 2023, Trent's portfolio included 221 Westside stores, 388 Zudio stores, and 23 outlets encompassing other lifestyle concepts. Throughout the quarter, the company introduced seven new Westside and 40 Zudio stores, extending its presence across 35 cities.
Emerging categories now contribute to over 19% of the standalone revenues of the retail company.
Online revenues through Westside.com and other Tata Group platforms contributed 4% of Westside revenues for the quarter.
What next?
The company plans to expand its reach to be more proximate and convenient for customers.
The same strategic playbook continues to be applied to the Star business. This has fostered a growing belief in their ability to expand this growth catalyst in the food and grocery sector.
The company believes this sector is well-prepared to accelerate its momentum, ultimately delivering significant value to both customers and shareholders. It is also planning to enter the hotel business in the Middle East.
The company has plans to launch an online marketplace for its products and services. It's also planning to invest in its e-commerce platform.
How Trent shares have performed recently
Coal India shares have gained 44% in the past 6 months. So far in 2023, the stock is trading up by 40%.
The company touched its 52-week high of Rs 1,915.0 on 10 August 2023 and its 52-week low of Rs 1,155 on 27 January 2023.
At the current price, the stock is trading at a PE multiple of 112.3 and a price-to-book value multiple of 21.9.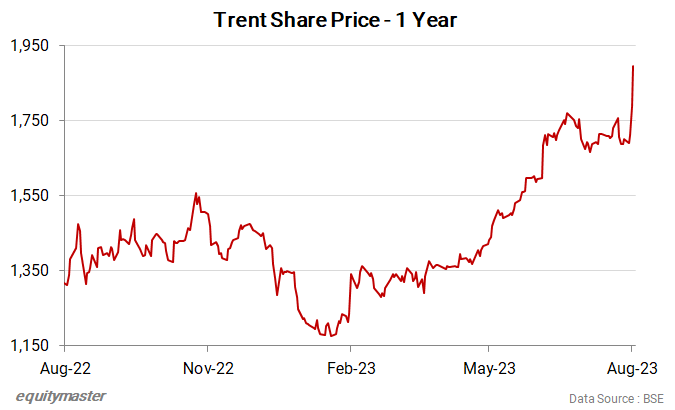 About Trent
Trent is part of the Tata Group and is engaged in business of retailing. In the year 1998 Tatas acquired Littlewoods - a London-based retail chain. Later Tata group established Trent and renamed the Littlewoods as Westside.
Trent operates 61 Westside department stores and a dozen hypermarkets under the Star Bazaar brand. It also runs Landmark book-stores and stores of Spanish brand Zara.
As a part of their retail expansion plans, the company plans to touch the 100 store mark in Westside in the next four years.
It also wants to take the Star Bazaar count to 50 in the next couple years, which is expected to help it achieve scale and profitability.
Today, Westside is one of India's largest and fastest growing chains of retail stores.
For more details, see the Trent company fact sheet and quarterly results.
For a sector overview, read our retailing sector report.
You can also compare Trent with its peers.
Trent vs Aditya Birla Fashion & Retail
To know what's moving the Indian stock markets today, check out the most recent share market updates here.
Investment in securities market are subject to market risks. Read all the related documents carefully before investing
Want to Grow Your Wealth With Safe Stocks?
If you want a simple, safe, and hassle-free approach to long term wealth building...
Without having to worry about negative news or every little downswing in the market...
And without having to worry whether your investments will actually "deliver"...
You must read our note on Blue Chip Stocks now.
Details of our SEBI Research Analyst registration are mentioned on our website - www.equitymaster.com
Disclaimer: This article is for information purposes only. It is not a stock recommendation and should not be treated as such. Learn more about our recommendation services here...