HUL's Marketcap Tops Rs 6 Tn. Key Factors Driving the Stock
Aug 21, 2021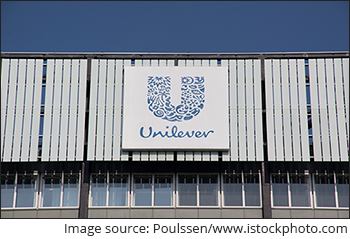 Yesterday, shares of Hindustan Unilever (HUL) surged to fresh records, taking the fast-moving consumer goods major's market capitalisation above Rs 6 tn for the first time.
As you must be aware, there's the geopolitical crisis between Afghanistan and Taliban. Adding to more concerns is US Fed's 'taper'.
At times like these, investors often turn to safe haven gold or to defensive sectors in the stock market.
Yesterday, this was clearly visible as investors turned to defensive FMCG stocks like HUL, Nestle, and Britannia. Yesterday's rise of more than 5% pushed HUL to new highs.
Talking about HUL, though it has been one of the best defensive stocks, it has relatively underperformed the benchmark BSE Sensex over the year gone by. It has gained 19% compared to the Sensex's 45% gains.
However, a rise in HUL's shares in the past three years, (excluding the last few months performance) has helped the FMCG major cement its position as India's fifth most valuable company.
Marketcap tops Rs 6 tn!
HUL's most recent milestone is that the company topped the Rs 6-tn marketcap yesterday. HUL is the fifth company achieving this milestone.
Four years ago, its marketcap was below ITC. Skip forward to present, it's more than two times of ITC's.
Reliance Industries, Tata Consultancy Services (TCS), HDFC Bank, and Infosys have achieved this milestone earlier.
So, what's supporting the stock?
HUL has underperformed benchmark indices in the past one year. It's about time that India's biggest FMCG company picks up pace and races ahead with the BSE Sensex.
During the second covid wave, FMCG stocks were affected because discretionary demand was impacted during the lockdown.
Now that the unlock activity is beginning gradually, rural demand is likely to stay strong.
Also, there was a steep rise in raw material prices. But that seems to have peaked now and prices have come off their peak. Major companies have taken price hikes to mitigate the impact of rising raw material prices.
HUL's cost optimisation during the pandemic is also noteworthy and it is likely to sustain going forward as well. This will help HUL's margins.
During the most recent quarter, HUL logged strong volume growth of 9% despite the second wave.
HUL also saw market share gain across all three segments, including its premium products. The company ramped up ecommerce operations, whose contribution has doubled since last year.
These all factors, combined with the geopolitical tensions and Fed's taper, gave investors enough reasons to send HUL's stock soaring 5%.
Going-forward, market experts are expecting HUL to deliver sustained recovery in the discretionary portfolio and accelerate growth in the nutrition portfolio.
How HUL has performed recently
Yesterday, shares of HUL opened at Rs 2,490 on the BSE as against its previous close of Rs 2,484.10.
HUL has gained consistently over the past week, rallying as much as 9% in the week gone by. It logged fresh highs yesterday amid the rally in FMCG stocks.
It recorded a new 52-week high of Rs 2,628.85 when its marketcap stood at Rs 6.2 tn. HUL shares closed at Rs 2,617.55 on the BSE, up Rs 133.45 or 5.4%.
Earlier this week, quick service restaurant Pizza Hut said it has partnered with HUL to add the FMCG firm's Kwality Wall's ice cream and desserts to its dine-in as well as the delivery and takeaway menu.
FMCG stocks have been in focus lately and they extended their winning streak on Friday, with the Nifty FMCG index advancing over 325 points, ignoring weak market sentiment. Apart from HUL, Britannia Industries, Nestle, and Godrej Consumer also surged.
Speaking of HUL, here's an interesting data on the stock, between 2002 to 2010, HUL's stock price went nowhere. Look at the chart below.
A Journey of No Returns in a So Called Safe Stock
The stock was basically in an 8 year coma. The returns could barely even make up for the inflation.
However, over the 2010 to 2020 period, HUL delivered a whopping return of 30% CAGR!
Back in November 2020, co-head of Research at Equitymaster, Rahul Shah recorded a video on why you should skip stocks like Nestle and HUL.
In the video, Rahul Shah discussed why he preferred a little known stock over HUL and how he was proven right.
You can watch the video here: Don't Let Brokerages Fool You into Buying HUL & Nestle. The Real Money is in These Stocks Right Now...
About Hindustan Unilever (HUL)
HUL is among India's largest FMCG companies with a diverse product portfolio including soaps and detergents, personal care products, and food and beverages.
The company has 31 owned factories and many outsourced production facilities across the country.
Over the years, HUL has grown through significant acquisitions. In 1998, group company Pond's India Ltd was merged with HUL. The company also acquired the Lakme brand, its factories, and Lakme Ltd's 50% stake in Lakme Lever Ltd in 2008.
In April 2016, HUL acquired Kerala-based hair oil brand, Indulekha, for Rs 3.3 bn. Indulekha has a strong presence in Kerala, Tamil Nadu, Karnataka, and Maharashtra.
In December 2018, HUL announced the merger of GSK Consumer with itself. The domestic transaction was valued at Rs 317 bn.
On 26 June 2020, the company also announced it had completed the acquisition of VWash, market leader in female intimate hygiene category from Glenmark Pharma.
For more details about the company, you can have a look at HUL factsheet and quarterly results on our website.
For a sector overview, read our FMCG sector report.
You can also compare HUL with its peers.
Check out the most recent share market updates here.
Disclaimer: This article is for information purposes only. It is not a stock recommendation and should not be treated as such. Learn more about our recommendation services here...