Revenge Travel is Here. 9 Stocks Likely to Benefit
Sep 4, 2021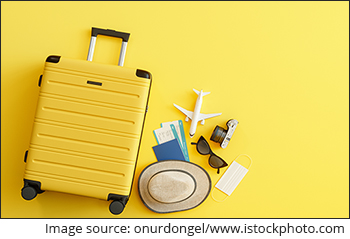 India's new Covid-19 cases have declined to less than 50,000 a day from a peak of more than 400,000 in May 2021. People are looking to explore local tourist destinations.
The phenomenon of 'revenge travel' refers to the desire of going on a vacation after an extended period of lockdown.
The travel and tourism industry was among the most affected due to Covid.
However, it has already seen signs of revival as the government lifts curbs and people plan to step out of their homes.
According to IBEF, India's tourism sector is anticipated to grow at 6.7% by 2029, and international tourists are expected to reach 30.5 m by 2028.
Once the sector has recovered from the pandemic, it can earn the economy a whopping US$50 bn by the end of 2022.
Here are top companies from this space which are benefitting and will continue to do so once the pandemic is done and dusted.
#1 Indian Hotels
Indian Hotels Company belongs to the Tata group. The company has 116 years of legacy in the hotel business.
Despite the second wave, the company put on a decent show in the most recent quarter by doubling its RevPAR (revenue per available room) due to occupancy improvement. This time around, the impact was also less severe.
Recently, the parent of Taj Hotels announced plans to raise Rs 30 bn through rights issue. This fundraising will help the company in its financing needs to money for capital expenditure, growth plans, and debt repayment.
This fundraising activity gave rating agency ICRA enough reasons to revise the outlook on the company's long-term factors including likely improvement in the capitalisation metrics and cash flow position.
Debt has been a concern for a long time for Indian Hotels and this fundraise will bring the debt to pre-pandemic levels.
--- Advertisement ---
Going LIVE Today: EV Gold Rush Special Event

Today at 5 PM sharp, we will go LIVE with our special event - the EV Gold Rush.

At the event, Tanushree will share with you the complete details of our multi-year research on electric vehicles...

Including details of 3 stocks to ride this massive 15x EV opportunity.

Tanushree believes these 3 stocks could potentially offer life-changing gains in the long run.

Don't miss it for anything.

Click the link below to register for free.

Click here to sign up for FREE.
------------------------------
#2 Mahindra Holidays & Resorts
Mahindra Holidays & Resorts India is a part of the leisure and hospitality sector of the Rs 144.7 bn multinational Mahindra Group. The company offers conventional vacation ownership programs.
As Indians head out for local leisure, Mahindra Holidays & Resorts will be at the forefront enjoying the benefits. The company is already looking to acquire more hotels.
In a recent interview, the company's CEO Kavinder Singh said they have a very good pipeline of properties they are exploring for acquisitions as well as leasing.
Singh is also expecting room occupancies to exceed 75% in the coming quarter. Mahindra Holidays is planning to invest US$150 m over the next two years to increase the room inventory.
About 90% of Mahindra Holidays' resorts are currently open and running full.
The company is also foraying into property management and plans to upscale hotels, resorts and leisure destinations.
Mahindra Holidays is one of the largest vacation ownership brands in the world and the market leader in India in vacation ownership industry.
#3 Wonderla Holidays
Wonderla Holidays is one of the largest amusement park operators in India with over 18 years of successful operations. The company came out with an IPO in 2014 to set up an amusement park in Hyderabad.
Due to the disruption caused by the second wave, all of the company's three parks were non-operational from mid-April due to state-level restrictions.
Now the parks have started to open last month onwards. The Hyderabad Park started operating from 5 August, while the Bangalore park started from 12 August. The Kochi park also reopened this month from 1 September.
Wonderla is looking at takeover of debt-burdened theme parks for which it has planned to spend around Rs 5 bn.
Lockdowns and low footfalls have left many theme parks in financial distress. As per estimates, the amusement and theme parks segment has suffered losses to the tune of Rs 900 bn so far.
If the parks continue to remain open in the upcoming festive season, it will result in strong traction as the festival season is considered the strongest period.
--- Advertisement ---
The Rebirth of India

India's leading research analyst, Tanushree Banerjee, will show our readers how an upcoming mega shift would drastically change the state of the Indian economy...

And how investing in three high-potential stocks at the heart of this rebirth...

...could potentially hand them 100%, 300%, 500%, even 1,000% or more in the long run.

Since you are one of our valued readers, we sincerely urge you to head over here for more details
------------------------------
#4 EIH
EIH is an Oberoi group company and one of the largest luxury hotel chains in the country. It manages hotels under three names - Oberoi, Trident, and Maidens.
While Indian Hotels and other companies have been expanding their reach, EIH has been quite slow on this front as the owner of the Oberoi brand has only added one hotel since 2018.
EIH also raised funds to the tune of Rs 3.5 bn which helped bring down its debt.
#5 Easy Trip Planners
Easy Trip Planners offers a comprehensive range of travel related products and services under its flagship brand 'Ease My Trip'.
Ease my trip is one of the leading online traveling agency in India. It has ranked 2nd in terms of booking volume and 3rd in terms of gross booking revenues for fiscal 2020.
Easy Trip Planners has a strong presence in the growing online ticketing market in India. Its business model, strong management, and healthy balance sheet show bright prospects.
Just last month, the company reported a 189% growth in topline for the June 2021 quarter. Bookings are normalising as the company recorded 63% of the entire revenue in the month of July.
The company came out with its IPO in March 2021 and the offer was subscribed a whopping 160 times.
Once the situation normalises, there is huge opportunity for the company to grab market share.
#6 IndiGo
Interglobe Aviation (IndiGo) has already started to add new domestic flights. It's the largest domestic airline with over 58% market share and a fleet of 277 aircraft as of June 2021.
While losses keep mounting for the airline, it has stayed resilient during the pandemic with its low cost structure and wide network. It will likely do well going forward too.
While competition is set to intensify with the launch of two airlines (one being Rakesh Jhunjhunwala's Akasa), IndiGo's management remains unfazed.
At the company's AGM this week, CEO Ronojoy Dutta said the airline has managed to reduce cash burn through cost-saving initiatives and increased liquidity by around Rs 66 bn last year.
The airline is seeing gradual recovery in traffic and operating over a thousand flights daily in August.
Even market experts are bullish on the stock on account of accelerating unlock activities, speculations about Government of India (GoI) mulling to remove price cap on flight tickets and increase flight capacity.
Going LIVE Today at 5pm: The EV Gold Rush Special Event
#7 IRCTC
IRCTC is strongly focusing on hospitality and private train business.
Of late, it's tying up with hotels, aviation and surface transport service providers while also focusing on strengthening its food supply business through tie-ups with local suppliers.
In the latest move, the company ventured into the international and domestic cruise business, targeting the domestic market including potential outbound guests. It has signed an agreement with Cordelia Cruises for the same.
In tough conditions, IRCTC's June quarter results were healthy. Its revenues increased by as much as 85% YoY.
Recently, it was announced that Rs 1.52 lakh crore Indian Railways' asset monetisation plan has been laid in the National Monetisation Plan (NMP).
Already benefitting from the unlock activities, this announcement was like a cherry on top of a sundae for IRCTC. Since there will be monetisation of passenger trains, IRCTC is expected to emerge as major beneficiary.
#8 Accelya Solutions India
Accelya Solutions India (formerly Accelya Kale) is a software solutions provider to the global airline and travel industry.
The company has a large global footprint with operations spread across 11 countries. It accounts for and manages more than 5 bn financial transactions and 75 m tons of cargo annually. It caters to more than 250 airline customers, travel agents, and shippers worldwide.
The company partners with airlines right from the time a ticket or an airway bill is issued, all the way through its entire life cycle until the data is converted into actionable decision support.
It derives a large chunk of its revenues from the airline vertical, which will be a beneficiary of unlocking.
In the June quarter, Accelya witnessed an improvement in revenues mainly led by a recovery in worldwide passenger volumes.
With strategic partnership and alliances with established associations, the company caters to a niche segment.
#9 VIP Industries
VIP Industries is the largest luggage company in Asia with 50% market share. The company's volumes are already about 60% of pre-Covid levels. So the full recovery is not far away.
The company has its own plants in Bangladesh, which is a low-cost destination for manufacturing. With China becoming expensive, luggage industry will gradually move out of China to other areas and VIP has good opportunities in the international market.
Given that it has large exposure to China, the company has ramped up operations in Bangladesh which should help reduce its direct imports from China and improve its profitability.
So, these are the companies which will be the biggest beneficiaries of 'revenge travel'.
Although the rising pace of vaccinations is helping these companies, it will all depend on the potential third covid wave and its impact.
To know what's moving the Indian stock markets today, check out the most recent share market updates here.
Disclaimer: This article is for information purposes only. It is not a stock recommendation and should not be treated as such. Learn more about our recommendation services here...