Rs 1 Lakh Invested in These Cryptos at the Start of 2021 Became Rs...
Oct 8, 2021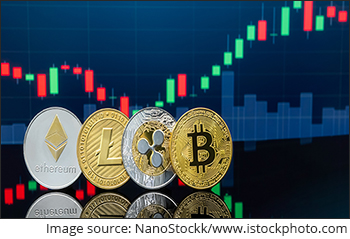 The crypto market is right back on track.
Bitcoin prices have zoomed more than 35% in the past week. It's back to the highest levels seen since May, adding to gains this month on high institutional interest.
The world's oldest and largest cryptocurrency, Bitcoin, has again surpassed a marketcap of US$1 tn.
Trading volumes for Bitcoin have been about two-thirds larger than Ether since the start of this month.
But this time, as Bitcoin rallies, other cryptos are not following suit. According to crypto experts, the recent rise may be because investors are sceptical about the stock market.
October is a month when the worst market crashes in US history have happened, including the 2008 economic meltdown.
Majority of crypto tokens are significantly up since the start of this year.
Let's look at the performance of top cryptos and how have they fared since the start of this year.
#1 Solana
Investing Rs 1 lakh at the start of 2021 in Solana would have turned into Rs 1.01 crore today.
A whopping wealth increase of 10,100% in just a little over 9 months!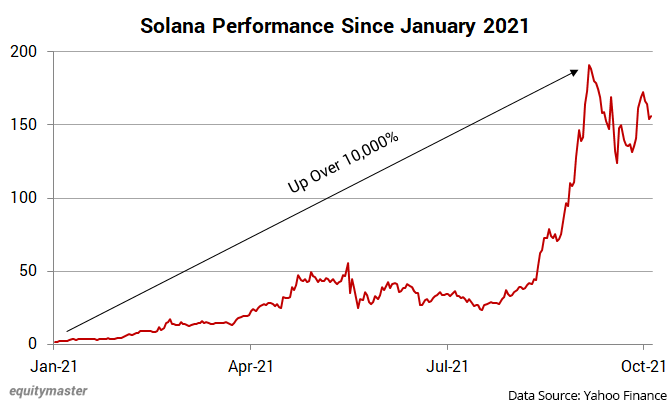 This crypto was launched with little fanfare in April 2020.
Its price rose from roughly US$1.50 in January 2021 to US$200, making it the seventh largest cryptocurrency in the world with a market cap of US$45 bn.
Solana is the fastest blockchain in the world and the fastest growing ecosystem in crypto, with over 400 projects spanning DeFi, NFTs, Web3, and more.
Solana rivals Ethereum, which is currently the largest decentralised crypto apps platform, by promising faster operation and lower transaction fees.
So why has Solana skyrocketed this much even when it competes with an established platform like Ethereum?
An obvious reason can be its lower transaction fees, which gives Solana an edge over most of its competitors.
Another reason is the fact that Solana has the backing of popular cryptocurrency exchange FTX, which has launched several Solana-based projects.
For a technical overview of how Solana works, check out the video on Solana's website.
#2 Polygon (MATIC)
Second on this list is Polygon, which has gained 7,053% since the start of 2021.
Formerly known as the Matic Network, Polygon is a scaling solution that aims to provide multiple tools to improve the speed and reduce the cost of transactions on blockchain networks.
In a nutshell, Polygon acts as an add-on layer to Ethereum that does not seek to change the original blockchain layer.
As can be understood from its geometric namesake, Polygon has many sides, shapes, and uses.
Recently, Polygon charged past Ethereum in terms of active users. This is a huge milestone as Bitcoin has always been the leader and Ethereum has always stayed ahead of competitors.
Now, that's not true anymore as more users are interacting with the Polygon chain rather than the Ethereum Mainnet.
Rs 1 lakh invested in Polygon at the start of this year would have turned into more than Rs 71 lakh.
#3 Terra
Terra was trading close to US$0.65 at the start of this year. Skip forward to present. It's currently trades at around US$41.8.
That's a massive jump of 6,341% in a little over 9 months.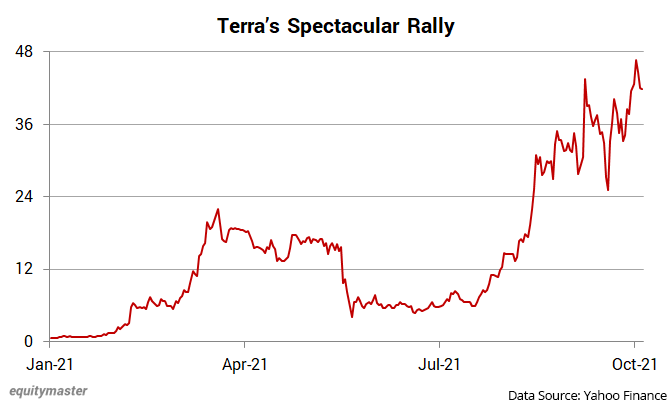 Luna is the native coin of the Terra chain and is on a continuous uptrend after the recent Columbus 5 launch.
Another reason why prices are rising is because it was added to the Coinbase pro exchange.
If you would have invested Rs 1 lakh into the coin back in January 2021, your investment would have turned into a little over Rs 64 lakh.
#4 Dogecoin
Next on the list is the popular meme-coin Dogecoin.
Dogecoin has lost its popularity of late with rivals Shiba Inu stealing the spotlight for now.
But the crypto has still managed to give 4,176% returns since the start of 2021.
Rs 1 lakh invested in Dogecoin back in January 2021 would have turned into Rs 42.8 lakh by the start of October 2021.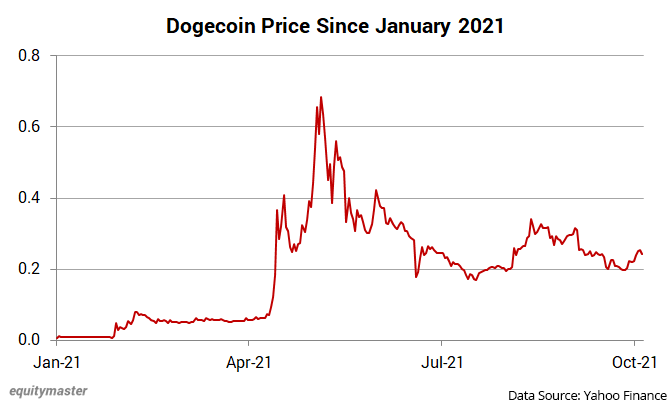 After hitting a high of US$0.7 in May, Dogecoin has seen a sharp decline in its marketcap.
Tesla CEO Elon Musk is arguably the most influential person in the Dogecoin ecosystem. Even small comments or tweets by him can impact the Dogecoin price as much as 50%. This would sound like a joke but Dogecoin specifically moves higher or lower based on a few tweets.
US-based movie theatre chain AMC Theatres now officially allows payments in Dogecoin. Earlier, AMC also accepted Bitcoin Cash, Ethereum, and Litecoin.
#5 Cardano
Cardano (ADA) is known to be a third-gen blockchain that is available to the overall population alongside being a DeFi app advancement platform.
It attempts to tackle some of the issues faced during the adoption of blockchain on a large scale.
Very much like Bitcoin, Cardano has fixed quantity. It has a maximum inventory of 45 bn ADA. There are around 32 bn available for use right now.
Here's an interesting thing about Cardano...
From the start, Cardano has been in the top 10 coins by marketcap since it was dispatched in 2015.
Rs 1 lakh invested in the crypto back in January 2021 would have turned into Rs 12.6 lakh.
#6 Binance Coin (BNB)
Binance Coin (BNB) is a cryptocurrency that can be used to trade and pay fees on the largest crypto exchange Binance.
In 2017, Binance launched BNB as an ERC-20 token on Ethereum with an initial coin offering (ICO).
The company offered 10% of the supply to angel investors, 40% of the supply to the founding team, and the remaining supply to the public.
Just like other cryptos, BNB offers several uses that go beyond the Binance exchange. These include trading, transaction fees, credit card payments, entertainment, investment, and more.
BNB's value peaked in May 2021 to an all-time high of US$700.
But since then, it has come down and presently trades at US$400 level.
Still, it's one of the best performing cryptos, soaring 1,031% since the start of January 2021.
Rs 1 lakh invested in BNB back in January 2021 would be worth Rs 11.3 lakh at present.
An interesting point is that BNB's price hovered around US$20 for much of its lifetime. It was considered as a stablecoin given its relative stability.
This was until the crypto markets boomed in March 2021.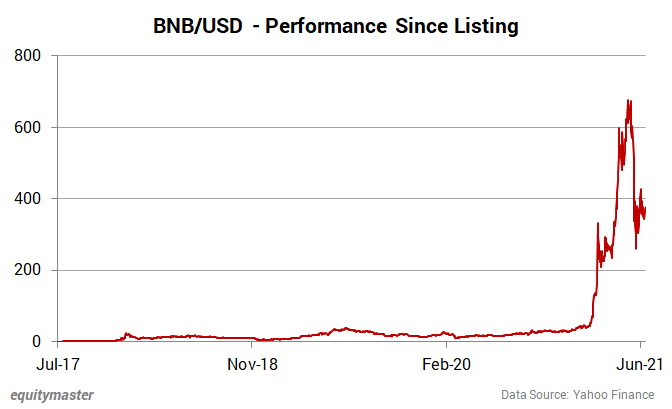 How have other popular cryptos fared?
Apart from the above, there are three popular cryptos which have performed well since January 2021.
Investing Rs 1 lakh in Ethereum at the start of this year would have turned into Rs 4.8 lakh.
While investing the same in Ripple (XRP) would have turned into Rs 4.5 lakh during the same span of time.
Coming to Bitcoin, the largest cryptocurrency has gained 88% since the start of this year.
Though, it's still away from its record of near US$65,000.
| (US$) | 1-Jan-21 | 6-Oct-21 | Change (%) |
| --- | --- | --- | --- |
| Ethereum | 730.37 | 3,526.35 | 383% |
| Ripple | 0.24 | 1.08 | 354% |
| Bitcoin | 29,374.15 | 55,361.45 | 88% |
Data Source: Yahoo Finance
Equitymaster's take on cryptos
We don't get cryptos. Honest.
It's something that has caught our imagination but we just can't figure out a way to value it. Fundamentally speaking.
Our 'fundamental' take on cryptos is simple...
It's in line with the approach anyone should have when dabbling in a space one does not understand.
Invest only what you can afford to lose. Nothing more.
Happy Investing!
Disclaimer: This article is for information purposes only. It is not a stock recommendation and should not be treated as such. Learn more about our recommendation services here...