Semiconductor Stocks in India? Here's a Watchlist for You to Track...
May 17, 2022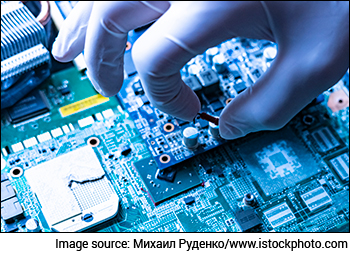 Editor's note: Semiconductor stocks are a hot trend in equity market today.
In December 2021, we were quick enough to identify this megatrend and wrote about the top semiconductor stocks.
A lot has happened since we last wrote to you in December 2021. In this updated article, we take you through the recent developments.
Continue reading...
If you're looking for growth stocks, semiconductor stocks should be the first place you should look.
Why?
2021 and 2022 were good years for the semiconductor industry as demand surged. However, the pandemic caused disruptions which throttled supply.
The demand-supply mismatch resulted in semiconductor stocks seeing a sharp rally and touching their all-time highs.
And here's the thing...
There are not one or two drivers of technological advancements where semiconductor chips are proving their worth.
The transformation of auto sector as we undergo an electric vehicle (EV) revolution.
Smartphones, smart TVs, and other electronic items.
These were just a few examples but there are more.
As industries rush towards digitization, demand for semiconductors will only grow more.
So if you think the semiconductor theme is just temporary and might be over soon, think again.
The government has lined up a host of initiatives for local semiconductor manufacturing. Currently, India meets its semiconductor requirements through imports.
The demand-supply mismatch is here to stay, and semiconductor stocks will make headlines yet again.
The companies involved in this space directly or indirectly are still very few. This can change very quickly, and the right pick could be the x-factor for your portfolio.
Recently, we wrote about the top semiconductor companies and why they should be on your watchlist.
Top Semiconductor Stocks in India
| Company | CMP (Rs) | 1 Month (%) | 3 Months (%) | 1-Year (%) | 3-Year (%) |
| --- | --- | --- | --- | --- | --- |
| Tata Elxsi | 8,119.3 | 4% | 17% | 124% | 840% |
| Dixon Technologies | 3,340.2 | -23% | -20% | -15% | 640% |
| ASM Technologies | 423.2 | -28% | -33% | 287% | 822% |
| SPEL Semiconductor | 57.1 | -14% | -9% | 398% | 808% |
| Moschip Technologies | 50.2 | -26% | -27% | 70% | 164% |
| Ruttonsha International | 238.2 | -24% | -31% | 367% | 485% |
| Vedanta | 287.2 | -32% | -22% | 3% | 79% |
| MIC Electronics | 15.6 | -12% | -30% | 1257% | 1596% |
| Indosolar | 3.9 | -29% | -13% | 97% | 131% |
| Surana Solar | 23.0 | -7% | -13% | 147% | 243% |
Source: Equitymaster
This list is still extremely relevant today.
While these stocks have the potential to deliver huge gains, you should be very careful about which semiconductor stock to invest in.
There's been another major development since we wrote about semiconductor stocks in December 2021.
Companies have submitted plans for setting up fab units (a technical word for a plant where semiconductors are produced), while many have submitted proposals for designing and packaging semiconductors.
Global semiconductor giants are showing interest to set shop in India and giving India's semiconductor plans a much-needed push.
For instance, international semiconductor consortium ISMC will invest a whopping US$3 bn in setting up a semiconductor chip-making plant in Karnataka.
Believe it or not, developments in this space are happening at a fast pace.
India's Semiconductor Stocks to watch Out For...
The global shortage of semiconductor chips has triggered concerns as companies around the world fail to meet rising demand for a wide range of essential as well as modern tech products.
The shortage has intensified over the past couple of months.
Semiconductors are components needed for manufacturing cars, televisions, refrigerators, washing machines, personal computers, laptops, mobiles, etc.
These components are made from silicon and fit into microcircuits that power various electronic goods and components.
These little chips are so important that tens of thousands of workers must get lines that are a millionth of a meter, i.e. one micron wide, exactly right. Or else it won't work. The semiconductor chips fail.
Semiconductors play an important role in a variety of fields. For example, operating air conditioners, improving automobile safety, laser treatment in cutting-edge medical care, and the list goes on.
While making a list of semiconductor stocks in India, there were no surprises. Every stock which had even little exposure to semiconductors, has seen a sharp rally.
Why?
The buzz around semiconductors started mainly due to the shortage of semiconductor chips.
Another factor driving semiconductor stocks higher is the Indian government's efforts and support.
The government has announced the PLI scheme for semiconductor industry. This scheme is worth a whopping Rs 760 bn to be invested over the next 5-6 years.
The scheme aims to boost the semiconductor and display manufacturing in India. It will position the country as a global hub for hi-tech production, Semiconductor demand in India is most likely to outstrip supply in near future.
As part of the scheme, apart from big companies, the government will also incentivise startups to design and make semiconductors.
While there are not many companies involved directly in manufacturing semiconductor chips in India, there are some indirect plays.
Let's take a look at listed Indian companies engaged in the semiconductor industry.
#1 Tata Elxsi
It was in August this year when the Tata group showcased its ambitious plan to foray into semiconductor manufacturing.
The company's chairman N Chandrasekaran said the group has already pivoted into a number of new businesses like electronics manufacturing, 5G network equipment, as well as semiconductors.
The Tata group is in talks with at least three state governments in India to invest US$300 m towards a new semiconductor assembly and testing unit. The states are Tamil Nadu, Karnataka, and Telangana.
The group is also in talks with major international companies, including those from Taiwan, for its semiconductor chip business.
Tata Elxsi, which is a Tata group company, is already into the business of semiconductor services that includes artificial intelligence tools and frameworks, design solutions, and development.
Note that this foray will help the Tata group supply semiconductor chips and other components to Tata Motors and Tata Power, apart from other companies across the world.
#2 Dixon Technologies
Dixon Technologies is the biggest manufacturer of LED TVs in India producing TVs for brands like Samsung, Panasonic, Xiaomi, TCL, OnePlus and many more. They also manufacture lighting products for companies like Philips, Havells, Syska, Bajaj, Wipro, Orient, and more.
In 2020, the company forayed into information & communications technology (ICT) hardware, including laptops, desktops, tablets and servers, and set up a factory in South India.
As chips are quite important for TVs and other electronics which Dixon makes, it could set up a chip manufacturing plant in the future.
However, the company's CFO said in 2021 that it has no ready plans for now as a chip manufacturing plant is a high capital expenditure investment of US$4-5 m.
To know more about the company, check out Dixon Technologies' financial factsheet and latest quarterly results.
#3 ASM Technologies
ASM Technologies provides consulting and product development services in the areas of engineering services and product R&D.
The main clients of ASM Technologies include reputed customers involved in manufacturing of semiconductor equipment and network devices.
As the pace of technological advancement has been very high in these industries, the company's clients invest significantly in R&D to stay ahead of competition. This results in recurring revenues for ASM.
ASM Technologies is in the process of expanding its service offerings and has recently forayed into areas of virtual reality (VR), internet of things (IoT), and open edX platform management.
As the company is closely linked to the semiconductor industry, its shares have been on a spectacular run this year.
Over 100% gains came in the month of January 2021. In the year gone by, shares of the company are up a whopping 600%.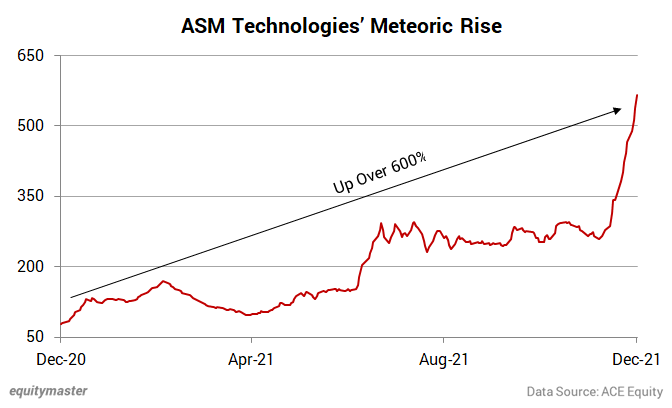 Surprisingly, mutual funds, FII or DIIs don't hold any stake in the company. In fact, as per ASM Technologies' latest shareholding pattern, promoters hold majority of the stake.
Update: Recently, the company formed a 50:50 joint venture (JV) with Hind High Vacuum (HHV) to undertake design led engineering and manufacturing of tools, sub-systems, sub-system components and components for the semiconductor and solar industries.
To know more about the company, check out ASM Technologies financial factsheet and latest quarterly results.
#4 SPEL Semiconductor
SPEL Semiconductor is engaged in offering electronic integrated circuits (ICs). Its products are used mostly in cell phones, computers, notebooks, and personal digital assistants.
It's facility, Natronix, is India's first and only semiconductor IC assembly & test facility.
The company's customers are some of the biggest integrated device manufacturers (IDMs) and fabless companies in the US, Asia, and Europe.
While the company's shares are on a tear this year, it has little to offer on the financials front. For the December 2021 quarter, the company has posted a loss of Rs 10 m.
This was its sixth consecutive quarter of losses.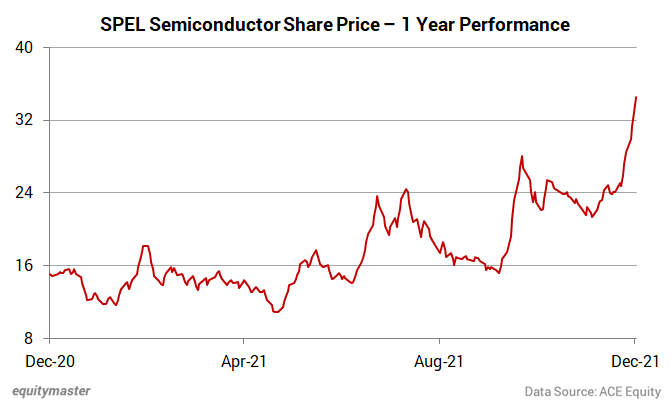 Update: When the government invited proposals for semiconductor manufacturing and display plants, SPEL Semiconductor registered for semiconductor packaging.
The scheme for establishing semiconductor and display fabs manufacturing facilities was announced last year in December. The first round of applications were invited till 15 February 2022.
#5 Moschip Technologies
Moschip Technologies is a semiconductor and system design company with a focus on turnkey ASICs, mixed signal IP, semiconductor & product engineering, and IoT solutions catering to various industries.
This little-known company has emerged as a leading semiconductor design services company providing various services to clients globally. It has a track record of more than 20 years.
The company has four arms namely Gigacom Semiconductor LLC, California, USA, Gigacom Semiconductor, Visakhapatnam, FirstPass Semiconductors, Hyderabad, and Institute of Silicon Systems, Hyderabad. Moschip acquired these companies as part of its growth plan to offer the full suite of skillset and expand business geography.
From the lows of Rs 14 touched last year, shares of Moschip Technologies surged to Rs 83.55. That's a gain of over 370% in just one year.
After trading in a range, shares of the company broke through and gained momentum after the PLI scheme was informed.
Between November 2021 and December 2021, shares of the company gained 85%.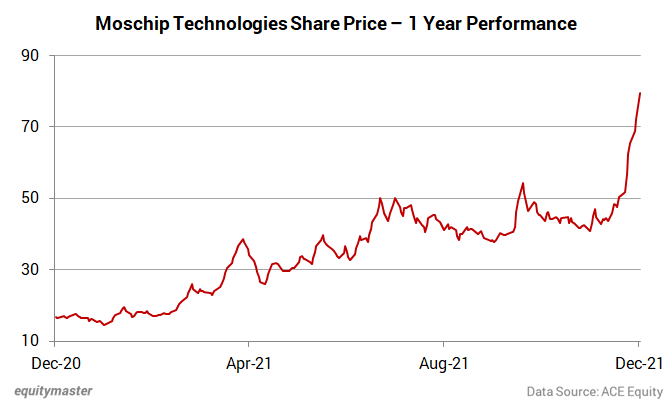 Update: Shares of the company have come under pressure in the past few months amid the broad-based selloff and because of weak quarterly results.
Currently, the company continues to focus on semiconductor design, semiconductor IP (intellectual properties) and other IoT projects.
To know more about the company, check out Moschip Technologies financial factsheet.
#6 Ruttonsha International
This company manufactures semiconductor devices, power rectifiers assemblies and semiconductor diodes.
The semiconductor devices which it makes includes diodes, rectifiers, thyristors among others, ranging from 10 amps to 12,000 amps with voltage groups ranging from 200 volts to 5,000 volts.
In 2005, Ruttonsha International was taken over by Dr Harshad Mehta and Mrs Bhavna H Mehta, the promoters of Silicon Power Corporation, USA.
Just like other stocks involved in the semiconductor industry, shares of Ruttonsha International also saw a spectacular run on the bourses.
Starting 3 December 2021, when the stock was trading at Rs 75 per share, it continuously traded in an uptrend and gained over 100% in a month.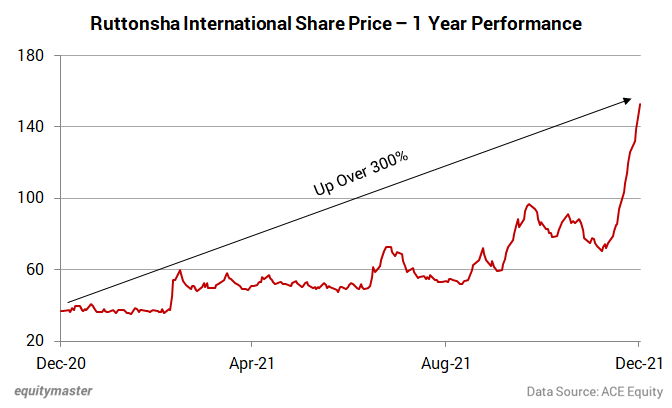 Update: The company's one way rally was halted due to the Russia-Ukraine war, inflation concerns among other factors which halved the company's stock.
When government invited bids for semiconductor fab units, Ruttonsha International registered for making compound semiconductors.
Compound semiconductors are different from silicon ones. While a majority, around 80% of the world's semiconductors use silicon, the remaining 20% use compound semiconductors.
The company has also acquired 100% stake in Visicon Power Electronics, which is in the business of manufacturing silicon carbide (SiC) wafers and power electronic devices through epitaxial process.
This acquisition was done for ease of business operations and widen its product reach across diverse business vertical of semiconductors.
The company has big plans for manufacturing SiC based products in India, for which it is setting up a fab unit.
#7 Vedanta
After Tatas, the Vedanta group announced to invest a huge sum to make displays and other semiconductor chips in India.
It was announced in December 2021 that the Vedanta group is planning to invest US$20 bn over the next 5-10 years to make displays and other semiconductor chips in India. This investment will be made through Avanstrate Inc., a glass substrate manufacturer in which Vedanta has a controlling stake.
An integrated display fab facility and a separate semiconductor facility will be set up.
Avanstrate is in talks with various states that have experience in electronics including Gujarat, Tamil Nadu, Maharashtra, and Haryana. These states provide incentives over and above the central government's schemes.
Update: Vedanta's investment of US$20 bn is almost double of the Indian government's PLI scheme for semiconductors.
To become India's first chip maker, Vedanta is seeking 1,000 acres of free land, water and power at concessionary and fixed prices, among other incentives.
It will form a joint venture (JV) with Taiwan's Foxconn and manufacture semiconductor chips in the 28 nm category.
Vedanta has also proposed setting up a display fab on its own.
Vedanta's core business is mining. But it has ventured into the semiconductor space before.
None of these attempts took off. Vedanta claims it had never shelved these plans and is ready for another go.
It wants to start operations at its display fab by 2024. It also believes its JV with Foxconn can start operations in the chip fab by 2025.
Apart from the above, there are few other listed Indian stocks which are directly or indirectly related to the semiconductor industry.
These companies include Solex Energy, MIC Electronics, Indosolar, and Surana Solar.
How India stands to benefit
Note that building a semiconductor ecosystem needs big investments and critical infrastructure to support it. The plants need a continuous supply of electricity and water.
Even a single manufacturing plant can use anything between two and nine gallons of water per day.
It also needs manpower. If we go by estimates, the recent PLI scheme could lead to the creation of 35,000 jobs apart from one lakh indirect employment opportunities. It could also generate investments to the tune of Rs 17,000 bn.
As the chip shortage seems to be far from over and the demand expected to rise, India stands to benefit as it has adequate resources, water and manpower.
Most emerging technologies have high dependence on semiconductors.
A mobile phone or a consumer appliance or even a vehicle, as the pace of innovation increases, the use of semiconductors will also increase.
Also, in September 2021, India made a deal with Taiwan. This deal allows Taiwan to transfer technology for a chip plant worth an estimated US$7.5 bn in India. These chips would power everything from 5G devices to electric cars.
Meanwhile, India will be financing 50% of the chip foundry capex. In addition, the facility will enjoy tax breaks and other incentives. This deal is certainly a win-win for both India and Taiwan.
In a recent editorial, Co-head of Research at Equitymaster, Tanushree Banerjee, shared some insights on this topic.
Here's an excerpt...
Currently, India imports almost all semiconductors.

Its demand is estimated to reach around US$100 bn by 2025 from about US$24 bn in 2021.

Previous efforts to get companies to invest in the semiconductor space had failed. The complex manufacturing processes requires heavy investments, apart from need for supply of uninterrupted clean water and electricity.

India is seen as strong player in chip design. But the companies here have failed to get chip foundries into the country.

The investments in India's semiconductor capacity are, expected to grow 4-fold in the next few decades.
Tanushree has identified a tech company in India, which is grossly underrated despite its dominant role in semiconductor chip designing.
The company has set up management teams in Taiwan, South Korea, and Vietnam in recent months seeing the growth potential of this business.
With its disruptive capabilities, Tanushree believes the company's future seems far more promising than its past.
In the meantime, we recommend you watch the below video where Tanushree shares her views on India's top semiconductor stocks.
Disclaimer: This article is for information purposes only. It is not a stock recommendation and should not be treated as such. Learn more about our recommendation services here...
Yash Vora is a financial writer with the Microcap Millionaires team at Equitymaster. He has followed the stock markets right from his early college days. So, Yash has a keen eye for the big market movers. His clear and crisp writeups offer sharp insights on market moving stocks, fund flows, economic data and IPOs. When not looking at stocks, Yash loves a game of table tennis or chess.