Indian Stock Market News January 17, 2019
Sensex Ends Marginally Higher; Healthcare and Oil & Gas Stocks Witness Buying
Indian share markets continued to trade near the dotted line during closing hours and ended the day marginally higher. Gains were largely seen in the healthcare sector and oil & gas sector.
At the closing bell, the BSE Sensex stood higher by 53 points (up 0.2%) and the NSE Nifty closed higher by 15 points (up 0.1%). Both, the BSE Mid Cap index and the BSE Small Cap index ended the day down by 0.3%.
Asian stock markets finished on a negative note as of the most recent closing prices. The Hang Seng stood down by 0.5% and the Nikkei was trading down by 0.2%. The Shanghai Composite stood lower by 0.4%.
European markets were also trading on a negative note. The FTSE 100 was down by 0.5%. The DAX was down by 0.4% while the CAC 40 was down by 0.3%.
The rupee was trading at 71.10 to the US$ at the time of writing.
In the news from the oil & gas sector, Indian Oil Corporation share price (IOC) was in focus today as the company stated that it may raise about US$ 3 billion more through US dollar bonds issue after the Reserve Bank of India permitted fuel retailers to raise an overseas loan to check fall in rupee value.
In the news from the macroeconomic space, as per a leading financial daily, India has committed to purchase US$ 5 billion worth of oil and gas and US$ 18 billion worth of defence equipment that are under implementation from the US per annum.
--- Advertisement ---
IMPORTANT ANNOUNCEMENT: (For True Indian Patriots Only)
Are you proud to call yourself an Indian?

Do you still believe that India has the potential to once again be the "Sone Ki Chidiya" and regain its status as one among the greatest countries on earth?

If your answered "Yes", then join other true Indian patriots in the first-ever MEGA "REBIRTH OF INDIA" SUMMIT on Thursday, 31st January for FREE.

This is our LARGEST EVER FREE PUBLIC SUMMIT... and it is available for EVERY INDIAN CITIZEN.

Register NOW and Block Your "True Patriot" Seat...
------------------------------
The above commitment highlights the growing bilateral trade cooperation between India and the US.
India's Ambassador to the US Harsh Vardhan Shringla told the American business community that the US export to India has gone up by at least 30%.
In the last two years, the bilateral trade has increased from US$ 119 billion to US$ 140 billion.
In the field of oil and gas alone, India has committed to purchase US$ 5 billion from the US every year. Commercial Indian airlines have placed orders of 300 airplanes worth US$ 40 billion. Further, in the defense sector, India is looking at US$ 18 billion worth of orders that are under implementation.
Speaking of the defence sector, note that the opportunity for India's private corporate sector is huge in the defence space.
According to the Stockholm International Peace Research Institute (SIPRI), India is the world's biggest arms importer and has remained so for many years now. While Russia was the world's largest exporter of arms to India, it is now being challenged by Israel and the US.
Reckoning of Biggest Military Powers in the Making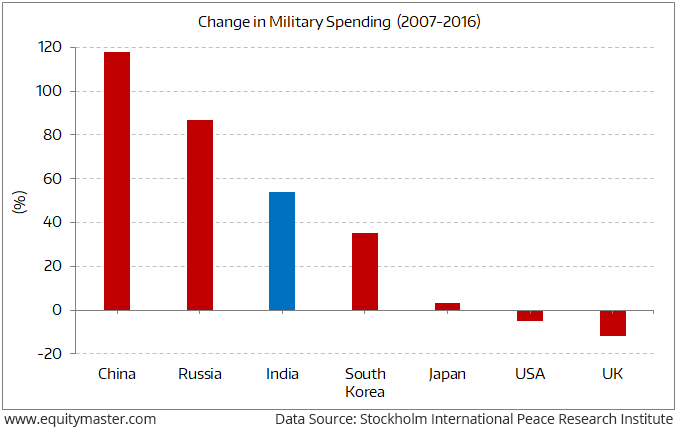 Of course, not many private companies have participated aggressively in bidding for defence contracts so far. But, this will change as the government spends more on defense.
The Indian government wants increased participation from the country's private sector to reduce the need for imports.
This will open up massive opportunities for many domestic companies in the years to come.
We're keeping an eye on all the developments happening in this space and will keep you updated.
In the news from the airlines sector, Jet Airways share price was in focus today as report suggested Etihad Airways is seeking a hard bargain, given the imminent risk of the grounding of aircraft by lessors, thereby triggering a rapid cessation of operations.
As per the news, a report suggested that Etihad Airways CEO Tony Douglas has communicated to the lead lender that it will not pay more than Rs 150 a share for infusing funds and sought a complete exit by Naresh Goyal and his family from any management or even advisory role in the Indian carrier.
Note that Etihad has offered to invest in the domestic airline at discounted rate of Rs 150 per share. Along with this, Etihad has also agreed to infuse US$ 35 million from Jet Privilege, where it owns majority shares but after the due diligence is completed.
Etihad Chief Executive Tony Douglas has written to State Bank of India on the restructuring plan for the airline.
As per an article in The Economic Times, Etihad has sought exemptions from the markets regulator from making an open offer and preferential pricing guidelines.
Here's an excerpt from the article:
In addition, Etihad is also demanding that Mr. Goyal's future role as "Chairman Emeritus" should be "well defined," stressing that no board seat should be given for Mr. Goyal himself and no rights for him or his family and affiliates to act or represent the airline.
Shares of the company rallied around 18% in Monday's trading session on reports that the company is close to finalizing a resolution plan.
Last Friday, reports stated that the Tata-Jet Airways deal is back on the table.
The cash-strapped airline which had its credit rating cut to default this month is weighing a resumption of stake sale talks with Tata Group as the carrier is poised to run out of cash.
The creditors are open to lending US$ 500 million to Jet Airways if Goyal and Etihad inject a similar amount into the company. A decision will be made once a forensic examination being conducted into the airline's book is completed.
Jet's woes have worsened with higher oil prices and intense competition in 2018.
This would be the second time that the West Asian airline has come to the debt-laden carrier's rescue.
To know more about the company, you can access to Jet Airways' latest result analysis and Jet Airways' 2017-18 Annual Report Analysis on our website.
To know what's moving the Indian stock markets today, check out the most recent share market updates here.
For information on how to pick stocks that have the potential to deliver big returns,
Read the latest Market Commentary
Stock Market Updates
Feb 18, 2019 03:48 PM
Here's a list of most active small-cap stocks today. It also includes information on BSE Smallcap index and the broader benchmark indices.
Feb 18, 2019 03:48 PM
Here's a list of 5 stocks that gained the most in the BSE Mid-Cap Index today. It also includes information on BSE Mid-Cap index and the broader benchmark indices.
Feb 18, 2019 03:32 PM
GULF OIL LUBRICANTS share price has plunged by 5% and its current market price is Rs 885. The BSE OIL & GAS is down by 0.4%. The top gainers in the BSE OIL & GAS Index are ONGC (up 1.5%) and OIL INDIA LTD. (up 1.1%). The top losers is GULF OIL LUBRICANTS (down 5.1%)..
Feb 18, 2019 03:30 PM
INFIBEAM AVENUES share price has plunged by 6% and its current market price is Rs 41. The BSE 500 is down by 0.9%. The top gainers in the BSE 500 Index are RELIANCE COMMUNICATIONS (up 11.5%) and RELIANCE POWER (up 11.3%). The top losers are INFIBEAM AVENUES (down 5.6%) and FORBES & CO. LTD. (down 5.5%).
Feb 18, 2019 03:22 PM
INDO COUNT share price has plunged by 5% and its current market price is Rs 32. The BSE 500 is down by 0.8%. The top gainers in the BSE 500 Index are RELIANCE POWER (up 11.3%) and RELIANCE COMMUNICATIONS (up 10.7%). The top losers are INDO COUNT (down 5.2%) and FORBES & CO. LTD. (down 7.0%).
Feb 18, 2019 12:30 pm
The BSE Sensex is trading down by 211 points, while the NSE Nifty is trading down by 64 points.
View More Indian Share Market News
Most Popular
Feb 7, 2019
Managements of companies can create or ruin their fortunes. Why is management quality such an important factor in valuing businesses? Read on to find out...
Feb 13, 2019
The real estate sector is ready to make a comeback. This is the stock to consider buying.
Feb 5, 2019
A roundtable on the 18th of January 2019 had investors with billions of dollars of investment kitty.
Feb 8, 2019
This is the trick to following super investors and not losing money.
Feb 14, 2019
Don't let the dark clouds hovering over small caps scare you into hiding; it will rain gold as sentiments recover. Indeed, there is a blood bath. And if you are a first time investor, the correction is deep enough to scare you out of markets.
More