Indian Stock Market News September 8, 2017
Dull End to the Week; L&T Rallies 4%
Indian share markets continued to trade flat in the afternoon session amid continued caution about global risk factors such as North Korea. At the closing bell, the BSE Sensex closed higher by 25 points and the NSE Nifty finished up 5 points. The S&P BSE Mid Cap finished down by 0.4% while & S&P BSE Small Cap too finished down by 0.2%. Gains were largely seen in capital goods' stocks, FMCG stocks and metal stocks. Realty stocks and PSU stocks witnessed majority of the selling pressure.
Asian stock markets finished mixed as of the most recent closing prices. The Hang Seng gained 0.53%, while Japan's Nikkei 225 was off 0.63%. Shares in China were unchanged.
The rupee was trading at Rs 63.86 against the US$ in the afternoon session. Oil prices were trading at US$ 48.88 at the time of writing.
Biocon share price rallied 5% before finishing up by 2.1% at the closing bell after the company said its Malaysian arm Biocon Sdn Bhd has received compliance certificate from the Health Products Regulatory Authority of Ireland for its insulin manufacturing facility.
Meanwhile, Dr Reddy's share price plunged 3% after the company said a German regulator has made six major observations about its Duvvada drug making facility in the southern Indian state of Andhra Pradesh. Reportedly Germany and the United Kingdom contribute the most to Dr. Reddy's revenue from Europe, which rose 28% to Rs 2.08 billion (US$32.57 million) in the June quarter.
Notably, foreign health regulator's alerts on Indian pharma companies have increased over the past few years. Regulators used to visit the plants every two years. Now they come every eight months.
Increasing inspections has led to a total of 41 import alerts in the past eight years. This clearly signifies increased USFDA scrutiny on Indian pharma firms. If that wasn't enough, increasing pricing pressure in the generics segment has dented realizations.
Expediting Drug Approval Process to be a Positive for Industry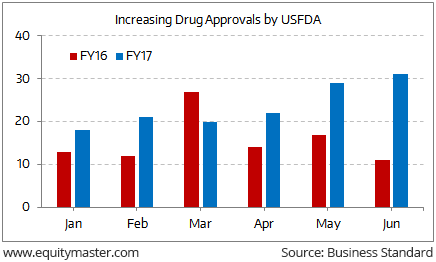 In this dull scenario, there appears to be some respite as the USFDA has expedited the drug approval process. Drug approvals for Indian companies have gone up 50% in the period from January to June 2017 compared to the same period last year.
In news from economic sector, former RBI Governor Raghuram Rajan has said that the government should focus on three areas namely infrastructure projects, power and exports with an aim to boost India's economic growth.
He also said that one should not be pessimistic that good times are over but there is a need to worry. He pointed out that country's GDP growth rate had started to drop even before demonetisation move on November 8 last year. Subsequently, he noted that note ban has had more substantial effect over the next few quarters.
Rajan said that the country needs to ensure that the infrastructure projects actually get completed and that's a lever that the government can push harder if there are impediments. He also said that the second extremely important area is power which requires reform in terms of improving health of distribution companies.
He also said that UDAY has gone some way in financial engineering, let it also go further in terms of reducing the line losses as well as the tariffs. Talking on the third area, he said that India's exports should ideally pick up when exports are growing in rest of Asia.
The GDP growth of India slumped to a three-year low of 5.7% during April-June as manufacturing slowed ahead of the GST launch amid demonetisation effect. The GDP growth was lesser than China for the second straight quarter which registered a record 6.9% growth in January-March as well as April-June quarters.
Moving on to news engineering sector. L&T share price surged 4.1% in today's trade after it was reported that the company is hopeful of bagging some six defence contracts amounting to Rs 400 billion.
As per an article in The Hindu Business Line, in an earlier report, a company official pointed out that India's new defence purchase policy that allows non-state local firms to compete for orders from the military is helping L&T to become more ambitious.
The company is building on its success with a US$700-million order for artillery guns in May, unprecedented in size for a local contractor. Meanwhile, on Saturday, the company informed bourses that its arm L&T Infrastructure Development Projects (L&T IDPL) has proposed to set up an infrastructure investment trust.
In another development, IDBI Bank share price surged in the afternoon session and finished up by 1% after it was reported that the state lender has sought fresh bids for acquiring the remaining 13.71% stake in Small Industries Development Bank of India (Sidbi).
As per Livemint, IDBI Bank is the second largest shareholder in Sidbi after State Bank of India, which owns 16.73%. Other shareholders include government of India, which owns 15.4% stake, LIC with 12.21%, Punjab National Bank with 3.99% and other public-sector banks and insurance companies.
IDBI's plan to sell stake in Sidbi is part of its overall strategy to sell non-core assets to raise capital. The bank is aiming to garner around Rs 50 billion in this financial year through sale of non-core assets.
For information on how to pick stocks that have the potential to deliver big returns,
Read the latest Market Commentary